Beef Bourguignon

Am I the only person who finds it impossible to say Beef Bourguignon without pretending to be Julia Childs? Or boeuf bourguignon to be exact.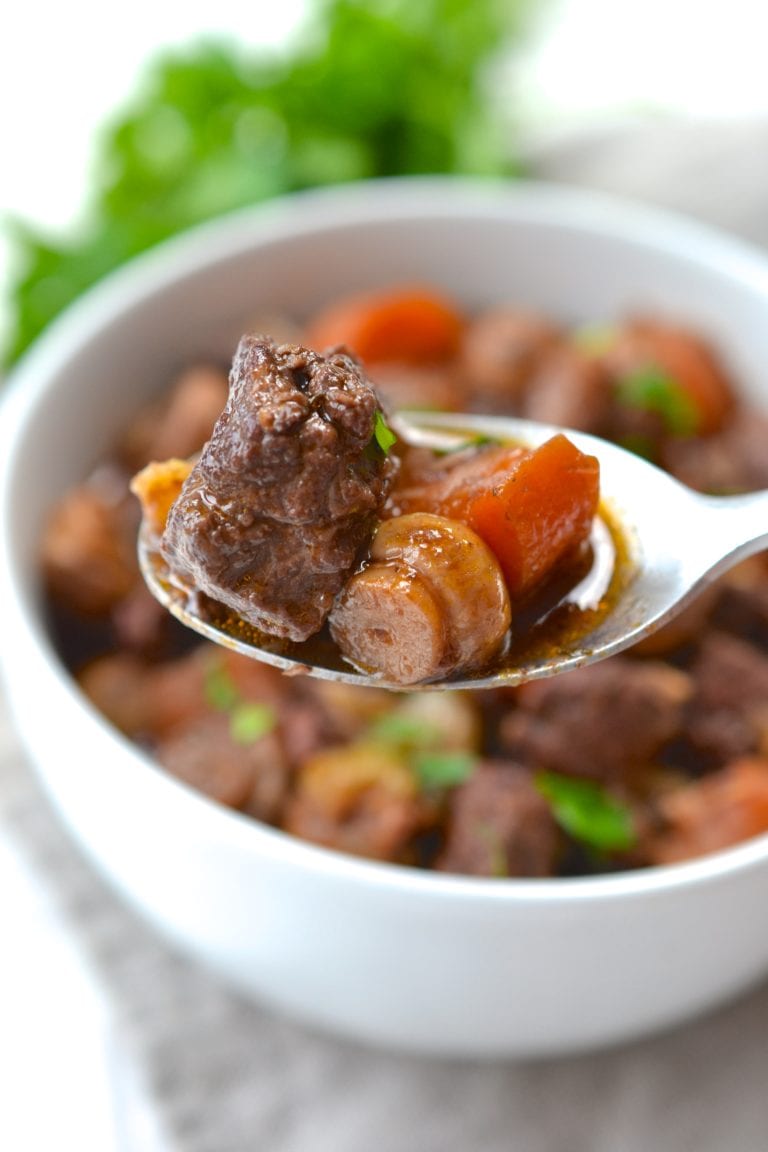 Beef bourguignon is a classic French stew made with chunks of beef, mushrooms, carrots and onion cooked in a rich red wine based sauce. Although I already have a chunky beef stew recipe on the site, I have to admit that it is completely put to shame compared with the rich flavours of this dish.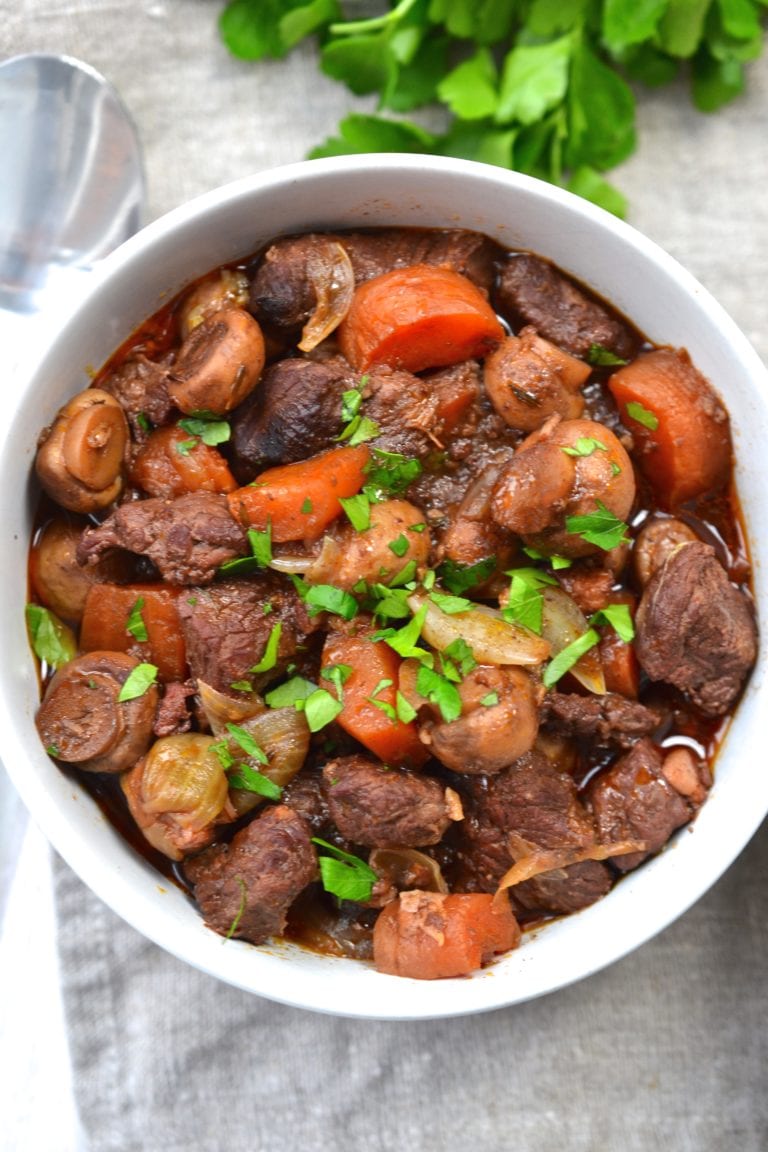 The best cuts of beef to use are chuck, cheek, shin or shoulder, which are all my preferred cuts of beef for any kind of stew. With regard to vegetables, this dish traditionally calls for pearl onions but if you struggle to find those then shallots also work.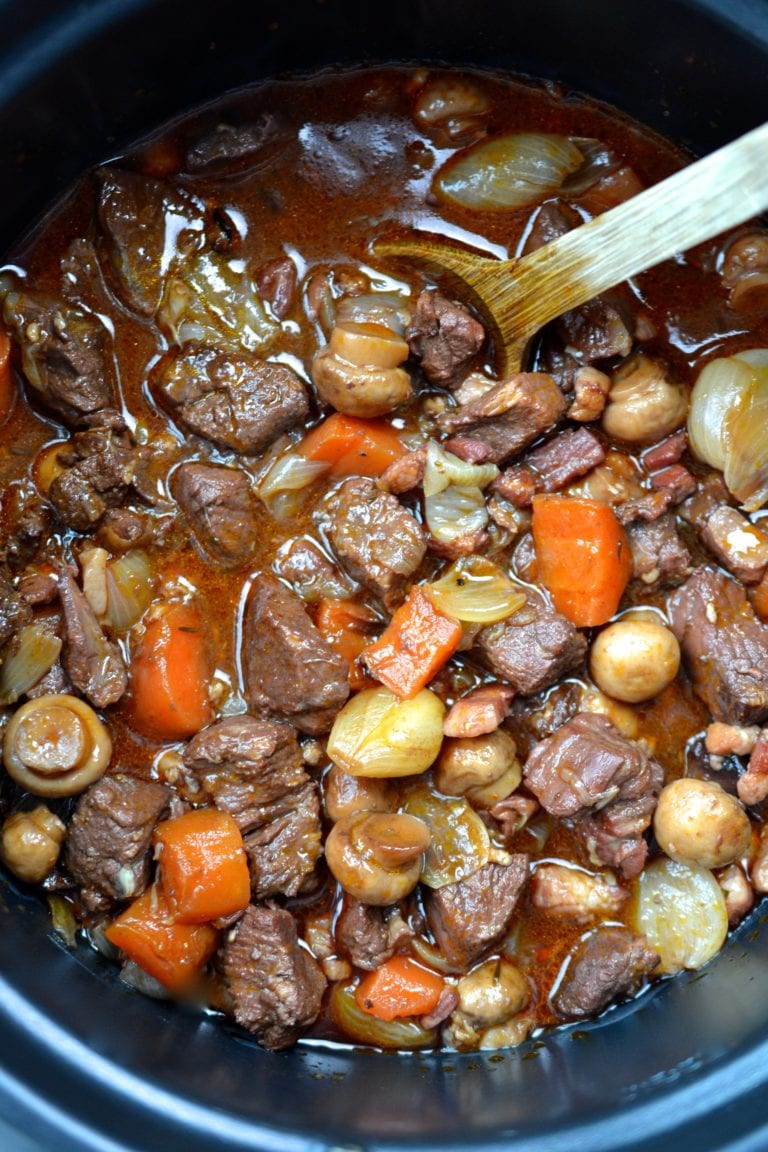 I love serving this stew with a side of Cauliflower Mash to soak up all of the excess sauce. This stew freezes incredibly well and I find that it seems to only enhance the flavours.
If you make this recipe let me know in the comment section below, I would love to hear what you think or take a photo and tag me (@everylastbite1) on Instagram, I love seeing your photos!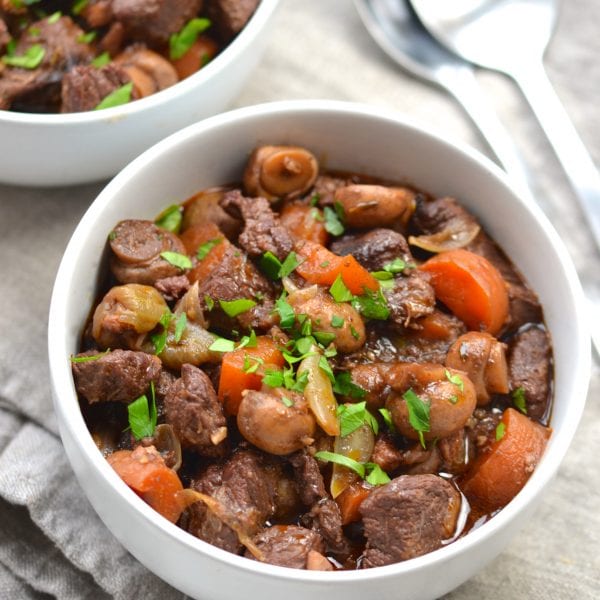 Beef Bourguignon
Ingredients
200 grams bacon lardons
800 grams cubed beef
1 tbsp olive oil
1 cup chopped carrots
1 cup shallots (or pearl onions)
250 grams button mushrooms
2 cloves garlic crushed
1/4 tsp salt
1/2 tsp pepper
1 tsp thyme
2 bay leaves
1 1/2 cup beef stock
1 bottle (750mL) red wine
1 tbsp tomato puree
Instructions
Preheat the oven to 175 degrees Celsius (350 degrees Fahrenheit)

Heat the olive oil in a dutch oven or oven proof pot. Cook the bacon lardons for 3 to 4 minutes until golden. Remove from the pot and set aside.

Add the beef to the pot and cook for a approximately 8 minutes until golden brown in colour. Remove from the pot and set aside.

Next add the carrots, shallots. mushroom and garlic to the pot, sprinkle with salt and pepper and cook for 5 minutes.

Return the bacon and beef to the pot and then add in the thyme, bay leaves, wine, beef broth and tomato paste. Bring the liquid to a boil, cover and place the pot in the oven to cook for 3 and a half hours.

Garnish with fresh chopped parsley before serving.