Caramelized Leek, Fennel & Onion Gratin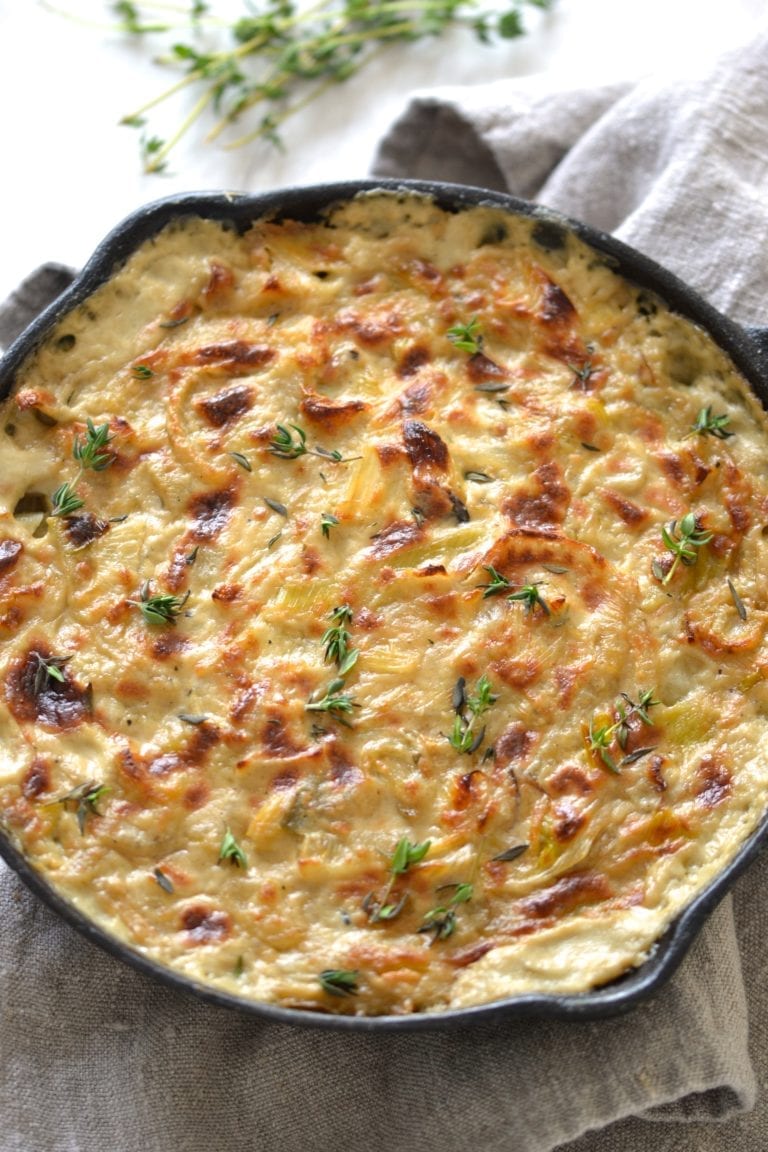 Let's be honest, when it comes to side dishes gratin has got to be high up on most people's list. A creamy sauce, tender vegetables and a crunchy top, it's just too good to resist.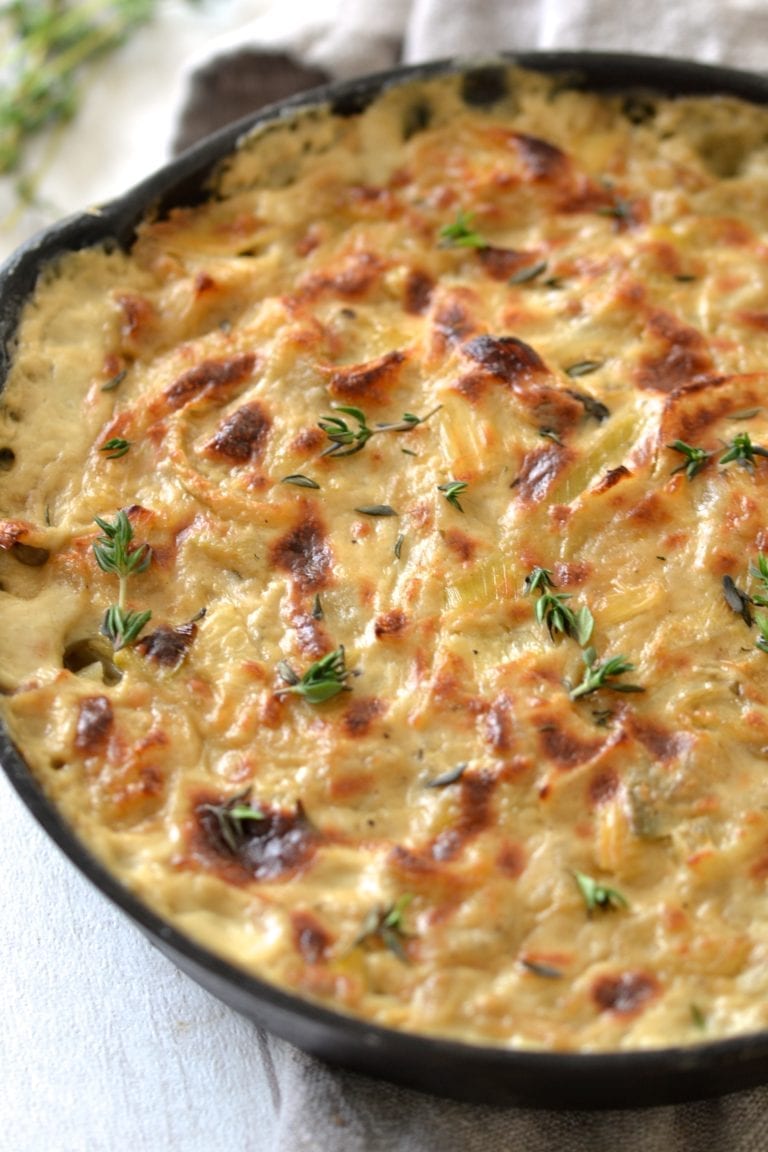 Unfortunately if you are on a Dairy Free or Paleo diet, gratin which is usually packed with cream, cheese and butter, is strictly off limits.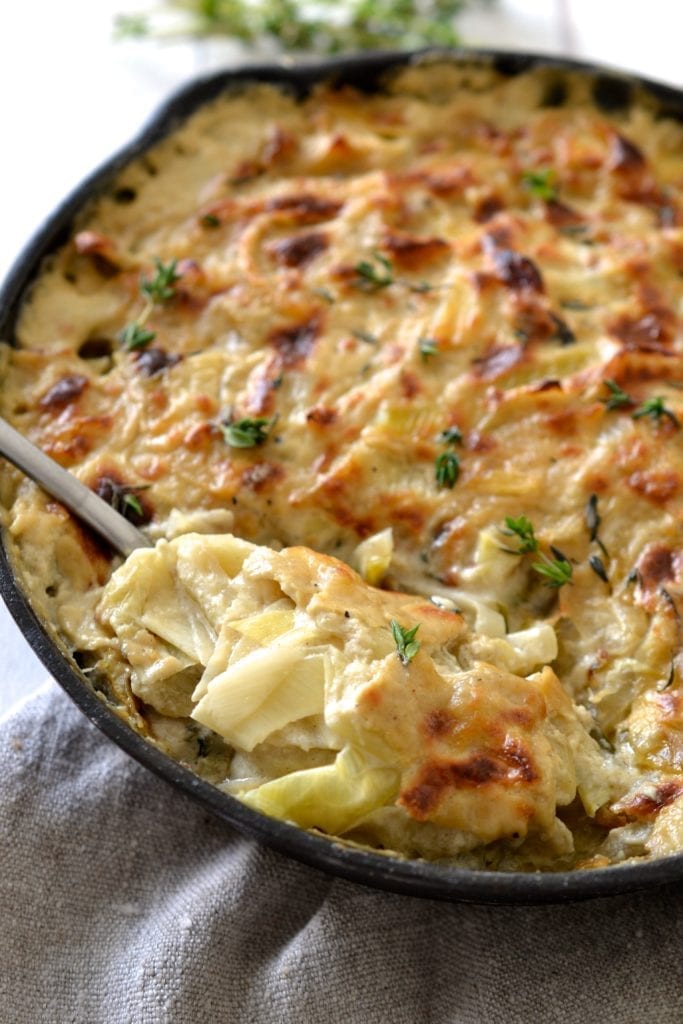 Enter this decadently rich and creamy dish that is not only dairy free, but vegan and paleo too. Plus by swapping potatoes for leeks, fennel and onions, the dish is packed with delicious caramelized flavour.

I originally tried making this recipe with coconut cream, but really struggled to mask the sweet coconut flavour which overpowered the dish, so I switched to my favourite vegan cream substitute, cashews. The sauce is so creamy and delicious that you would never know it doesn't actually contain any dairy. Just make sure that you use a high speed blender or nutribullet so that the cashews completely break down and there are no little bits remaining.

Although you could put the vegetables in raw and let them bake in the sauce in the oven, I love the caramelized flavour they develop when first cooked on the stove top. I find that this also makes the dish quicker to prepare and removes any of the uncertainty of whether the vegetables are fully cooked through after baking.

I think this would be a fantastic addition to any Thanksgiving dinner. You could prepare this dish up to 2 days in advance by sauteeing the vegetables and making the cashew cream and then simply combine them together and bake the day of.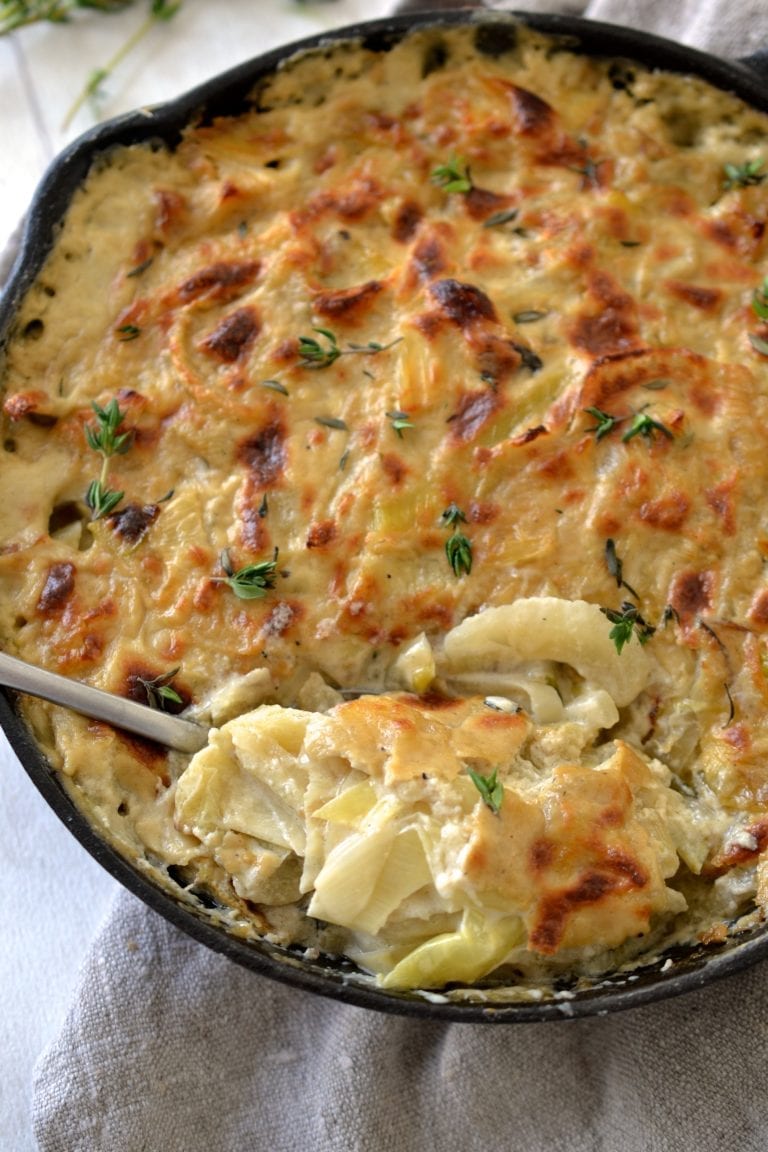 If you make this recipe let me know in the comment section below, I would love to hear what you think or take a photo and tag me (@everylastbite1) on Instagram, I love seeing your photos!
[embedyt] https://www.youtube.com/watch?v=POoXpMmBx-k[/embedyt]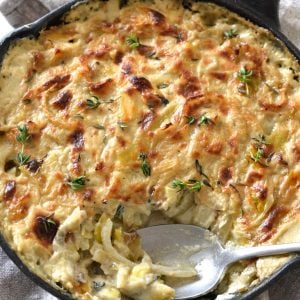 Caramelized Fennel, Leek & Onion Gratin
Ingredients
2 tbsp olive oil/coconut oil
3 leeks thinly sliced
2 white onions thinly sliced
2 small fennel thinly sliced
2 cloves garlic crushed
1/4 tsp salt
1/2 cup cashews soaked in boiling water for 10 minutes
3/4 cup almond milk
1 tbsp dijon mustard
1/2 tsp pepper
2 tbsp nutritional yeast (sub for 1/4 cup parmesan if on SCD)
1 cup vegetable/chicken stock
1 tsp fresh thyme
Instructions
Preheat the oven to 175 degrees Celsius (350 degrees Fahrenheit)

In a high speed blender add the drained cashews and almond milk and blend until completely smooth. Pour the mixture into a pot and add in the mustard, pepper, nutritional yeast (or parmesan) and stock. Leave to simmer for 5 minutes or so until the liquid begins to thicken. It should coat the back of a spoon. Stir in 1 tsp fresh thyme

In a cast iron skillet heat the oil on medium heat and then add in the leeks, onion, fennel and garlic. Sprinkle with salt and leave to cook for 10 minutes, until they become soft, slightly caramelized and golden in colour.

Pour the cashew cream into the skillet and stir through so that it coats all of the vegetables. Transfer the skillet to the oven and bake for 20 minutes until bubbly and golden on top.

Before serving sprinkle with fresh chopped parsley or thyme.