Kale & Brussel Sprout Salad with Creamy Lemon Dressing

With both kale and brussel sprouts in season at the moment and in abundance at most grocery stores, I have been using the due as a base for a lot of my salads.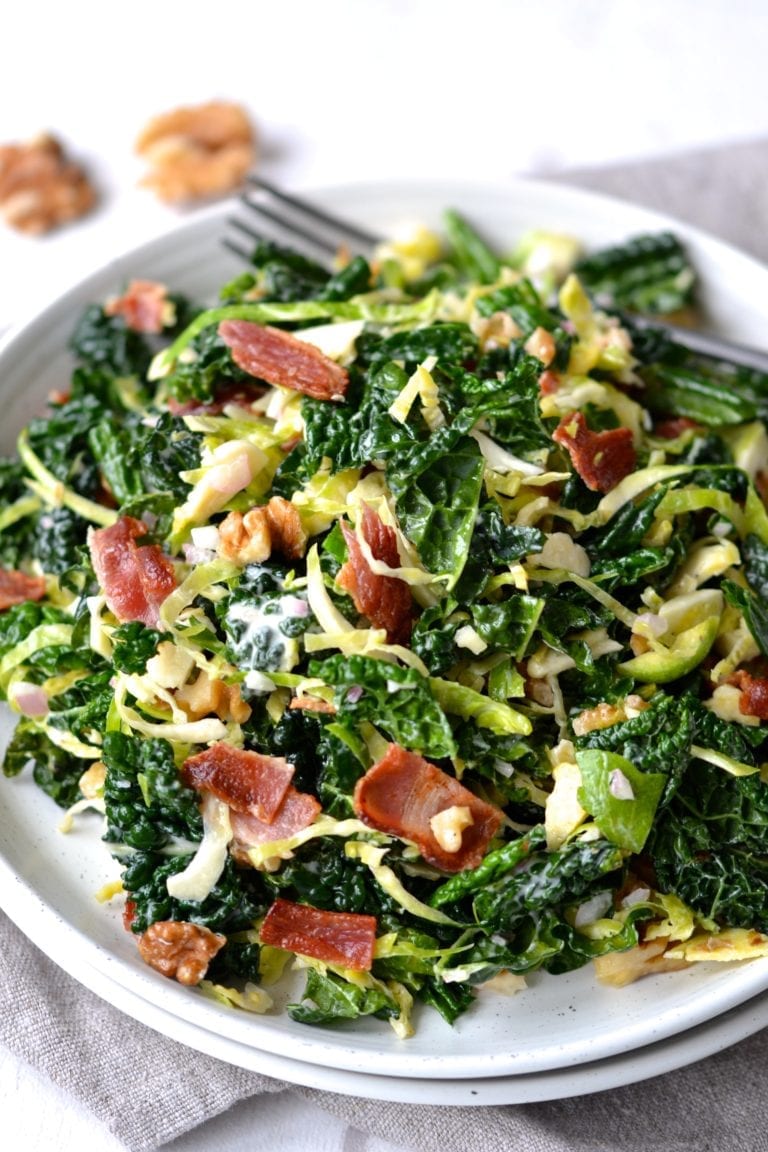 I find that an all brussel sprout, or all kale salad can be a bit much but I really like the combination of the two textures together. The kale acts as a lettuce like base and creates most of the substance, while the shredded brussel sprouts hold a lot of the dressing creating some very flavourful bites.

This salad recipe is almost embarrassingly simple, but because of its combination of textures and flavours, it doesn't need to be heaped with an endless number of ingredients.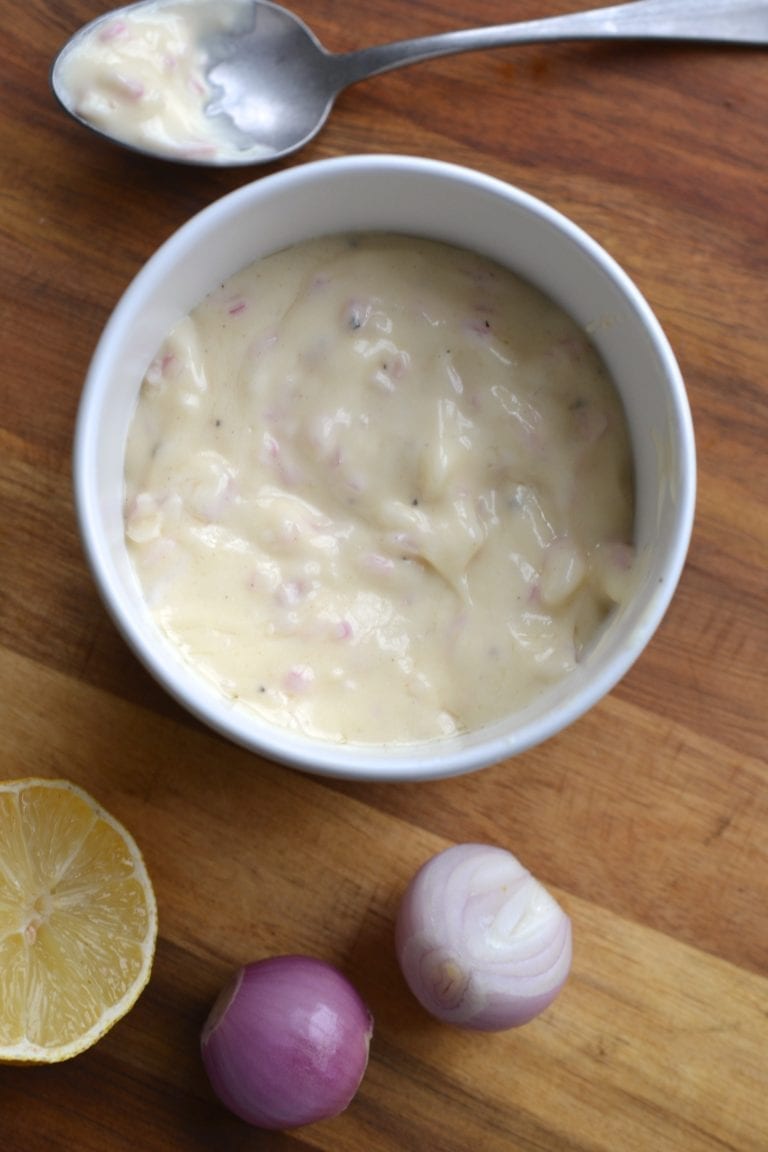 The dressing is mayonnaise based, which I think is the perfect kind of dressing for a kale salad. The dressing coats the leaves without making them soggy, and because of this you can make the salad and hour or so ahead of time. The dressing has a really refreshing zesty lemon taste which balances well with the earthiness of the walnuts. I used bacon for this recipe but it could easily be swapped for prosciutto or pancetta.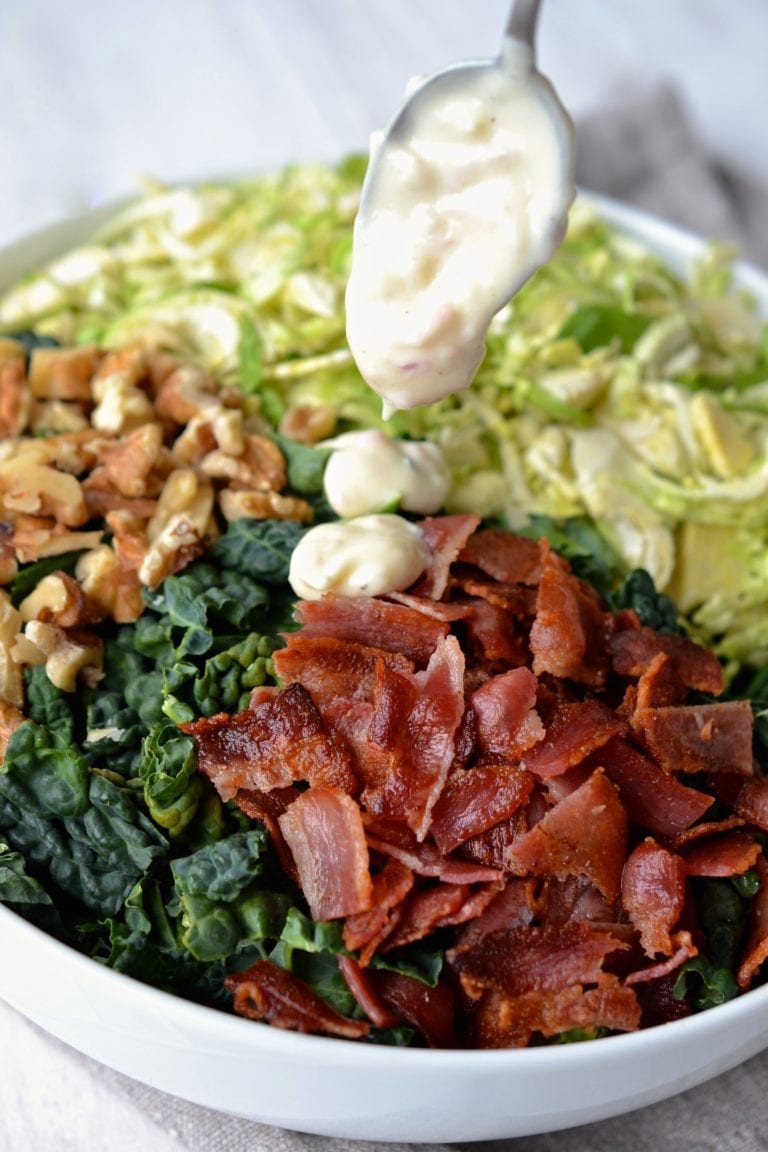 This is a great side salad to serve at a dinner party this holiday season, just be sure to make extra because the leftovers are great for lunch the following day.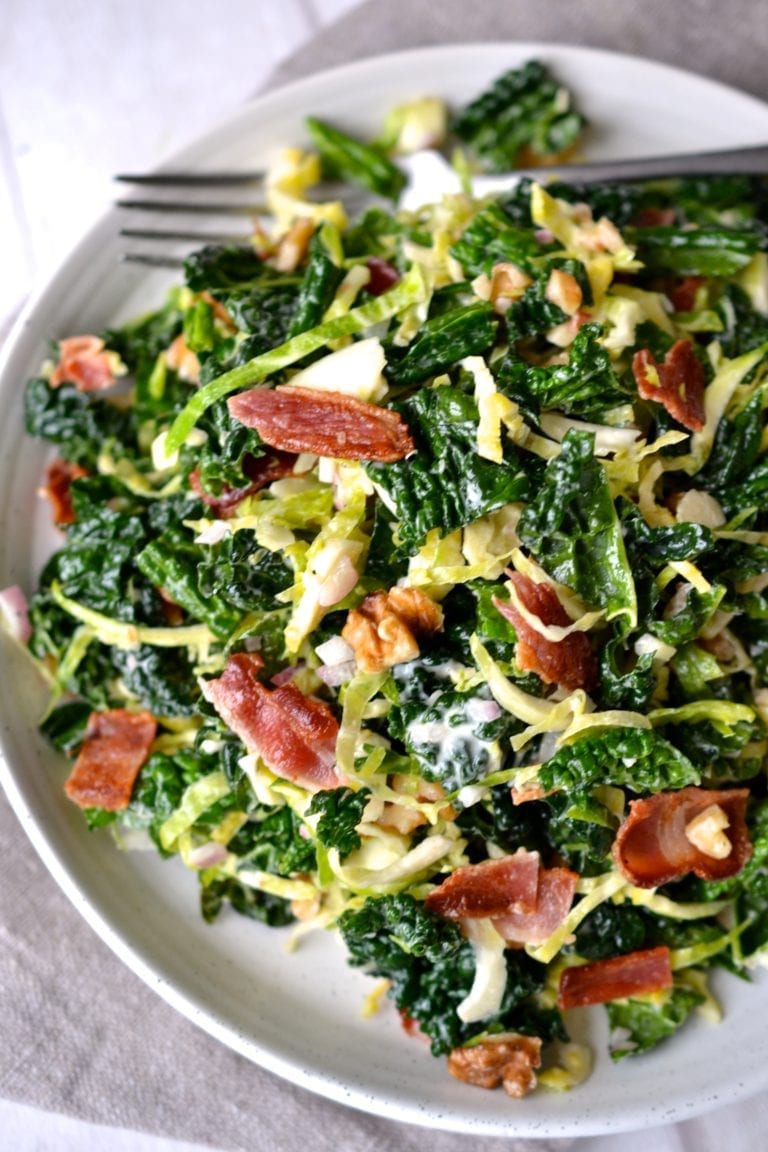 If you make this recipe let me know in the comment section below, I would love to hear what you think or take a photo and tag me (@everylastbite1) on Instagram, I love seeing your photos!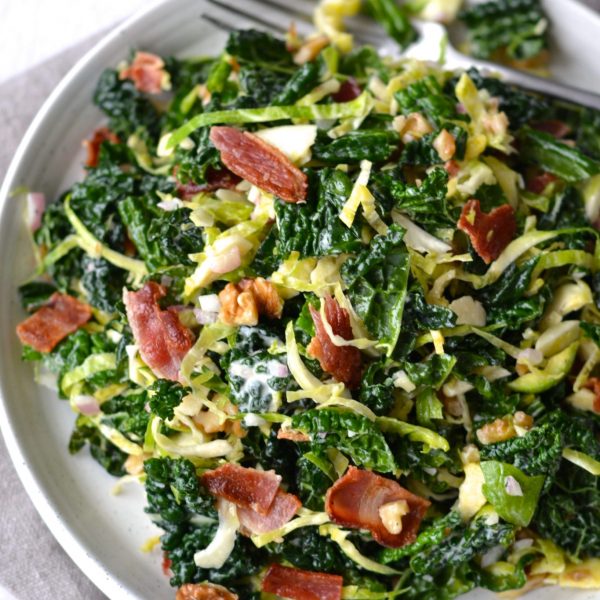 Kale & Brussel Sprout Salad with Creamy Lemon Dressing
Ingredients
5 cups shredded Tuscan Kale
pinch of salt
8 brussel sprouts
5 slices cooked bacon roughly chopped into small pieces
1/2 cup chopped walnuts
Creamy Lemon Dressing
1/3 cup mayonnaise (or toum if vegan)
2 tbsp extra virgin olive oil
1 tsp dijon mustard
1 tbsp lemon juice
1 shallot (finely diced)
1/2 tsp salt
1/2 tsp pepper
Instructions
To prep the kale, remove the stems and chop the leaves into bite sized pieces. Place the chopped kale in a large salad bowl and sprinkle the leaves with a pinch of salt. With clean hands massage the kale leaves by scrunching it between your hands for about 1 minute. The kale will become darker in colour when you do this.

Cut the brussel sprouts in half and then finely shred them. Place the shredded brussel sprouts in the bowl with the kale and add in the chopped walnuts and bacon.

In a bowl whisk together all of the ingredients for the dressing until smooth and well combined. Taste and adjust the flavour if necessary by adding more mustard or lemon if necessary.

Pour the dressing over the salad and toss to ensure its evenly coated. Season with salt and pepper before serving.