Creamy Spinach & Mushroom Lasagna

With only a few more days left in 2018, I wanted to end the year on a good note and I think this recipe definitely does the trick.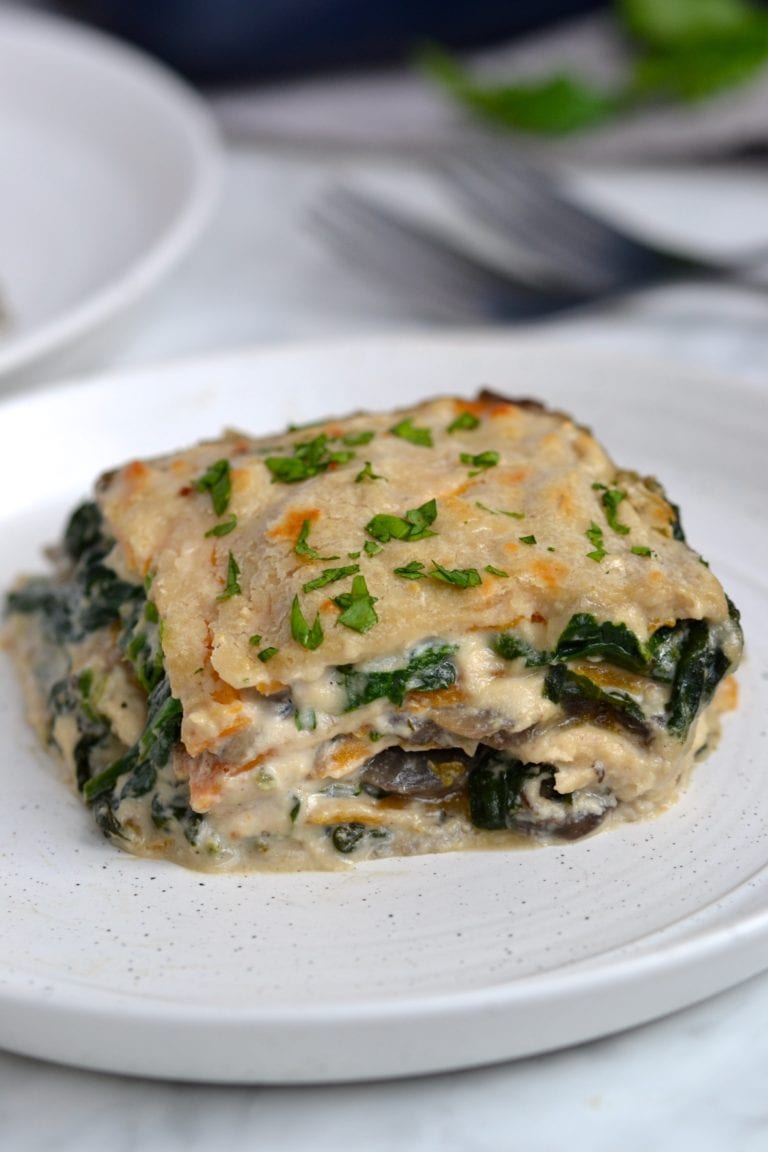 After posting the recipe for Classic Beef Lasagna a few weeks ago and getting so much positive feedback from everyone who loved it, I knew I had to make a vegan version.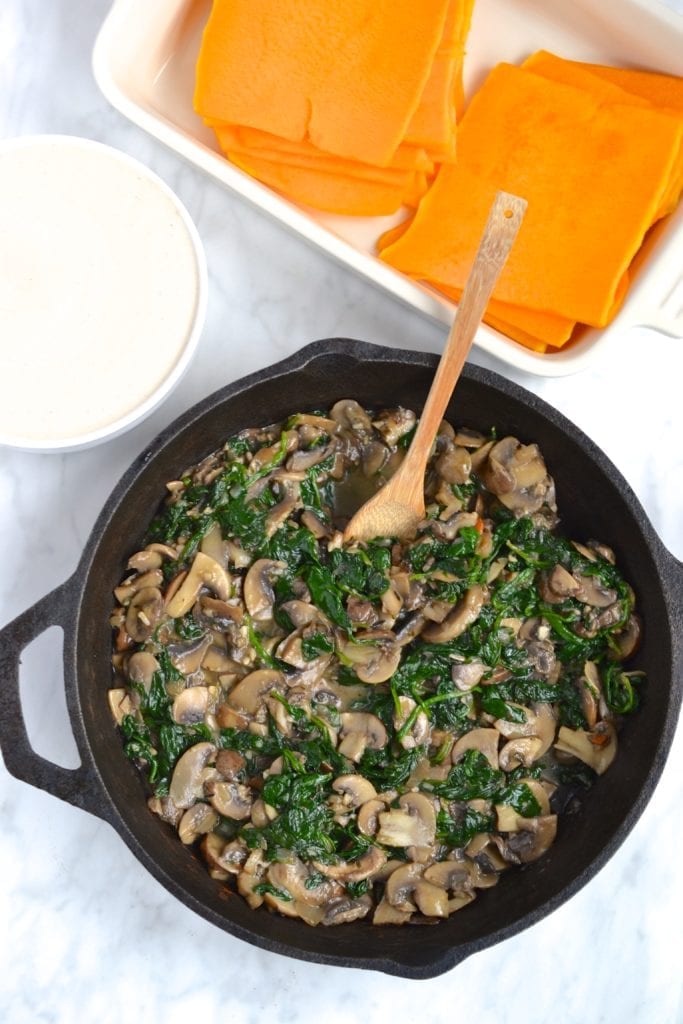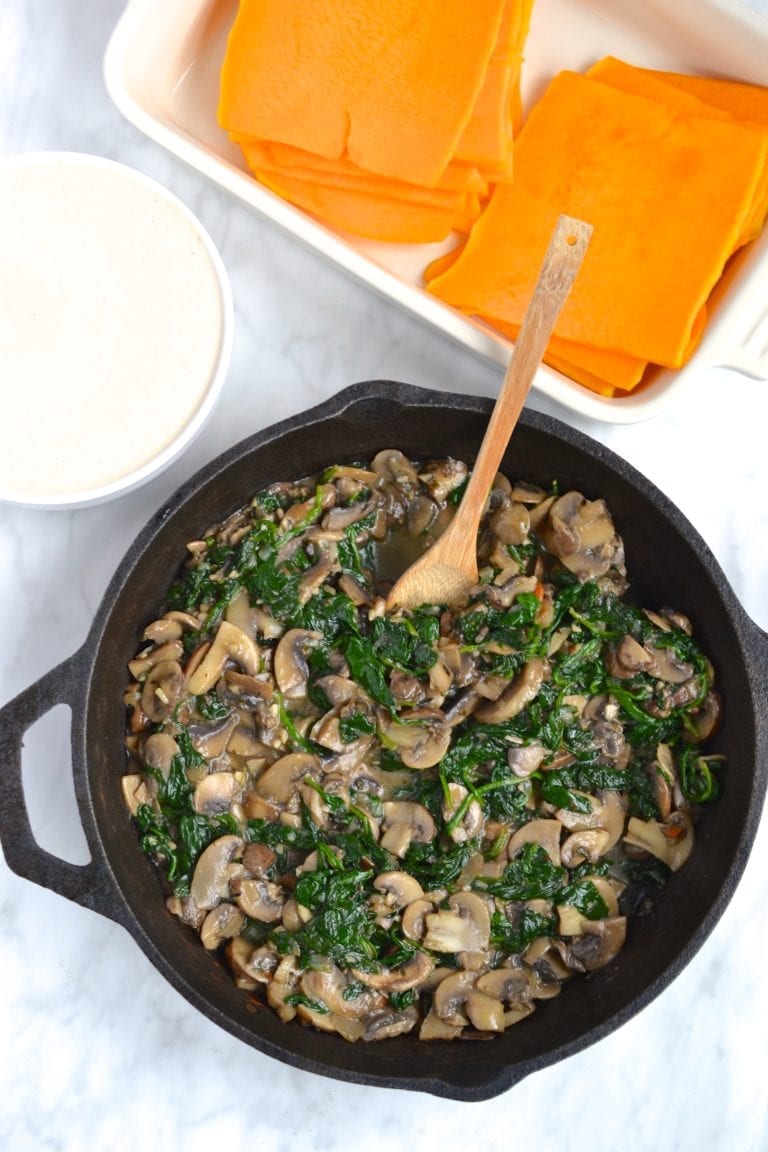 So I created this classic white lasagna. There is a delicious filling of creamy mushrooms and sauteed spinach layered between a vegan white sauce and sheets of thinly sliced butternut squash.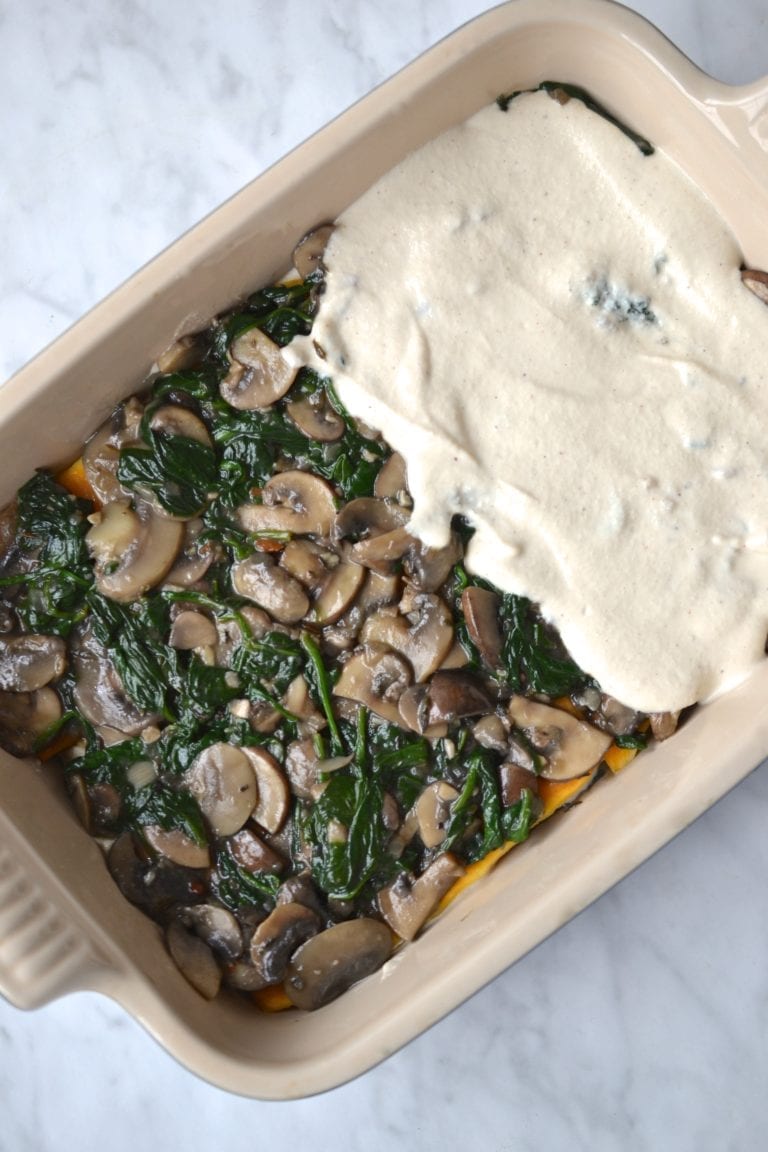 Although this recipe is vegan, you could easily added in some shredded or ground chicken to satisfy a carnivore. Alternatively you could swap the ground beef in the classic lasagna recipe for sauteed mushrooms to make it vegan if you prefer a tomato based sauce.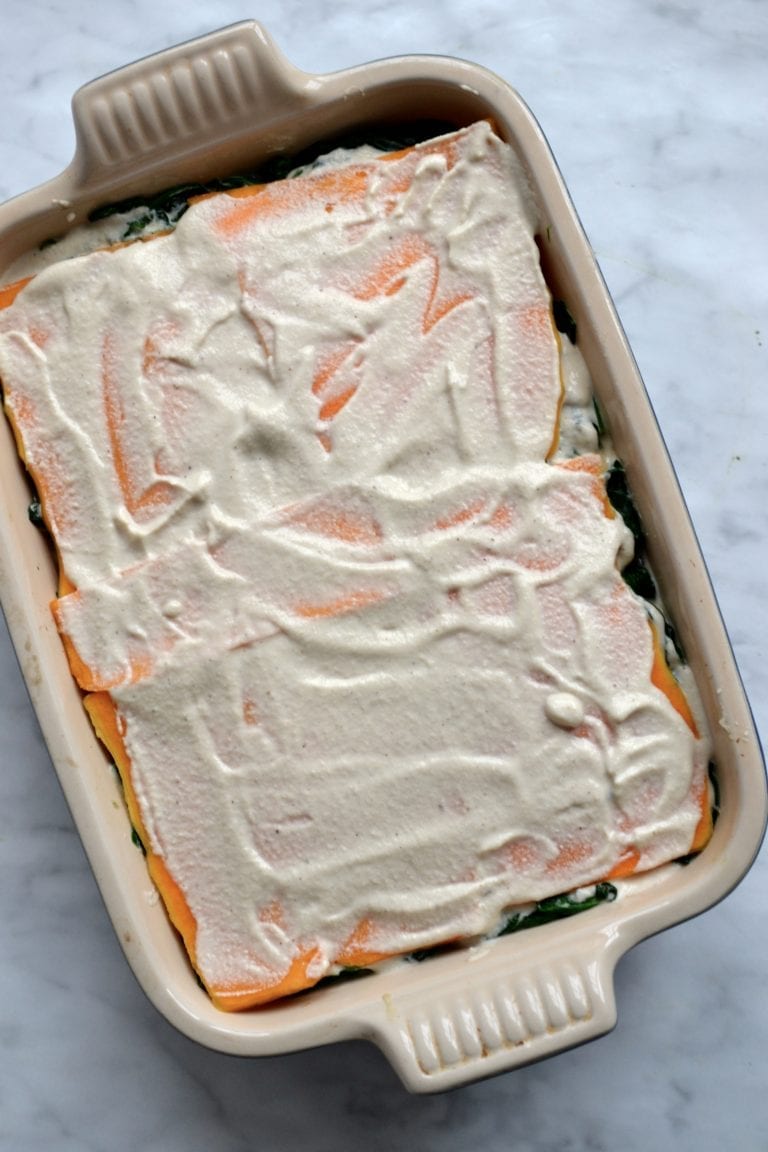 The cashew cream sauce is really the key to transforming this from a stack of veggies to a lasagna because it really does have the same consistency and taste as ricotta.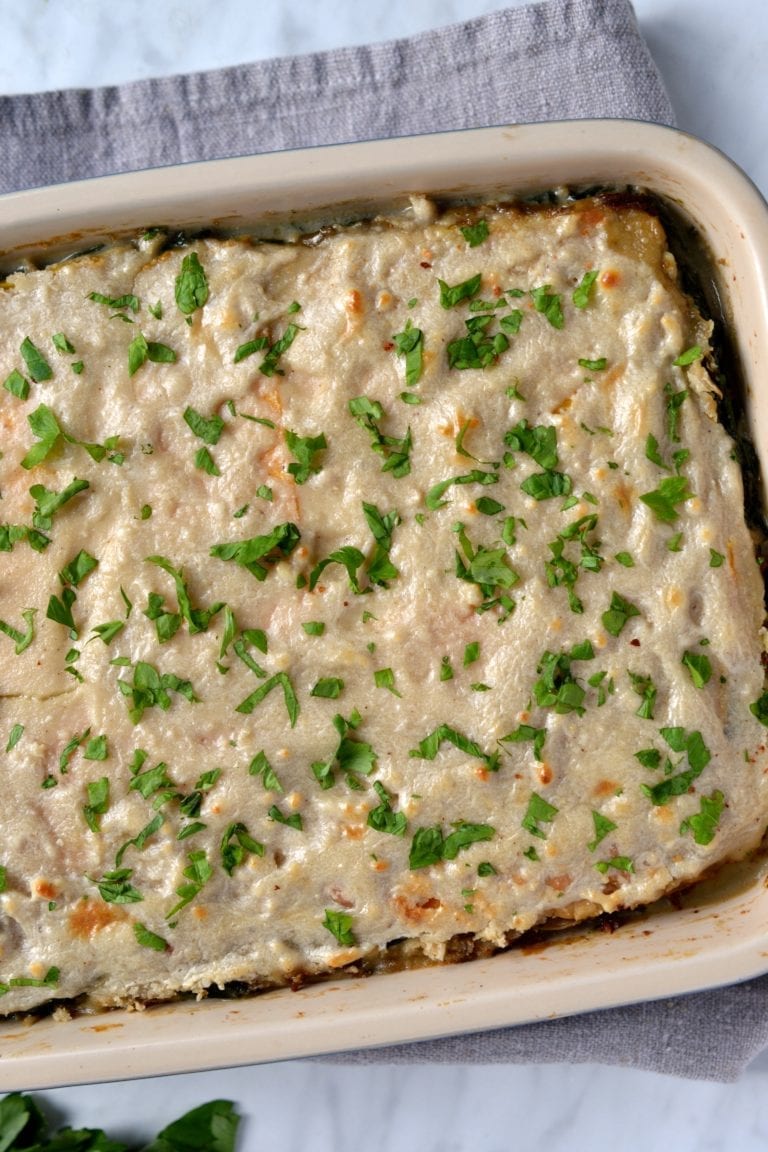 I am also really happy to report that this freezes really well, so you can make a double batch and keep one pan, or small portions in the freezer for another time when you want an easy dinner.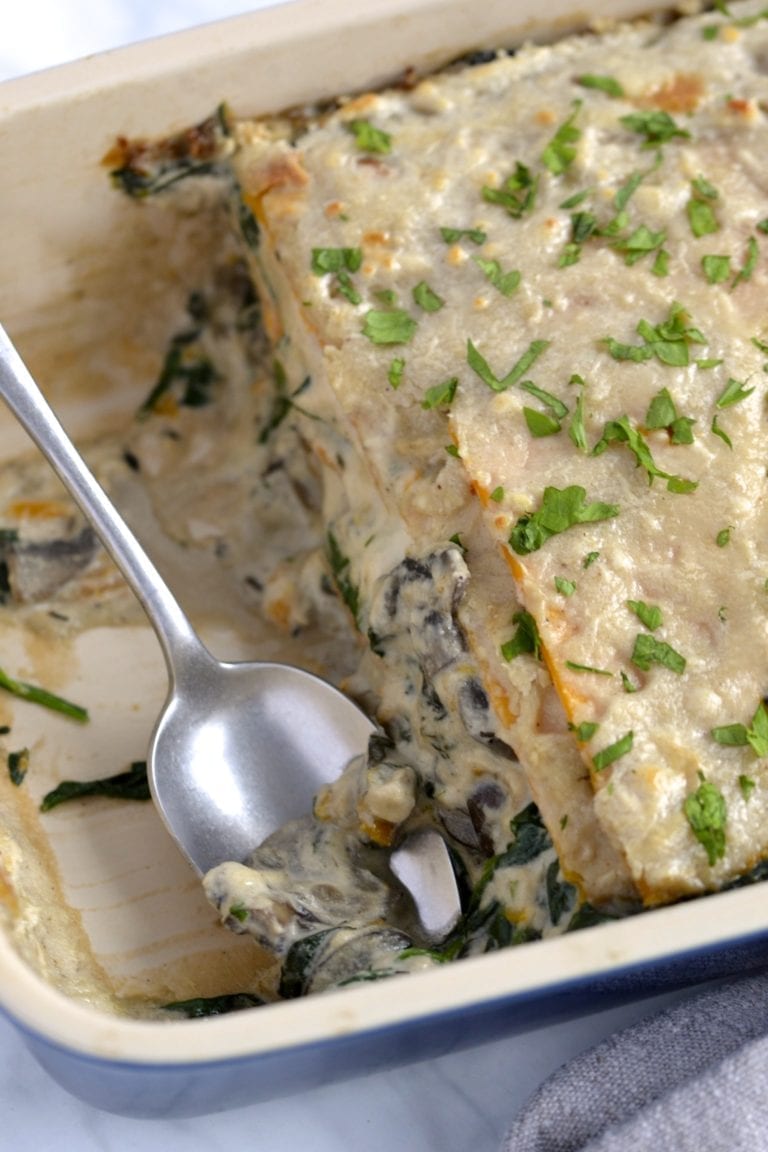 I have used a small pan size in this recipe because I stack the lasagna quite high, with 5 layers, but if you are feeding a larger group, you can use the same amount in a larger pan with few layers, or alternatively just double the recipe.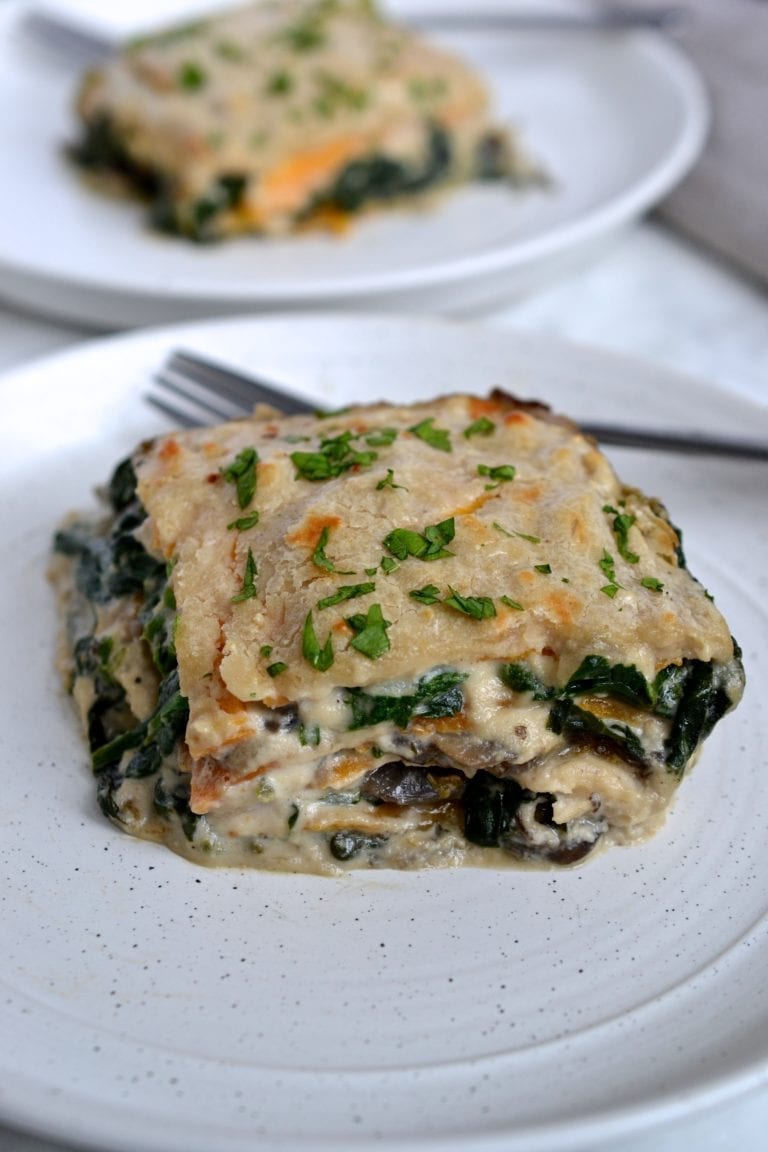 [embedyt] https://www.youtube.com/watch?v=dqjJe-za2yg[/embedyt]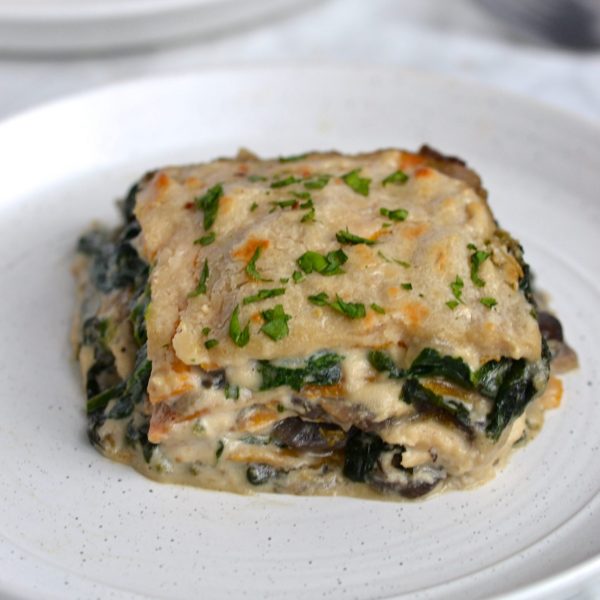 Creamy Spinach & Mushroom Lasagna
Ingredients
10-12 butternut squash sheets
Cashew Cream
2 cups cashews soaked in boiling water for 10 minutes
1 cup almond milk
3 cloves garlic
1/2 tsp salt
1/4 cup nutritional yeast (or parmesan if SCD)
Vegetable Filling
1 tbsp olive oil
1 onion finely diced
1/2 tsp salt
4 cloves garlic crushed
1 tsp thyme
800 grams mushrooms thinly sliced
1/2 cup vegetable stock
400 grams spinach
Instructions
Preheat the oven to 175 degrees Celsius (350 degrees Fahrenheit)

In a high speed blender or nutribullet combine the drained cashews, almond milk, garlic, salt and nutritional yeast. Blend until completely smooth and then set aside.

In a pan on medium heat add the oil, onions and garlic, sprinkle with salt and cook for 5 minutes until the onions begin to soften. Add in the mushrooms and vegetable stock and cook for approximately 10 minutes until most of the liquid has evaporated and the mushrooms are tender. Add in the spinach and stir through, leave to cook for a few minutes until the spinach has wilted.

In a 9 x 5 inch baking dish start by spooning in a layer of the mushroom mixture. Place the butternut squash sheets overtop, followed by another layer of the mushroom mixture and then a thin layer of the cashew cream. Repeat layering 2 more times and finish with a layer of cashew cheese on top.

Bake in the oven for 45-50 minutes until a golden brown crust has formed and the butternut squash sheets are tender. Keep an eye on the lasagna while it bakes to ensure it doesn't brown too quickly on top (if it does, loosely cover it with a sheet of tin foil). Sprinkle with fresh parsley before serving.
Notes
If you can't buy the sheets precut, you can make them yourself by peeling off the outer skin of two butternut squash. Next use a vegetable peeler to cut long rectangular, thin slices (the thinner you can cut the sheets of butternut squash the better).