Butternut Squash, Broccoli & Kale Salad with Roasted Garlic Dressing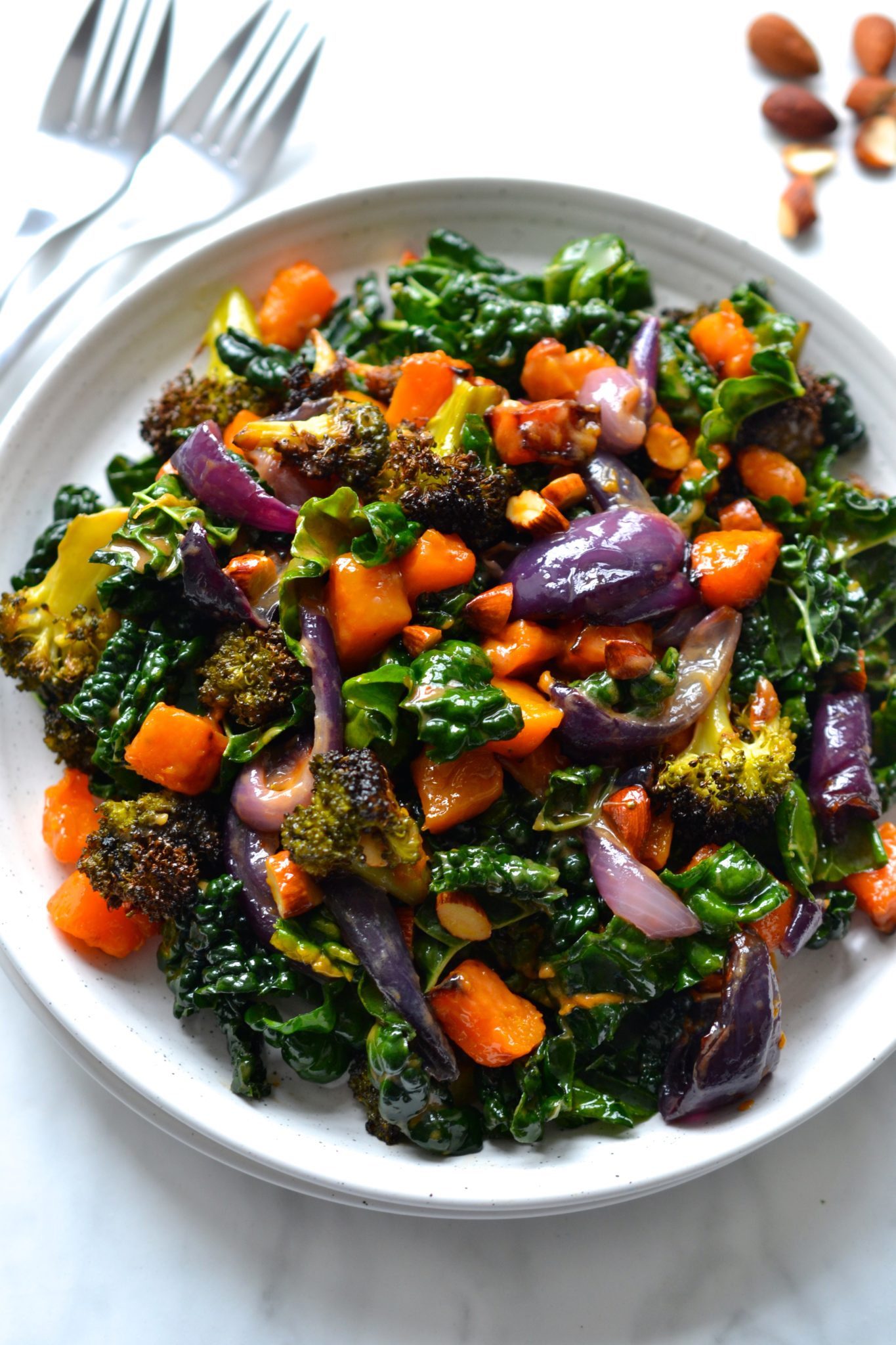 You guys….I think this recipe has officially taken top spot as my favourite winter salad. It's a bold statement, but trust me, this salad is more than worthy.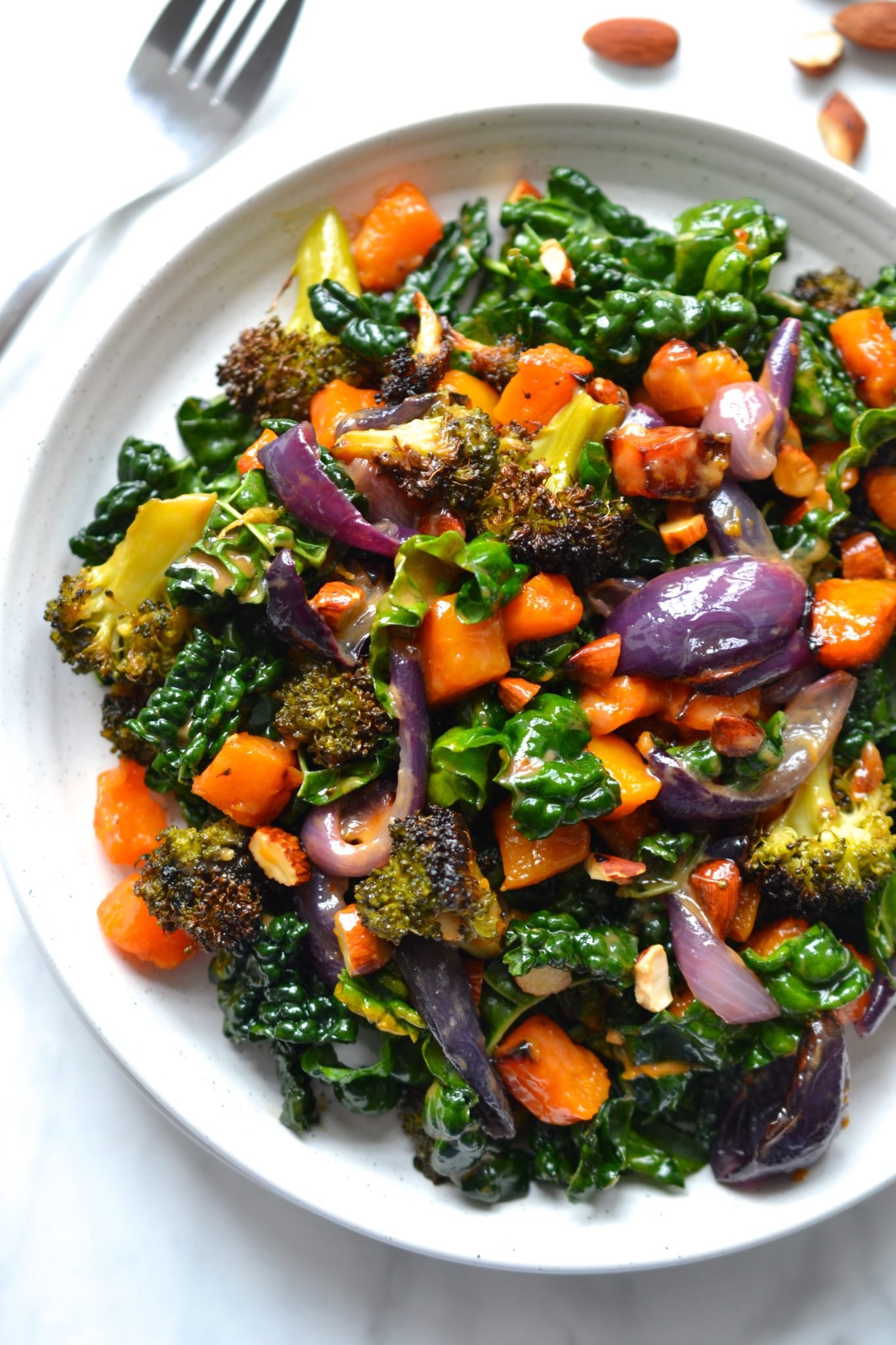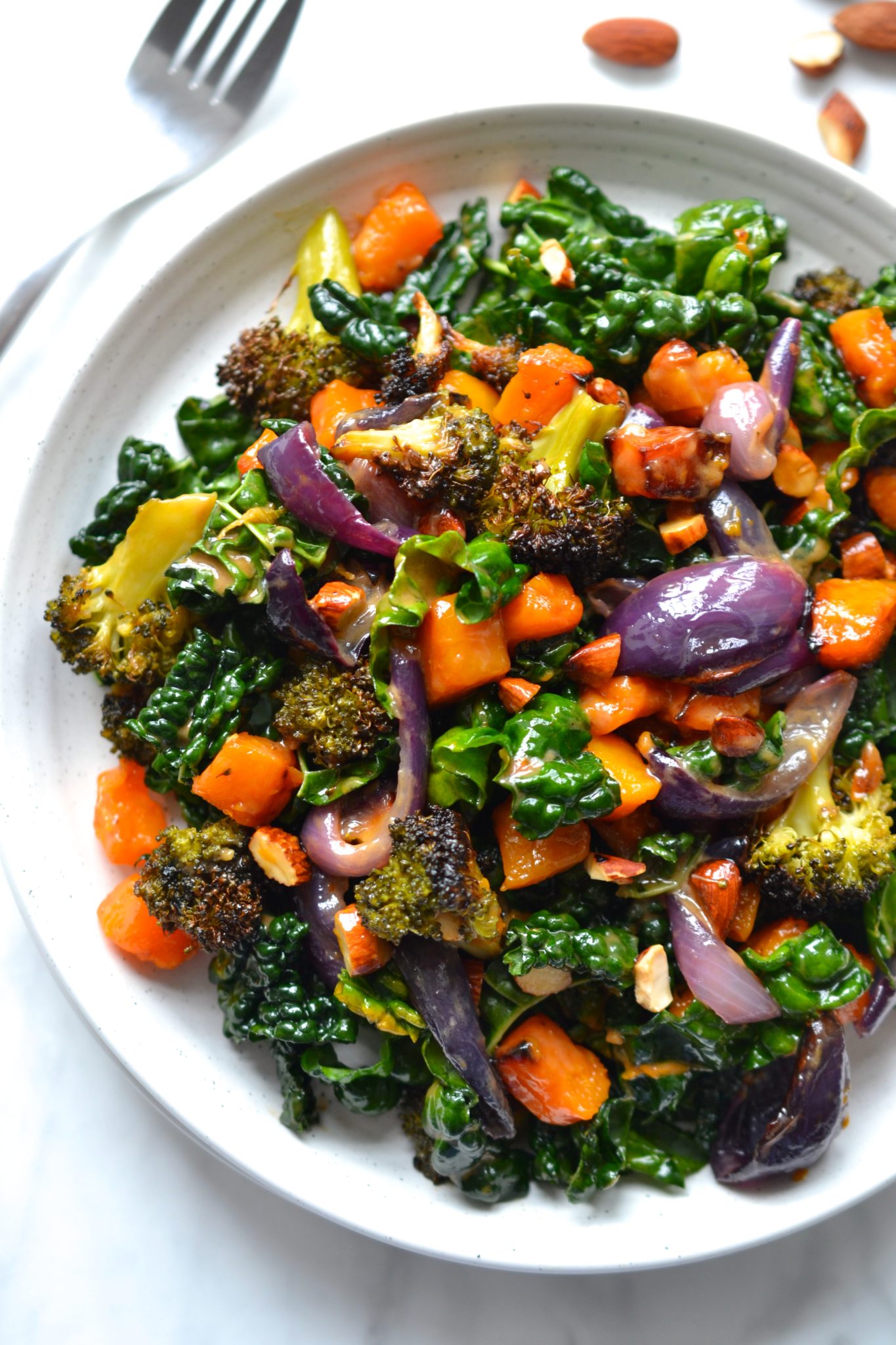 I am a total sucker for oven roasted vegetables this time of year, especially butternut squash and red onions. I love how they become slightly caramelized and so flavourful after just 20 minutes in the oven. This salad is really so easy to make, just place the cubed butternut squash, broccoli, red onion and a bulb of garlic on a baking tray and roast in the oven for 20 minutes.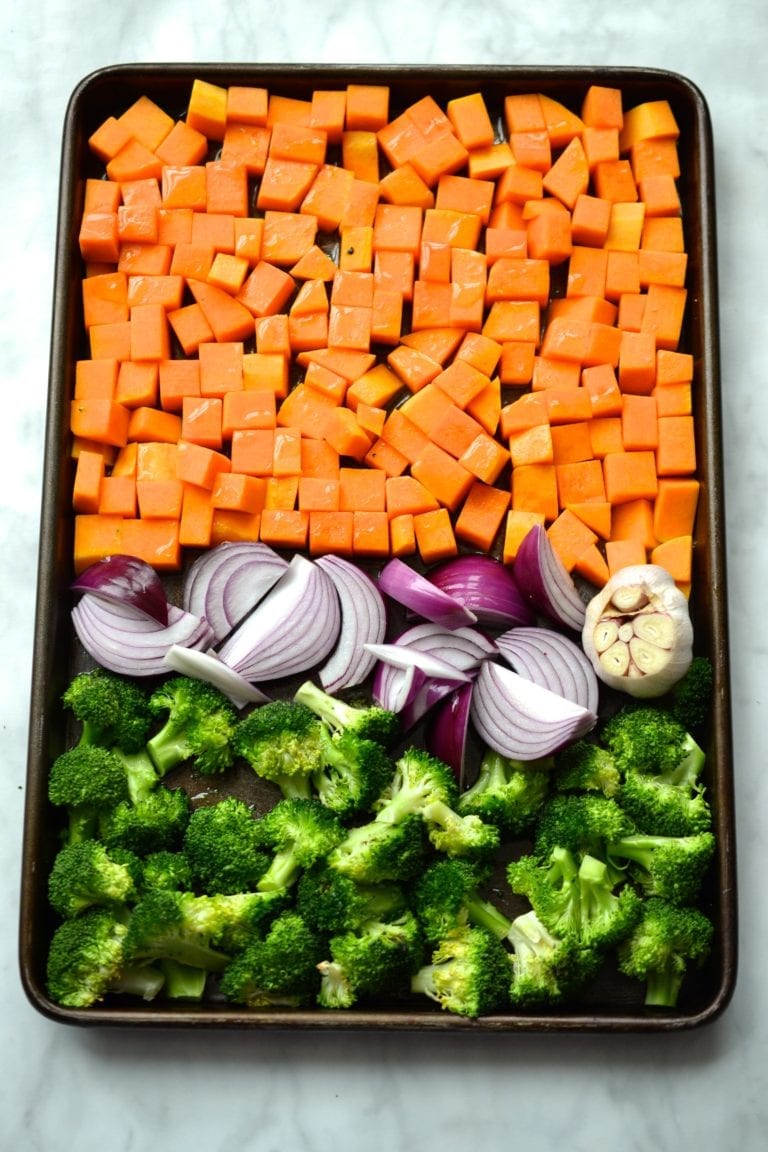 While the veggies are roasting you can prep the rest of the salad by shredding the kale and massaging it for a minute or two. I know that massaging kale sounds excessive, but it really makes such a big difference tenderizing the leaves.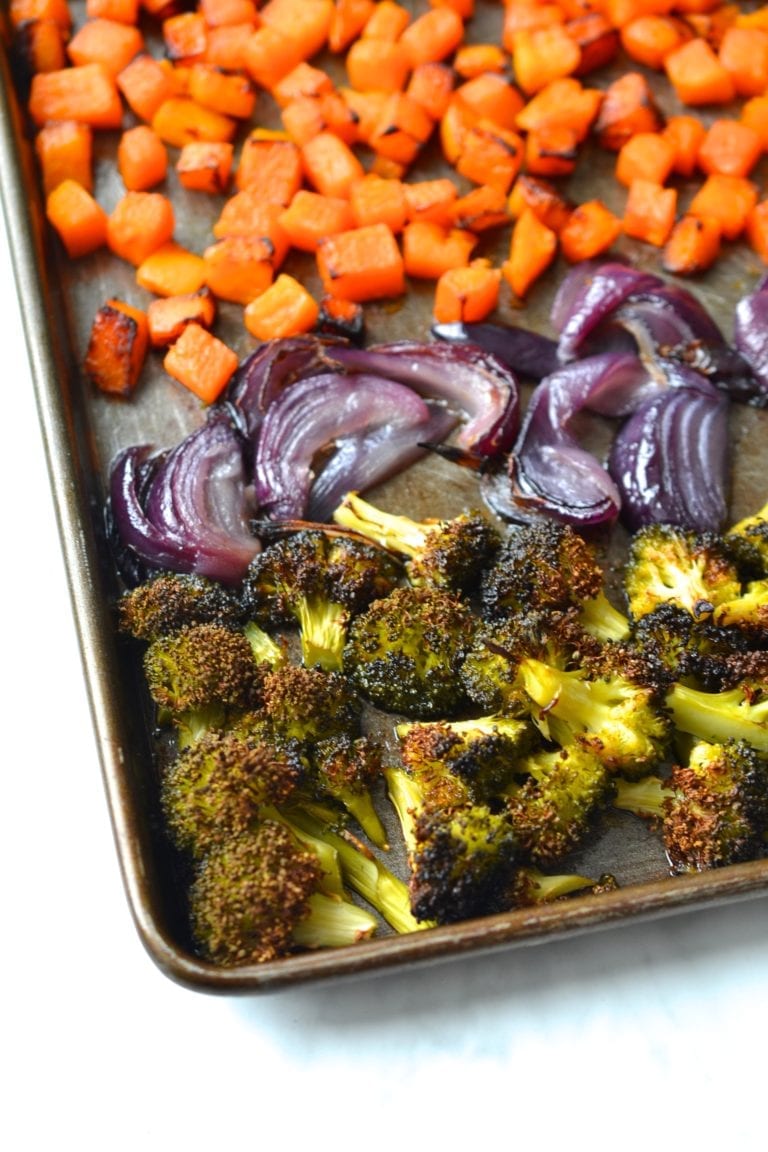 The dressing is so simple! The roasted garlic makes it slightly creamy and gives the dressing a deliciously rich flavour. I like to add in an egg yolk to make the dressing even creamier, but if you are Vegan or prefer not to eat raw egg then you can easily leave it out, it won't make a massive difference.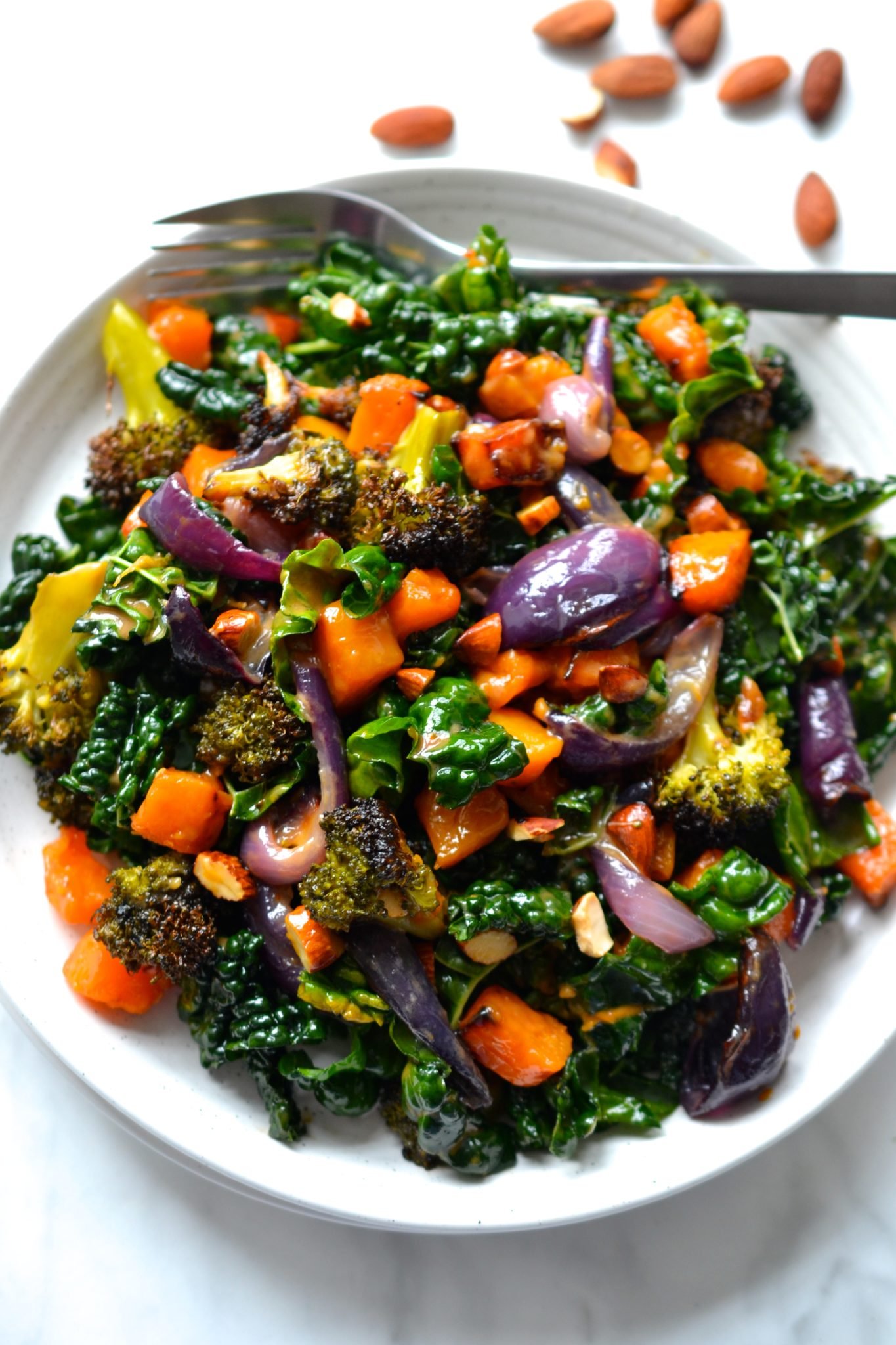 I am also really happy with how well this salad lasts. The day 2 leftovers were absolutely delicious and in no way soggy or limp.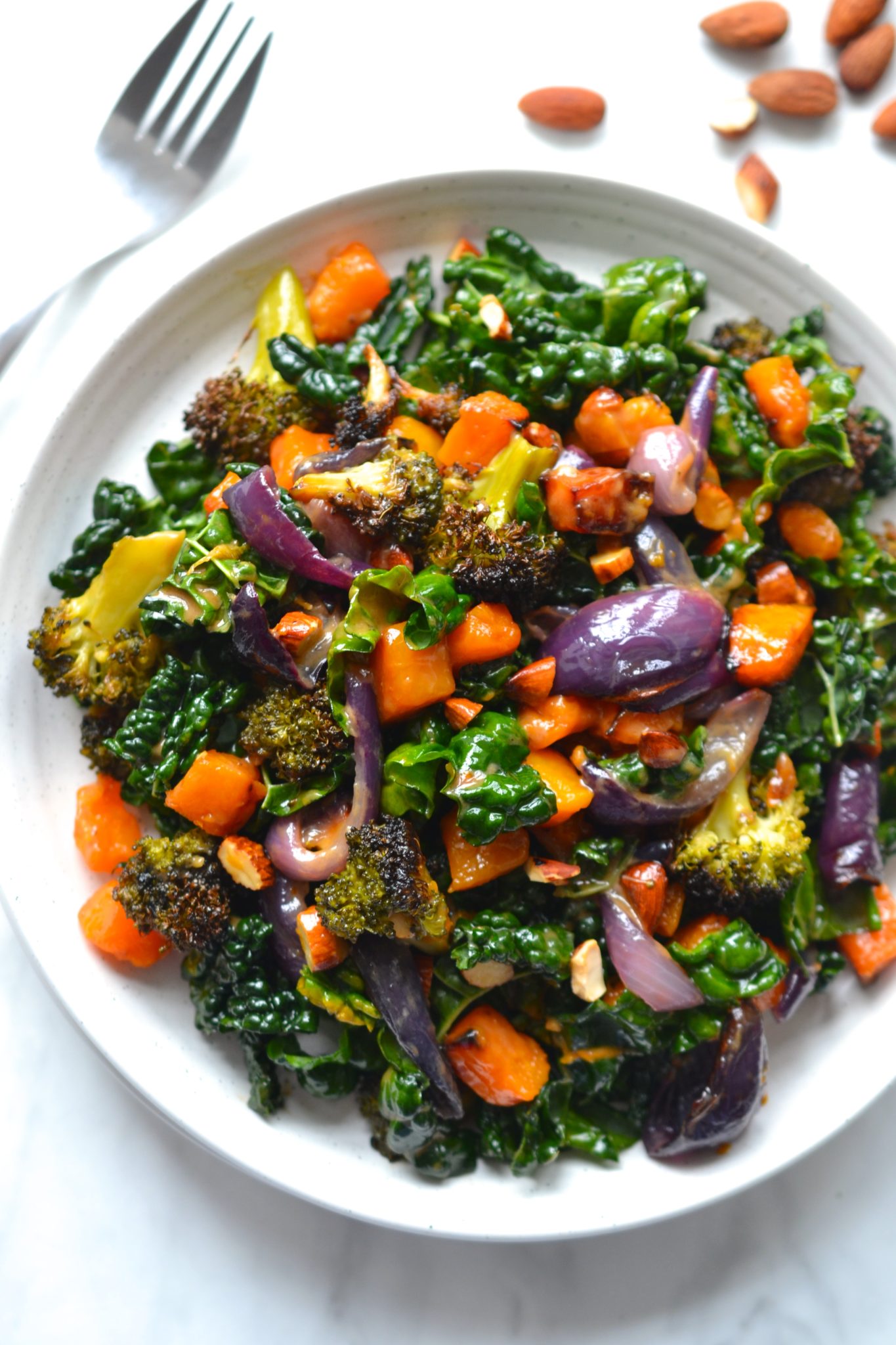 If you make this recipe let me know in the comment section below, I would love to hear what you think or take a photo and tag me (@everylastbite_) on Instagram, I love seeing your photos!
[embedyt] https://www.youtube.com/watch?v=U5hqBs2HUuE[/embedyt]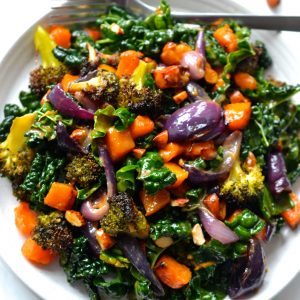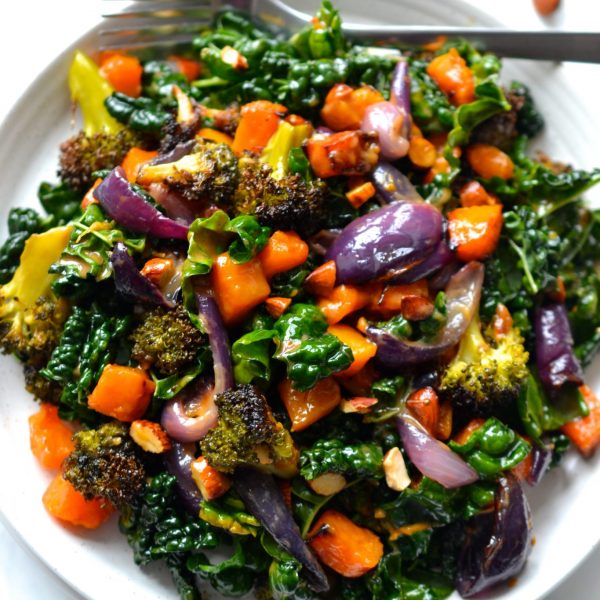 Butternut Squash, Broccoli & Kale Salad with Roasted Garlic Dressing
Ingredients
1 head broccoli cut into small florets
3 cups cubed butternut squash
1 red onion cut into thick slices
1 bulb garlic
1 1/2 tbsp olive oil
1/2 tsp salt
1 bunch Tuscan Kale
1/3 cup olive oil
2 tbsp balsamic vinegar
1 egg yolk (omit if vegan)
1/2 tsp black pepper
1/3 cup almonds roughly chopped
Instructions
Preheat the oven to 220 degrees Celsius (425F). Place the cubed butternut squash, broccoli florets and red onion on a baking tray. Cut the top off of the garlic bulb and place it on the baking tray. Drizzle everything with 1 1/2tbsp olive oil and sprinkle with 1/2 tsp salt. Place in the oven to bake for 20 minutes until the butternut squash is tender.

To prep the kale, remove the stems and chop the leaves into bite sized pieces. Place the chopped kale in a large salad bowl and sprinkle the leaves with a pinch of salt. With clean hands massage the kale leaves by scrunching it between your hands for about 1 minute. The kale will become darker in colour when you do this.

Squeeze the cloves out of the roasted head of garlic and place them in a blender or nutribullet. Add in the olive oil, balsamic, pepper and optional egg yolk. Blend until smooth and creamy.

To assemble the salad place the shredded kale in a bowl, top with the roasted butternut squash, broccoli and red onion, top with the chopped almonds and toss with the dressing.