Spanish Chicken & Chorizo Traybake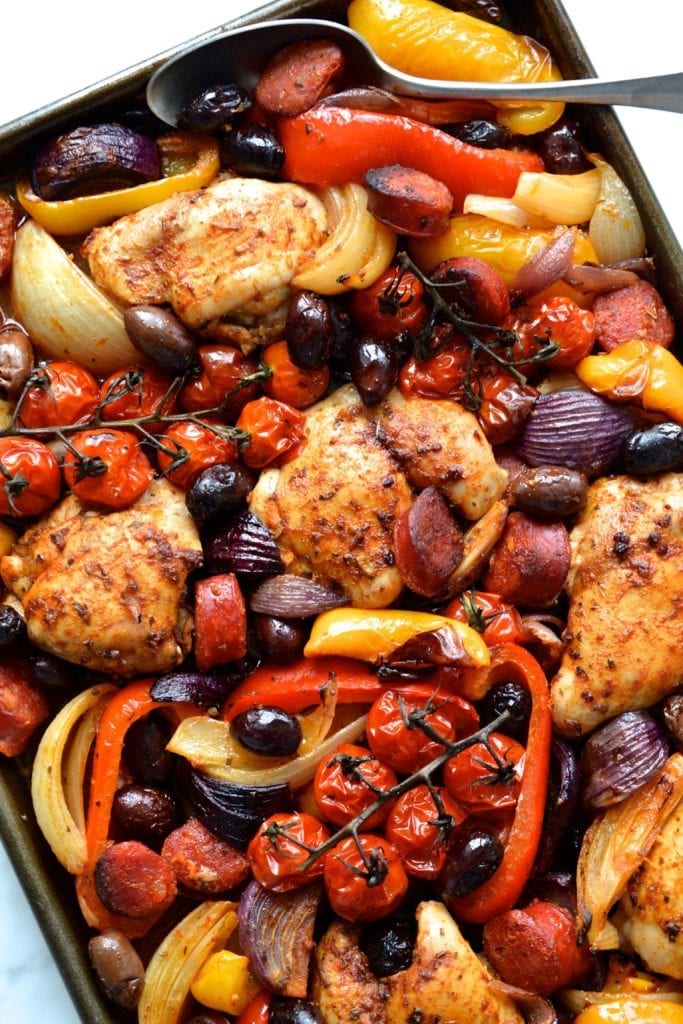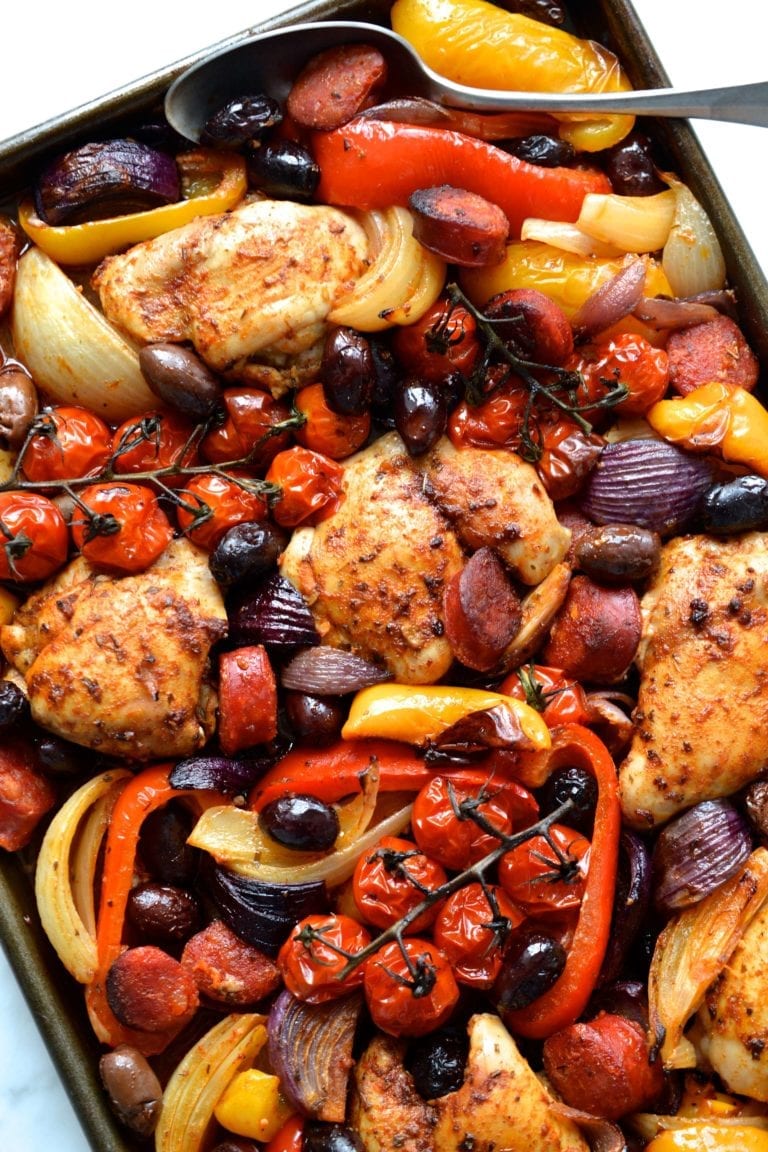 I am a massive fan of the simplicity of traybake recipes. I love that they require zero time spent standing over the hot stove cooking, and the hands on prep time is usually under 10 minutes.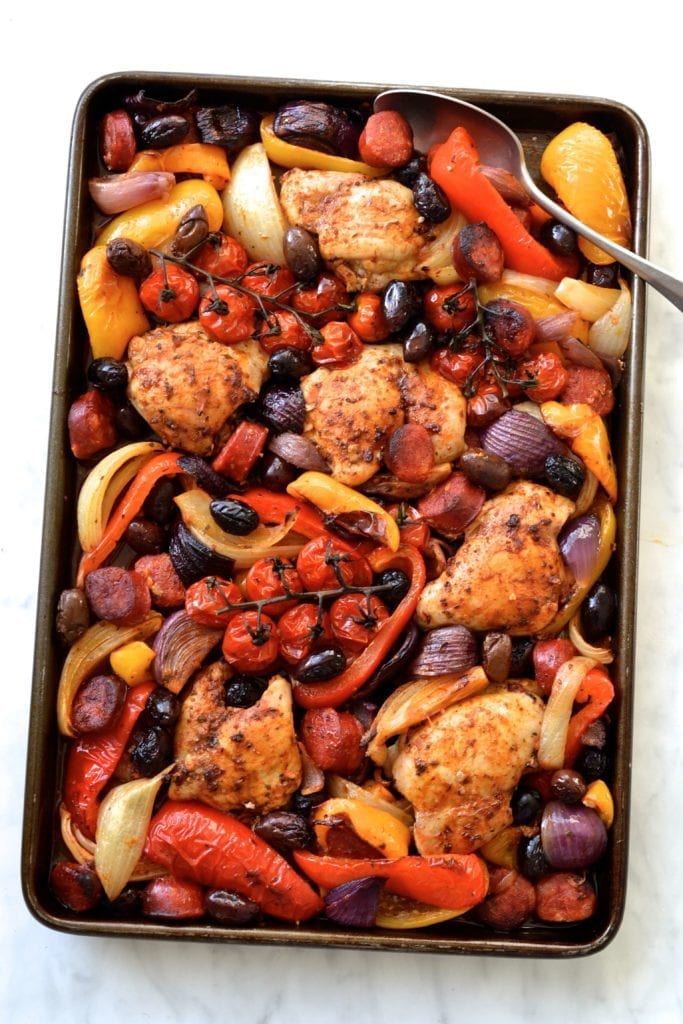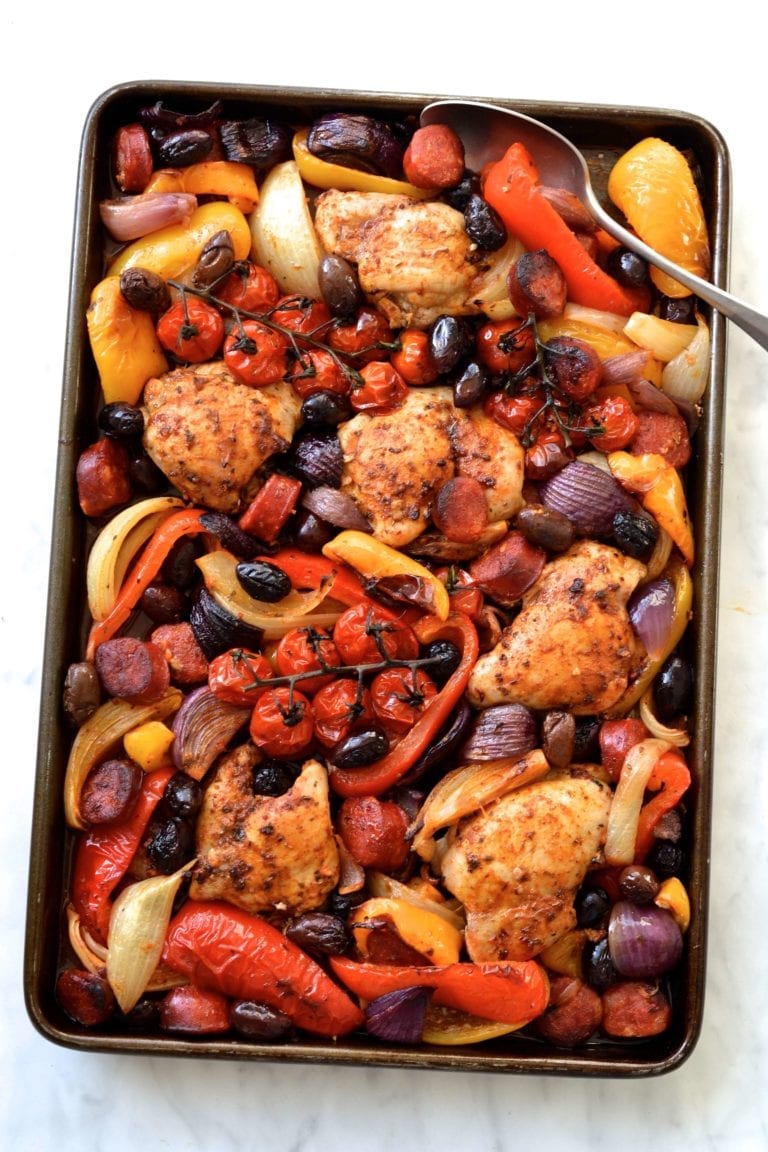 This Spanish Chicken & Chorizo Traybake is a spin on Greek Chicken Traybake which is one of the most popular recipes on this site.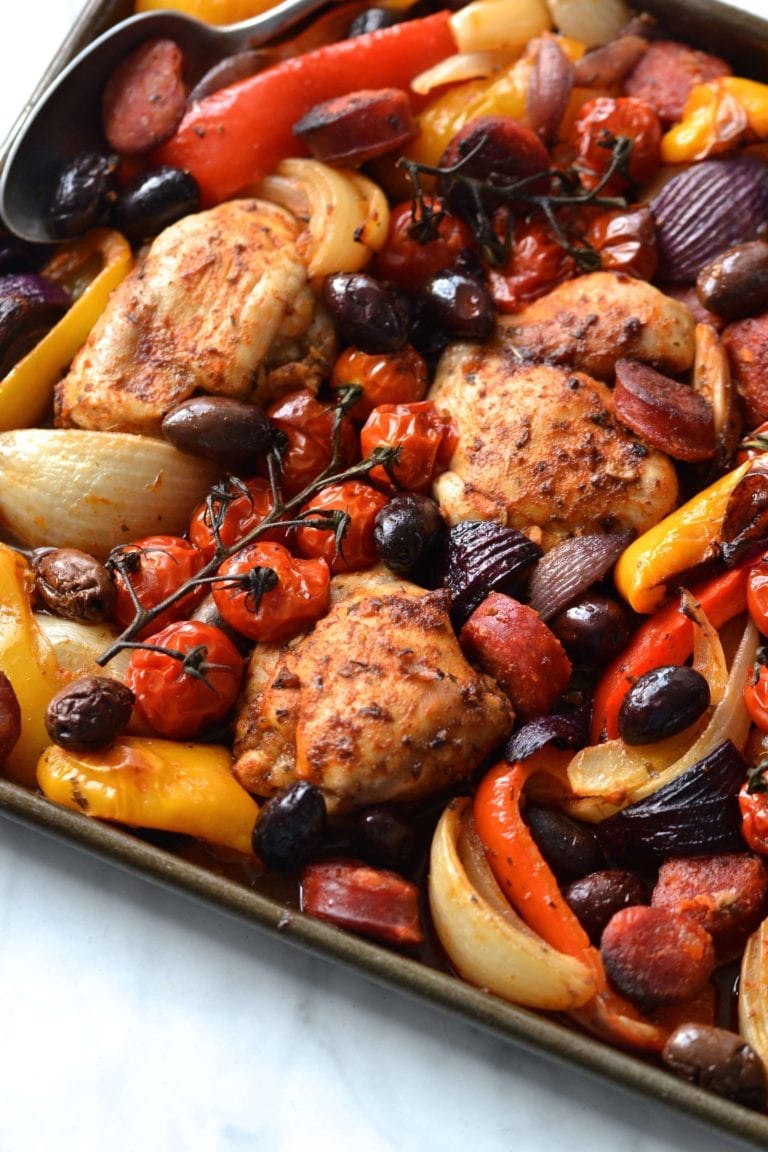 Red and yellow peppers, onions, tomatoes, chorizo and olives are all tossed in a paprika sauce and then topped with chicken. After 30 minutes of baking you have an easy, healthy and delicious all in one dinner that everyone will enjoy.

I love making double the recipe so that I have leftovers that I can enjoy over the following few days. The veggies and chicken are great tossed into a salad and you can even use any of the excess paprika sauce as a dressing.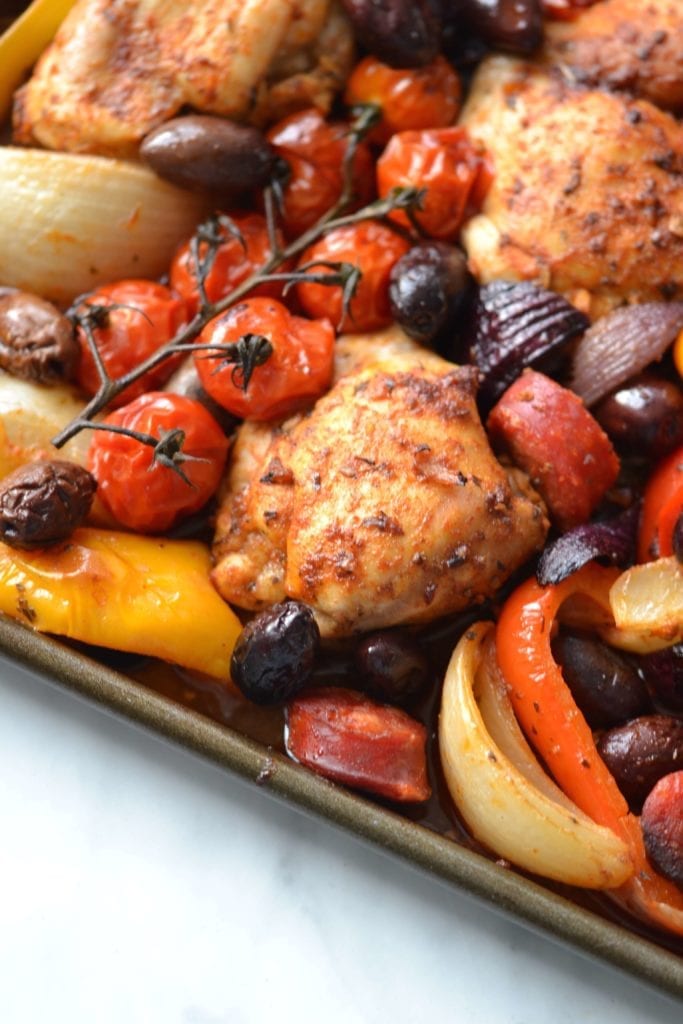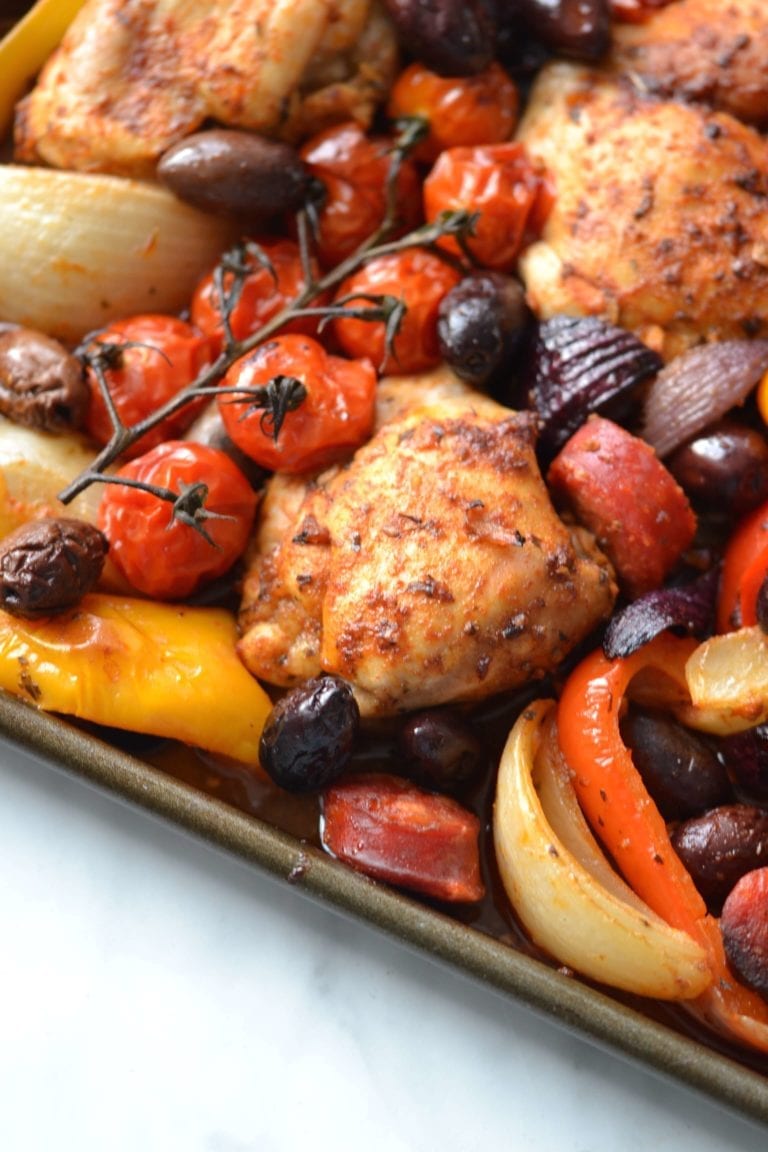 Feel free to play around with the ingredients, if you aren't on SCD then you could add in potatoes or sweet potatoes, and the chicken can be swapped for prawns or fish.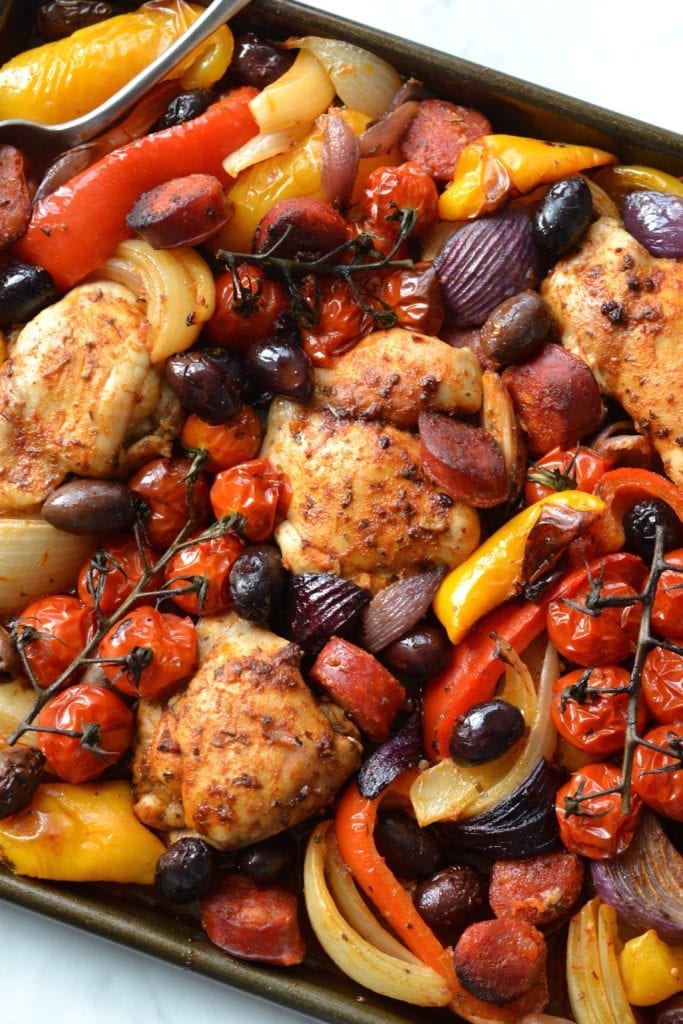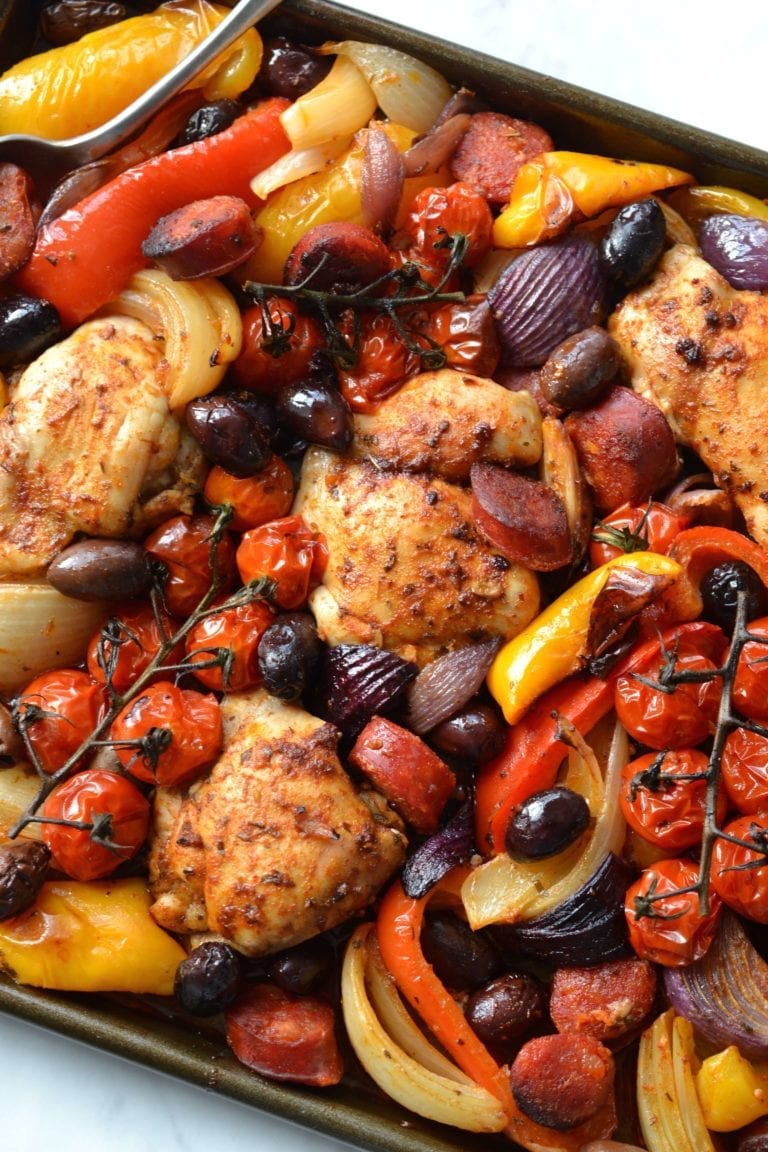 If you make this recipe let me know in the comment section below, I would love to hear what you think or take a photo and tag me (@everylastbite_) on Instagram, I love seeing your photos!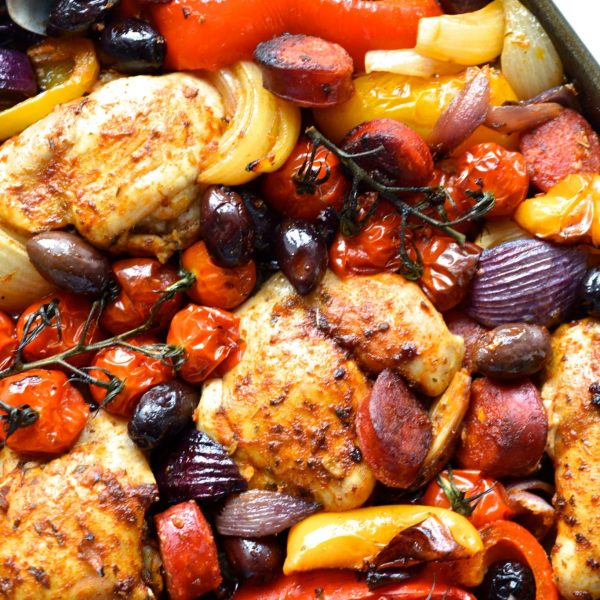 Spanish Chicken & Chorizo Traybake
Ingredients
1 yellow bell pepper deseeded and cut into chunks
1 red bell pepper deseeded and cut into chunks
1 red onion cut into wedges
1 white onion cut into wedges
6 boneless skinless chicken thighs (or 4 chicken breasts)
1 cup cherry tomatoes
2/3 cup chopped chorizo
1/2 cup black olives
1/3 cup olive oil
3 cloves garlic crushed
1 1/2 tsp smoked paprika
1/2 tsp oregano
1 tbsp red wine vinegar
1/4 tsp salt
1/4 tsp pepper
1 tbsp fresh parsley
Instructions
Preheat the oven to 200 degrees Celsius (390F)

On a large baking sheet add the chopped bell peppers, onions, cherry, chorizo, tomatoes and olive.

In a bowl whisk together the olive oil, crushed garlic, paprika, oregano, vinegar, salt and pepper. Pour 2/3 of the sauce over the veggies and toss with your hands to ensure everything is well coated. Place the chicken pieces on top of the veggies and brush with the remaining sauce.

Bake in the oven for 30 minutes, remove from the oven half way through cooking and spoon some of the sauce from the bottom of the dish over the chicken and veggies before returning back to the oven to bake.


Check the chicken to ensure it's no longer pink. Sprinkle the veggies with chopped parsley before serving.