Spicy Shrimp Tacos

I am so excited to share this new taco recipe with you! I'm not sure why it's taken me so long to post a recipe for shrimp tacos because they are my absolute favourite taco filling.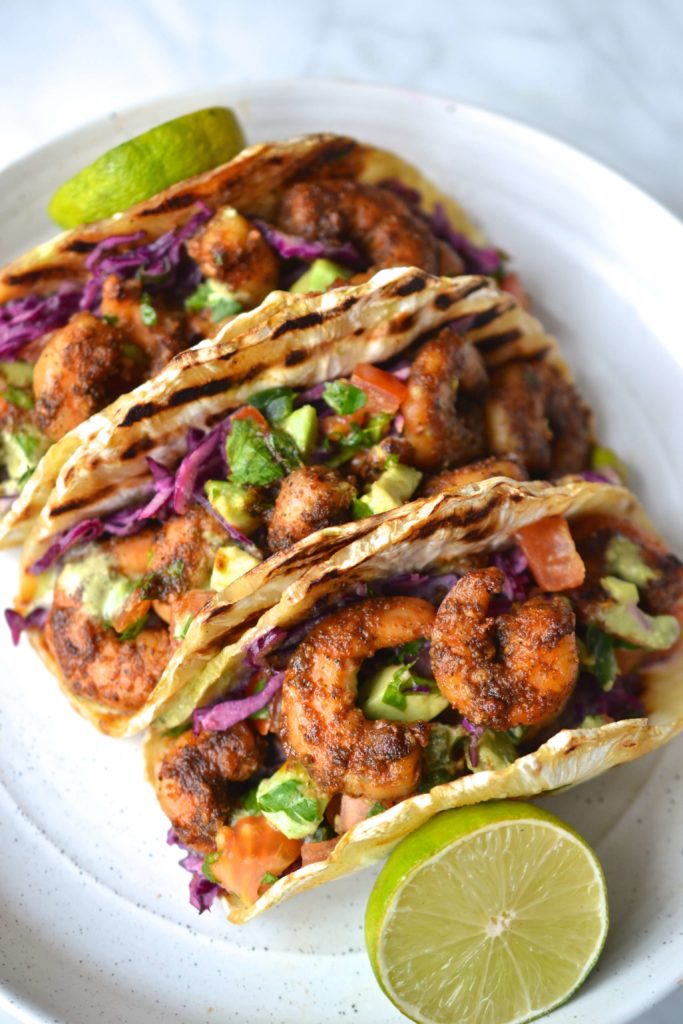 The shrimp are coated in quite a flavour packed mixture of cumin, paprika, garlic and chilli. You could leave them to marinate in this mixture for as little as 10 minutes while you prep the rest of the tacos, or up to overnight for more flavourful shrimp.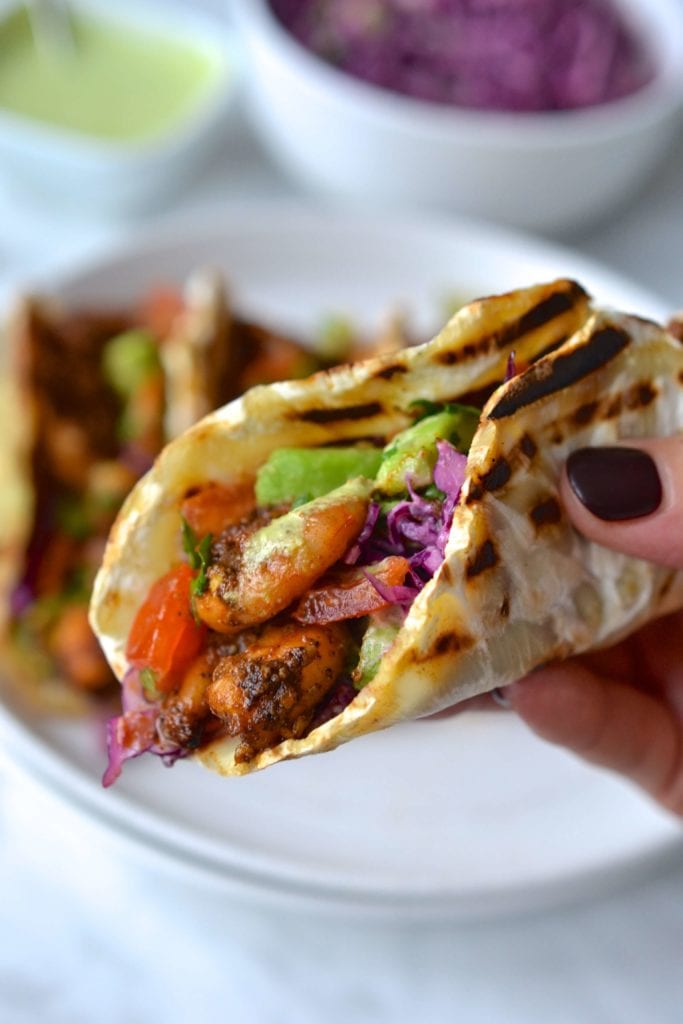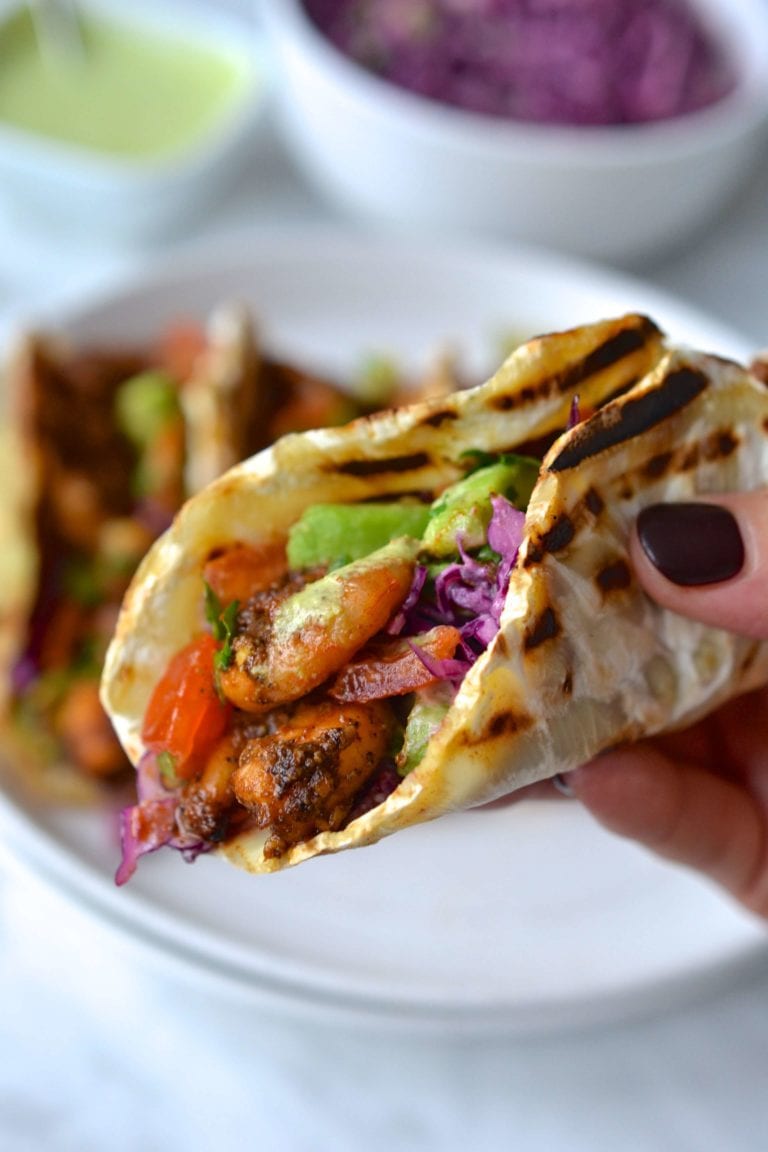 I originally wanted to create more of a crusted shrimp but I am so happy that I kept things simple with this spice mix because not only is it easy, it's so delicious! I found that if you heated a skillet for a minute or two to get it really hot before adding in the prawns it creates a nice spiced crust on them.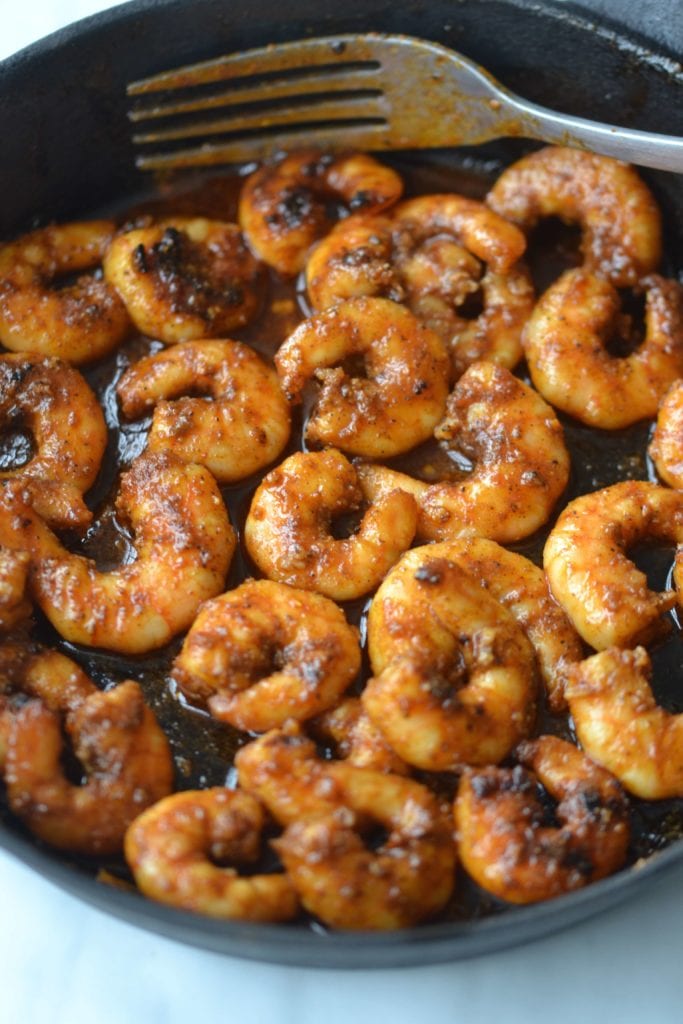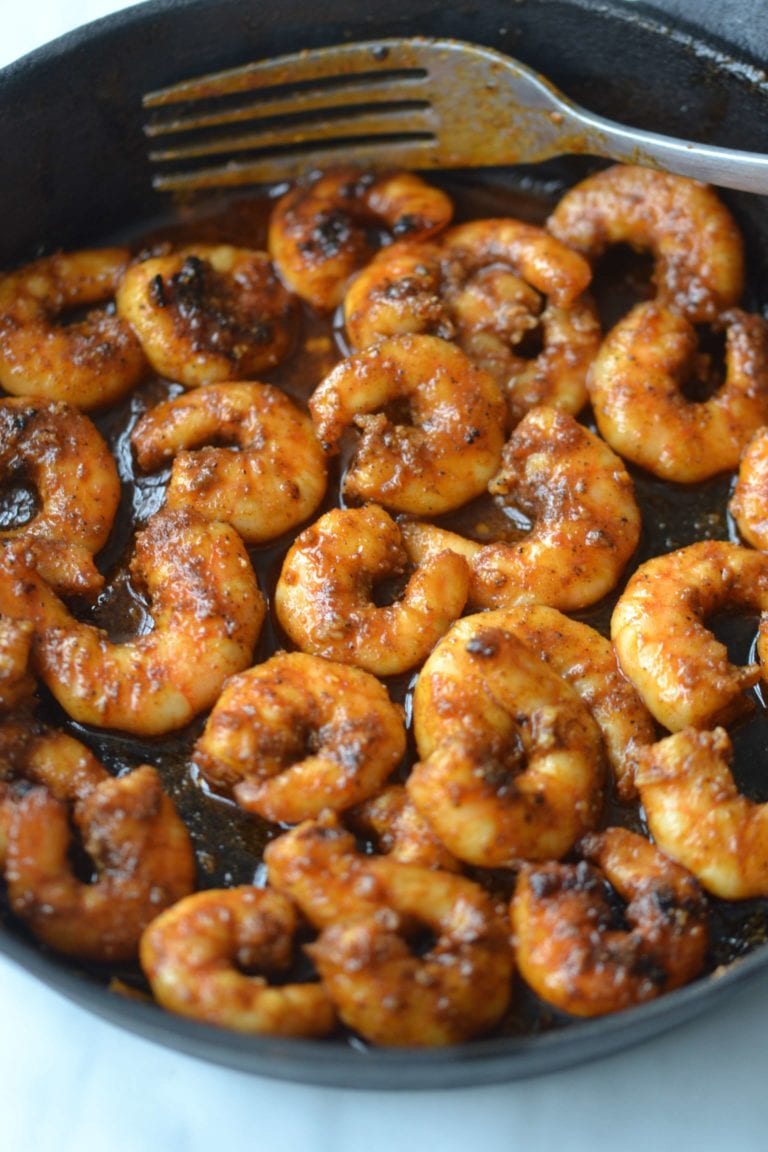 As always I am using celery root for the tortillas because I will never get sick of them, but these tacos would also be delicious in lettuce cups or you can even just put everything together in a taco bowl as well.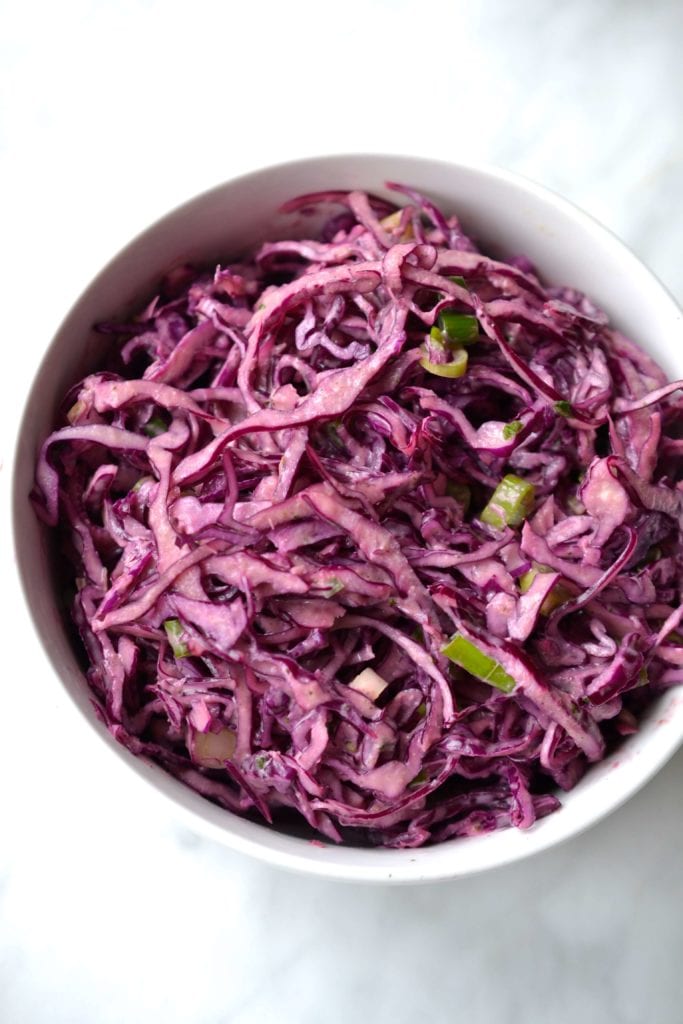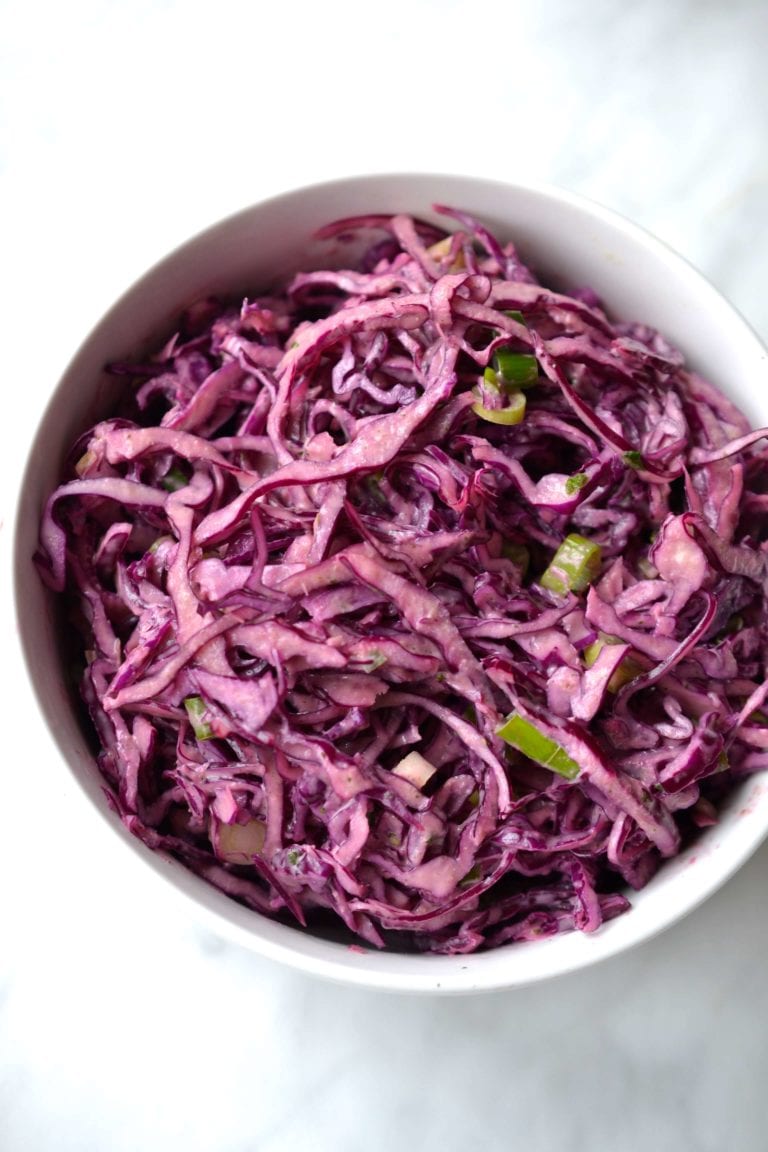 The coleslaw is very simple and either purple or green cabbage or a precut mix of coleslaw all work well. It's the sauce that really takes it from boring old coleslaw to eating it with a fork straight from the bowl. The cilantro lime sauce is so good that I've started using it as a salad dressing and dipping sauce for just about everything.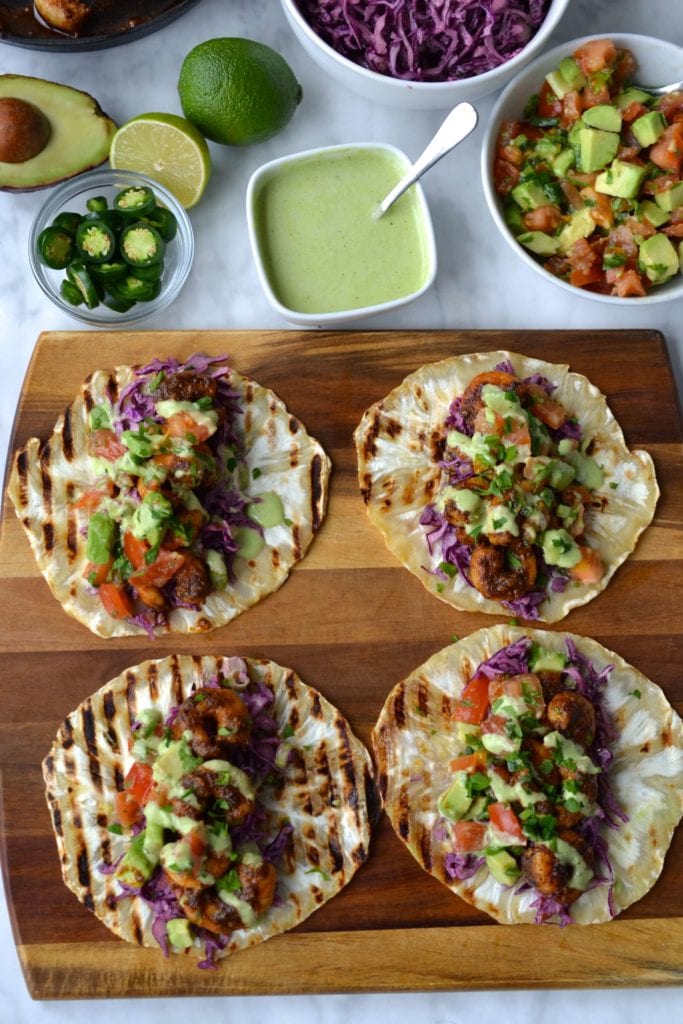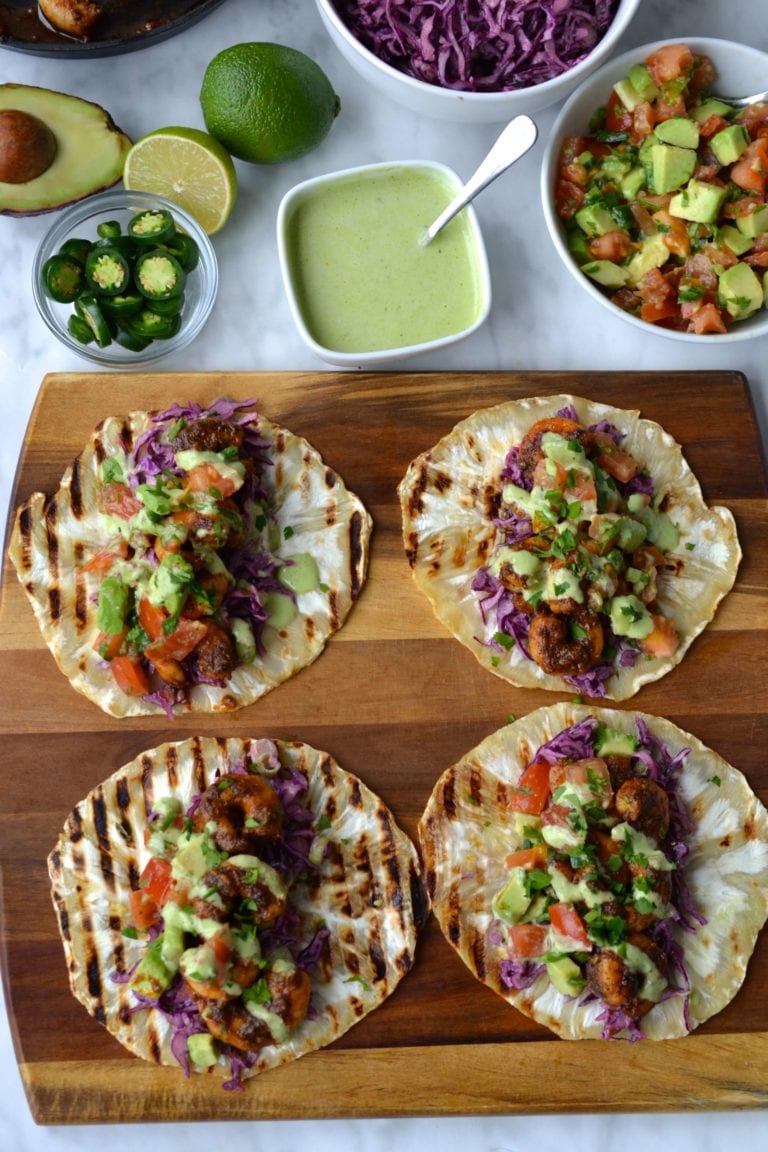 These spicy shrimp tacos are a total show stopper that even healthy eating skeptics would love. They would be great for a big dinner with friends as the tortillas, salsa and coleslaw could all be made in advance and then you would just need to quickly grill the shrimp before serving.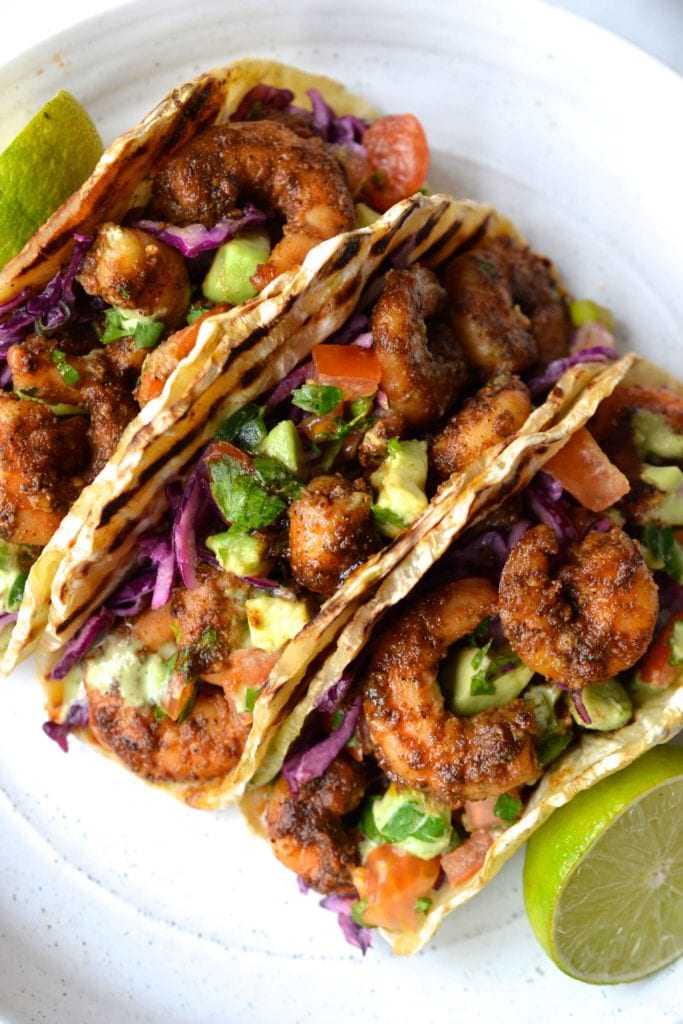 If you make this recipe let me know in the comment section below, I would love to hear what you think or take a photo and tag me (@everylastbite_) on Instagram, I love seeing your photos!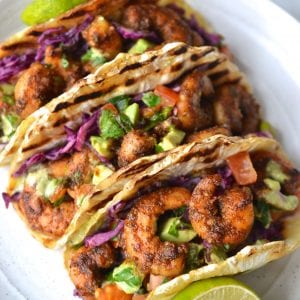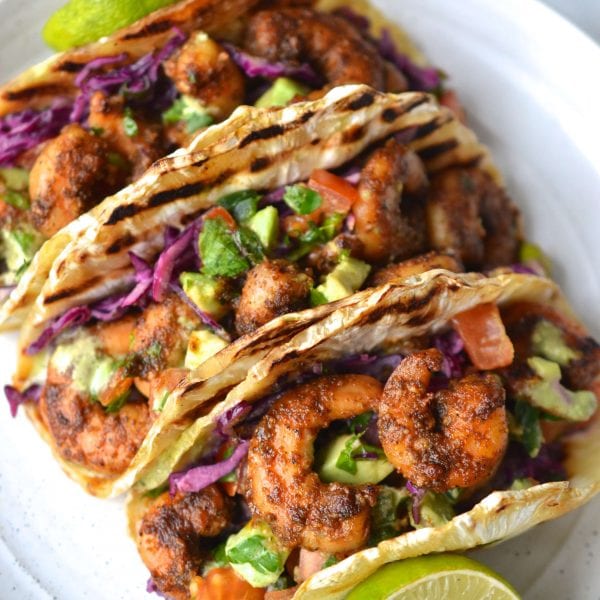 Spicy Shrimp Tacos
Ingredients
Spicy Shrimp
400 grams large shrimp, shells removed and deveined
2 tbsp olive oil
1 tsp cumin
1/2 tsp chili powder
1 tsp smoked paprika
1 clove garlic crushed
1/4 tsp salt
1/4 tsp pepper
Coleslaw & Cilantro Lime Sauce
1/4 cup chopped scallions
3 cups shredded purple or green cabbage
1/2 cup mayonnaise
1/3 cup chopped cilantro
2 cloves garlic
2 tbsp lime juice
1/3 cup chopped scallions
pinch salt
Tacos
1 large celery root
1/2 lime cut into wedges
Avocado Tomato Salsa
2 medium tomatoes diced
1 avocado diced
1 jalapeno finely chopped
1/4 cup cilantro roughly chopped
1 tbsp lime juice
1/2 tsp salt
Instructions
Place the shrimp in a bowl along with 1 tbsp olive oil and all of the spices and toss with your hands to ensure they are well coated. Set aside to marinate for a few minutes.

To make the coleslaw in a bowl combine the shredded cabbage and 1/4 cup chopped scallions. In a food processor combine the mayonnaise, cilantro, garlic, lime juice, salt and 1/3 cup chopped scallions and blend until smooth. Pour approximately half of the sauce over the coleslaw and toss until its well coated. Set aside.

Prep the tortillas by cutting both ends off of the celery root and then removing the outer peel. Using a sharp knife cut the celery root into slices that are as thin as possible. If the tortillas are still quite thick I recommend running a knife over the top of each slice to shave down the slices.

Heat a sandwich press or alternatively put a grill pan on medium heat and grill the tortillas for approximately 5 minutes until grill marks form and they are tender and pliable.

In a bowl combine all of the ingredients for the salsa and stir until well mixed.

Heat 1 tbsp olive oil in a skillet on high heat and then add in the shrimp. Cook them for 3-4 minutes per side until pink.

To assemble fill each tortilla with the coleslaw, avocado salsa and shrimp and then drizzle with the extra cilantro lime sauce. Serve with wedges of lime and sliced jalapeños.