Crab & Shrimp Ravioli with Lemon Tomato Sauce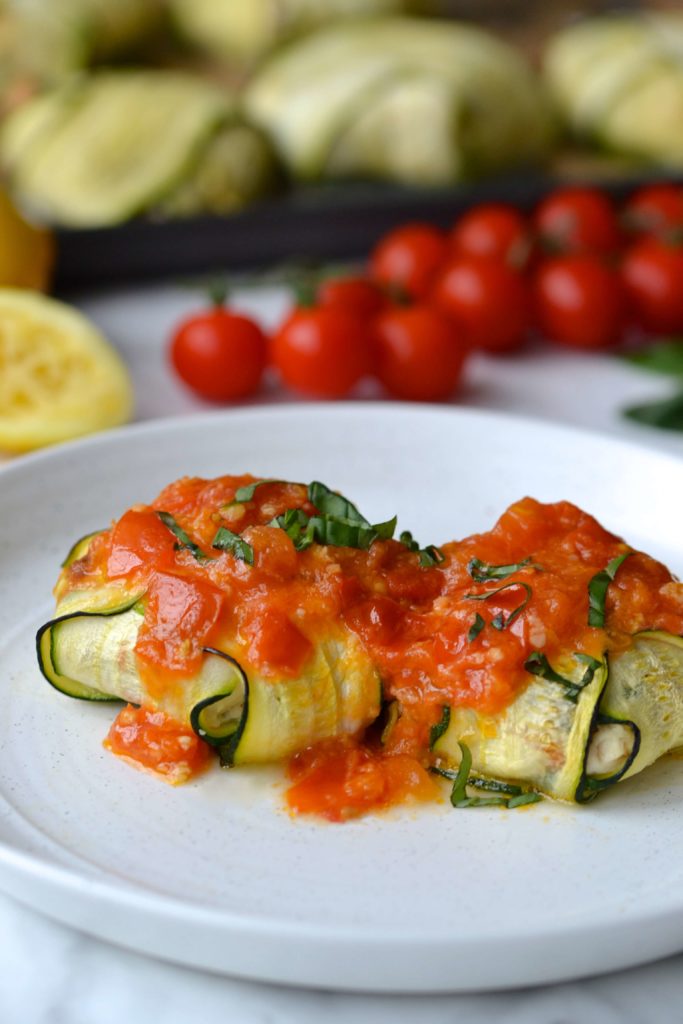 I don't want to brag, but this dish is a total show stopper. The creamy crab and shrimp filling of the ravioli is so delicious and pairs perfectly with the fresh flavours of the lemony tomato sauce.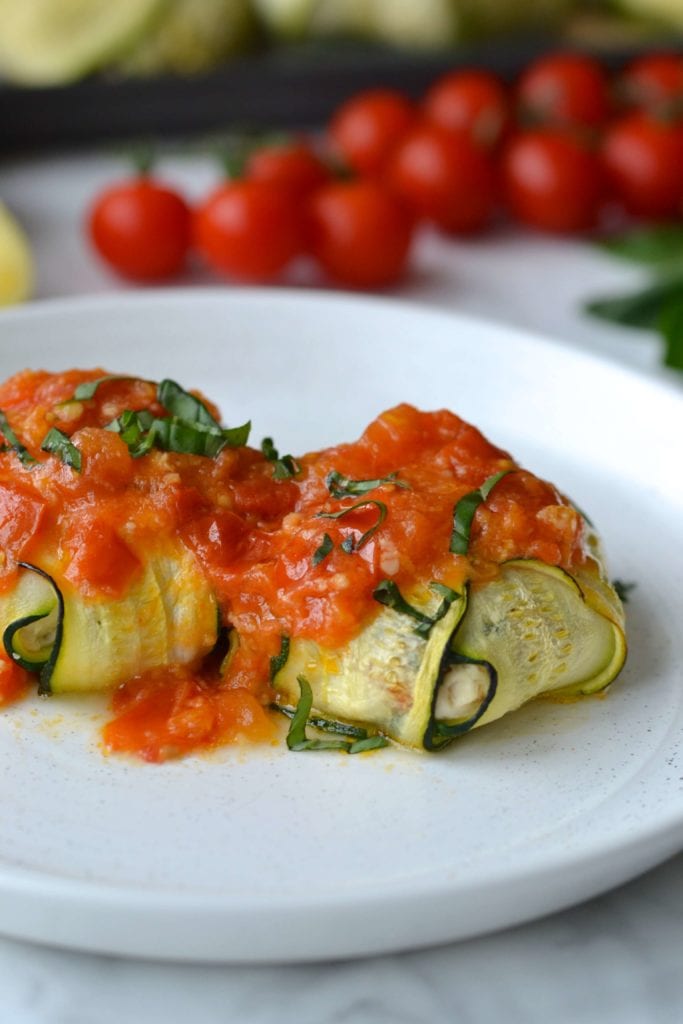 After getting so many positive comments from people who tried the Butternut Squash Ravioli with Kale Pesto I knew I wanted to try a different filling. After experimenting with a few different options, this seafood version was a clear winner.


Between the ridiculously high price of crab, allergies and many peoples dislikes for different kinds of fish or shellfish, I decided to create 2 versions of this recipe to give you a bit more flexibility.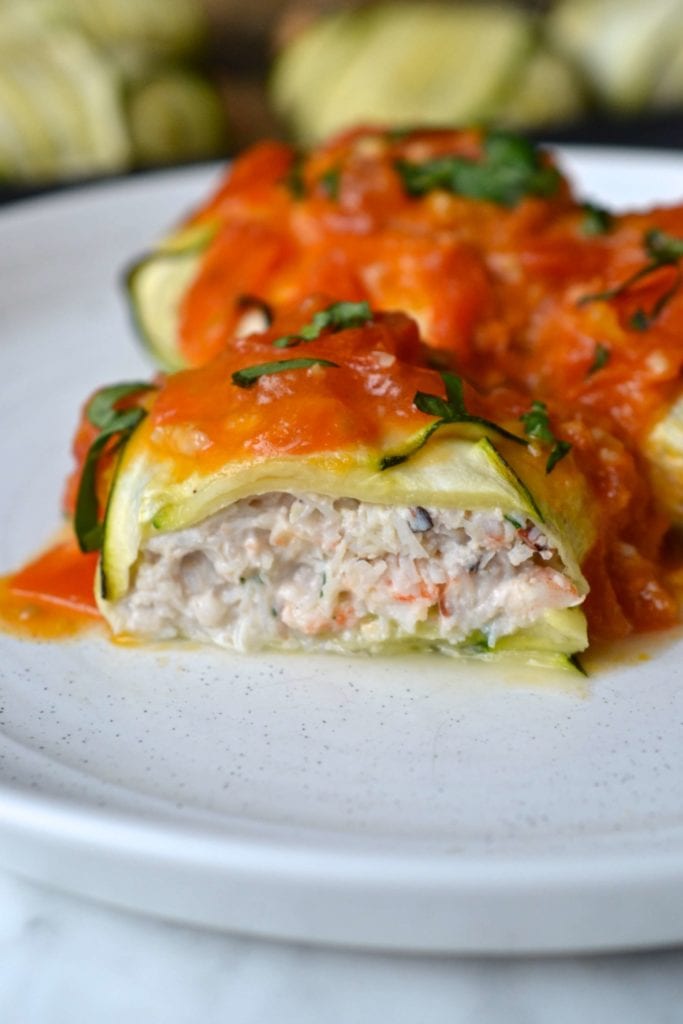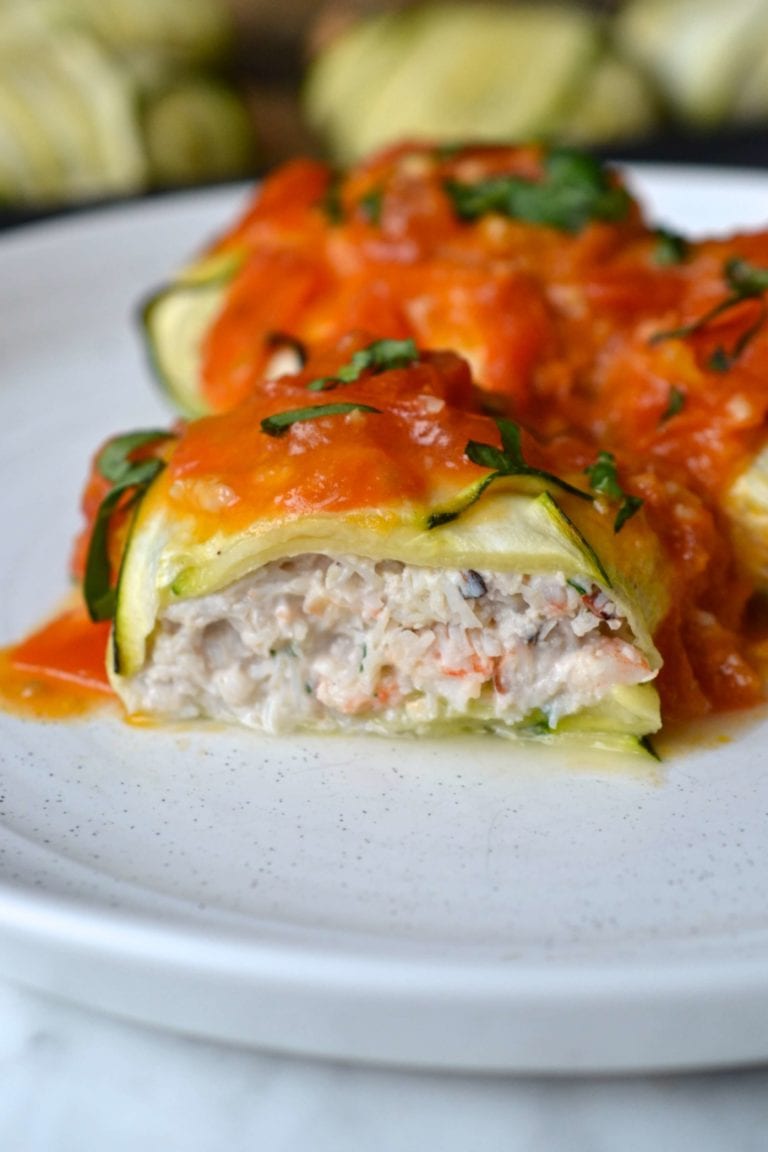 For the filling you can use a combination of seabass (or other flaky white fish), crab or shrimp. I recommend doing a 50/50 mix of 2 of the three options as it guarantees the mix will bind well in the ravioli.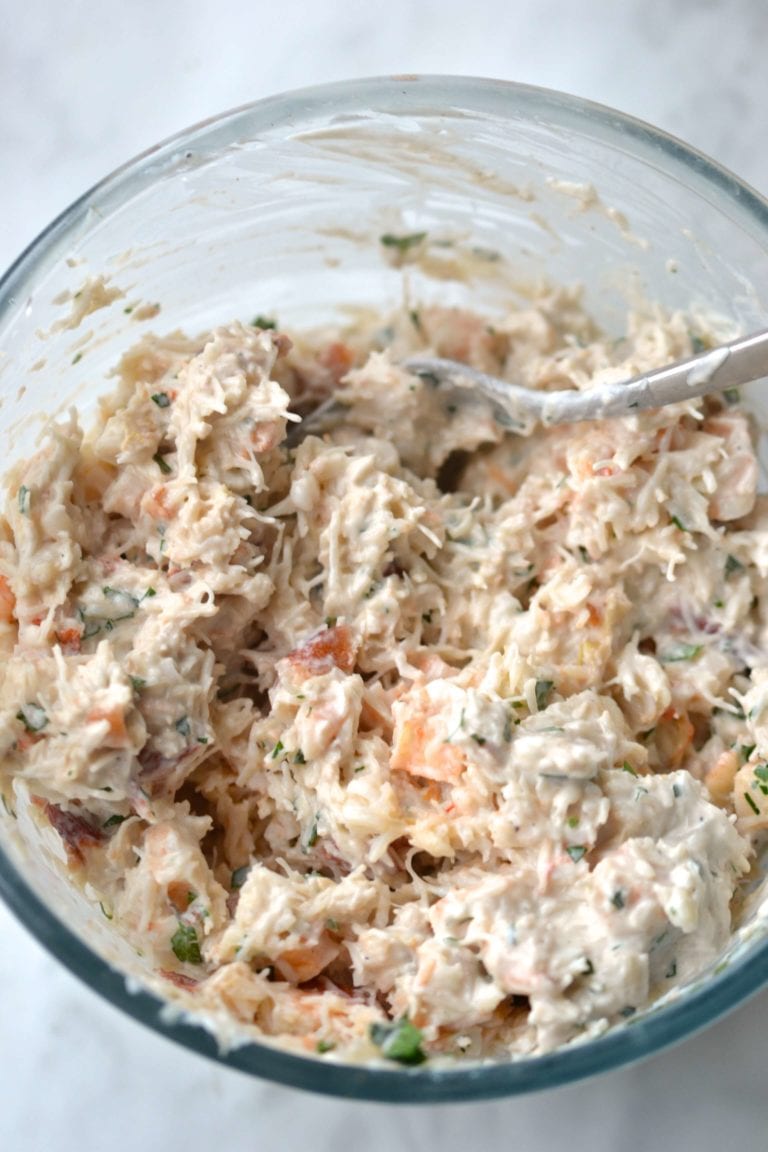 The seafood is mixed with a cashew cream and then seasoned with herbs. The filling is simple but really delicious.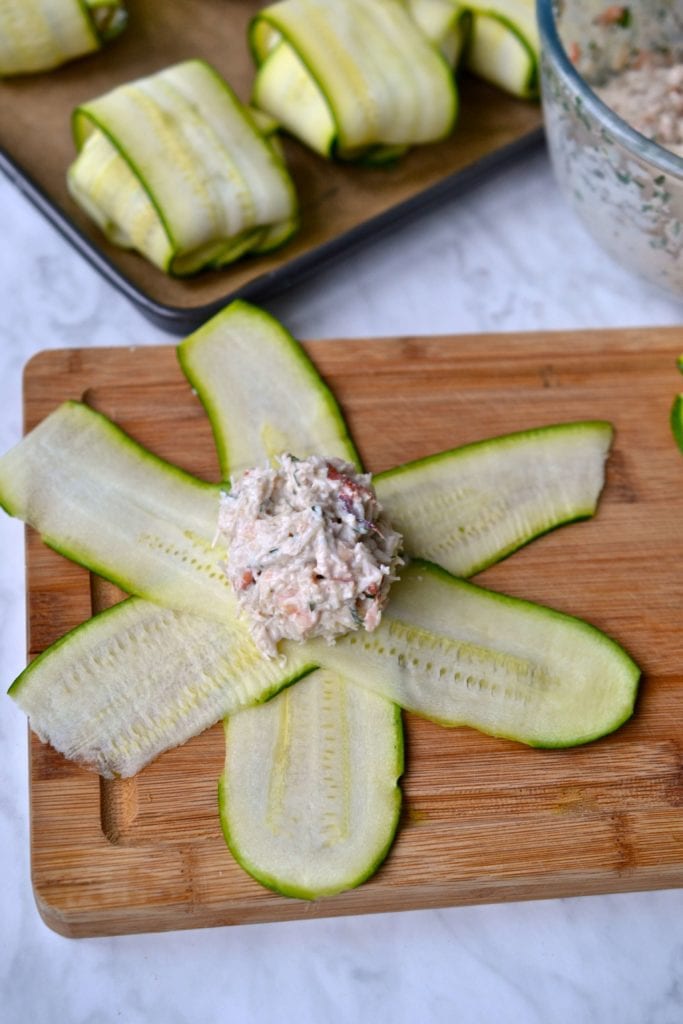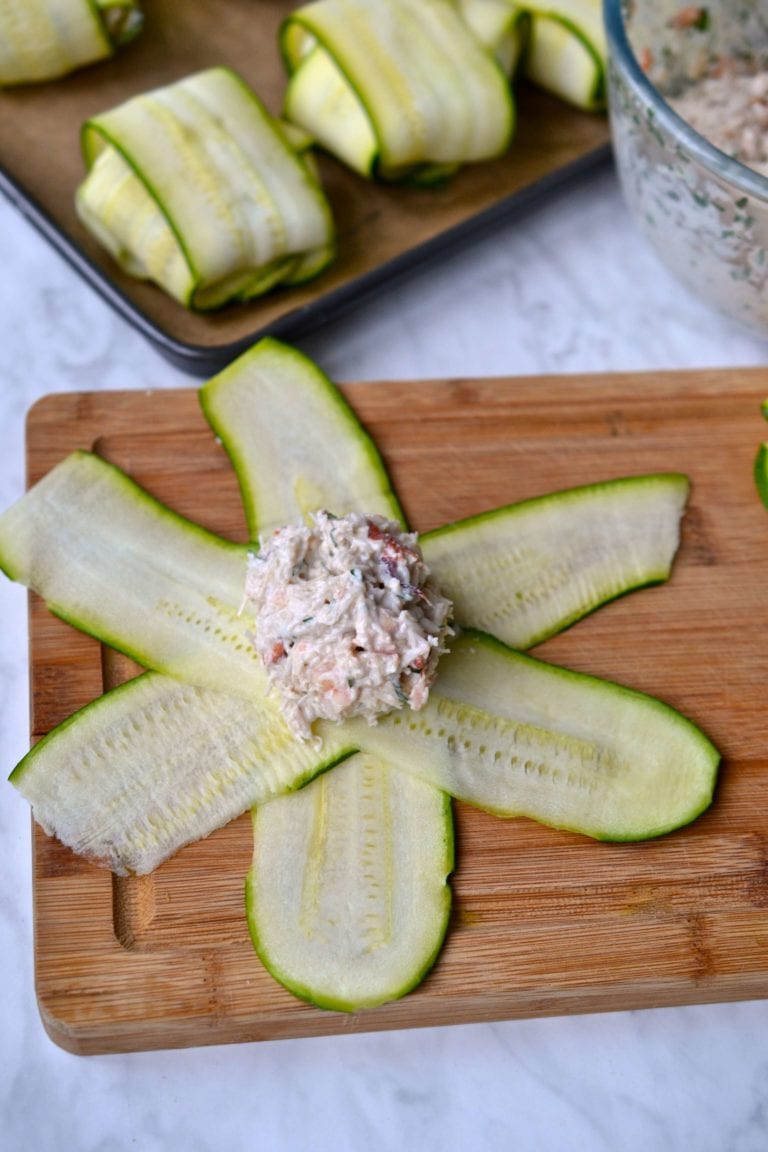 Although wrapping up the ravioli looks complicated, it's actually incredibly easy. Place three zucchini strips in a star formation which overlaps in the center, then place a large scoop of the filling in the center. Work in a circle folding the ends of the zucchini strips up and over top of the filling. Make sure that you place the ravioli seam side down on the baking sheet so that they don't unravel when baked.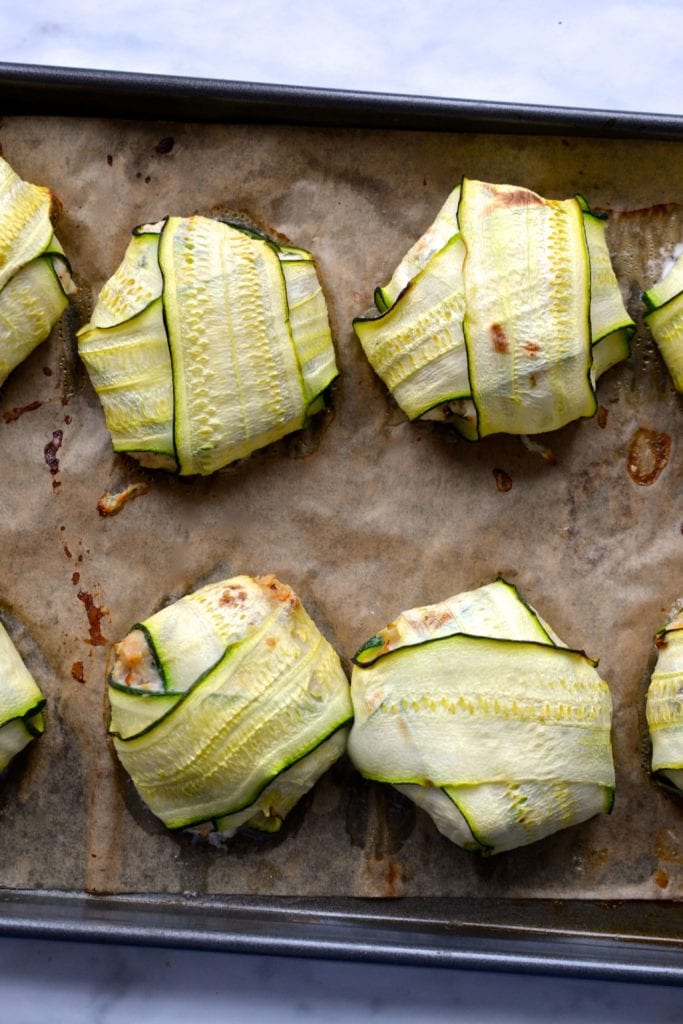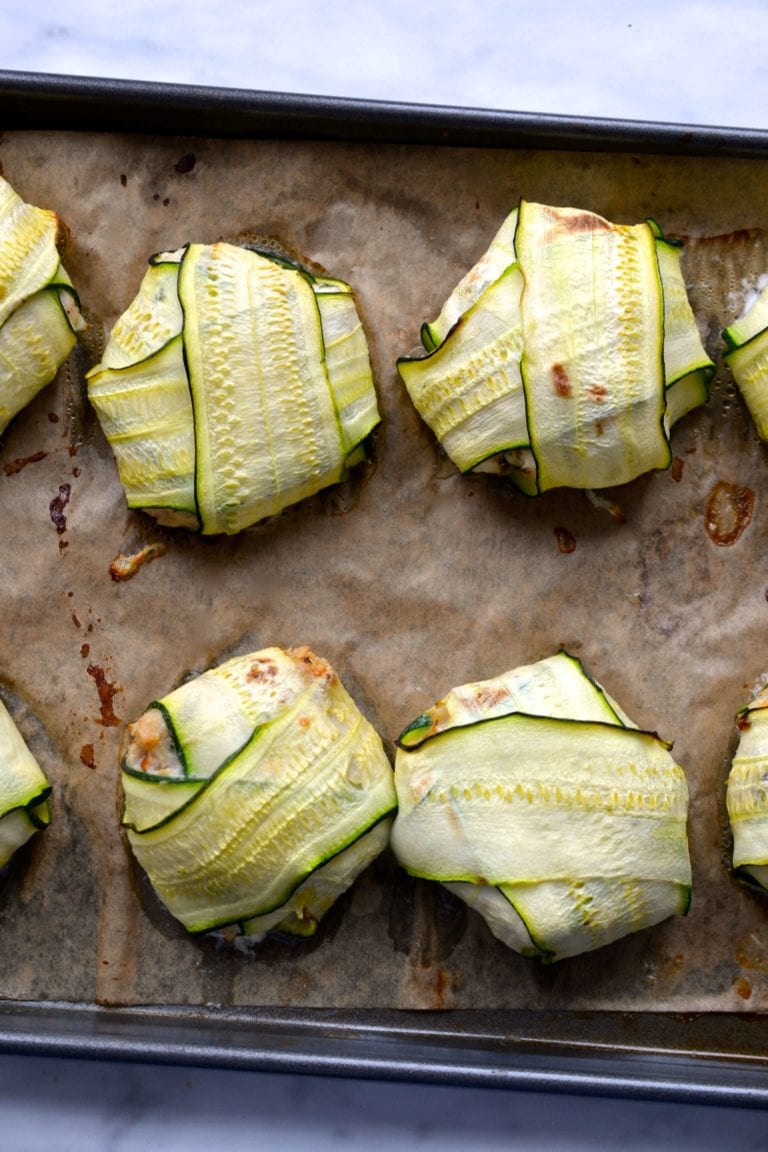 This tomato lemon sauce is my go to easy sauce for any kind of fish dish. I think that the freshness that the addition of lemon juice and zest brings to the sauce really works well with seafood.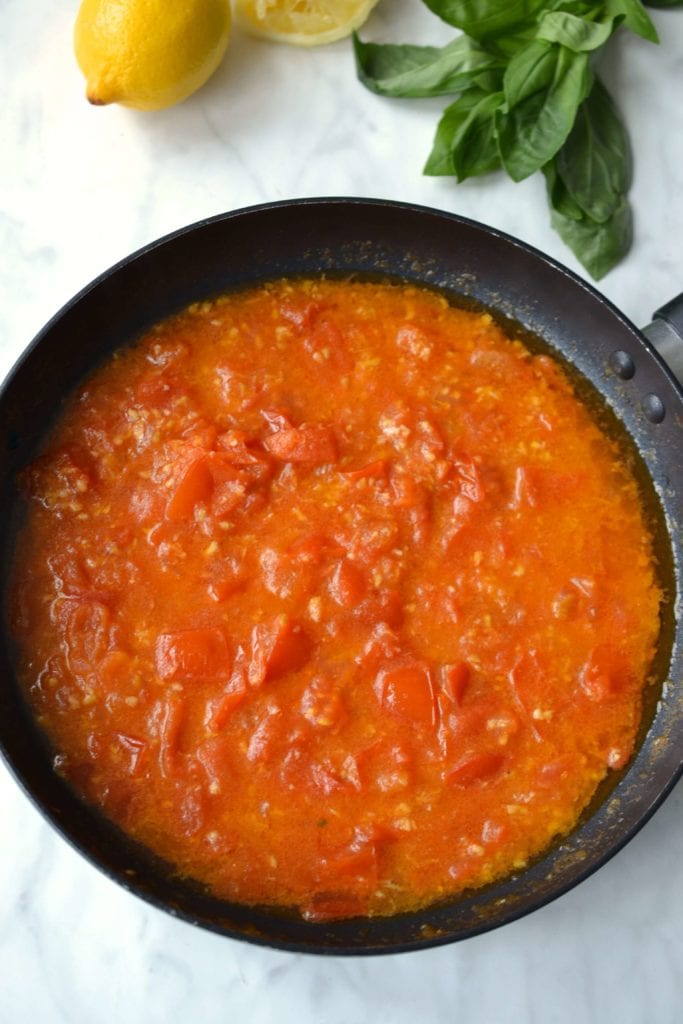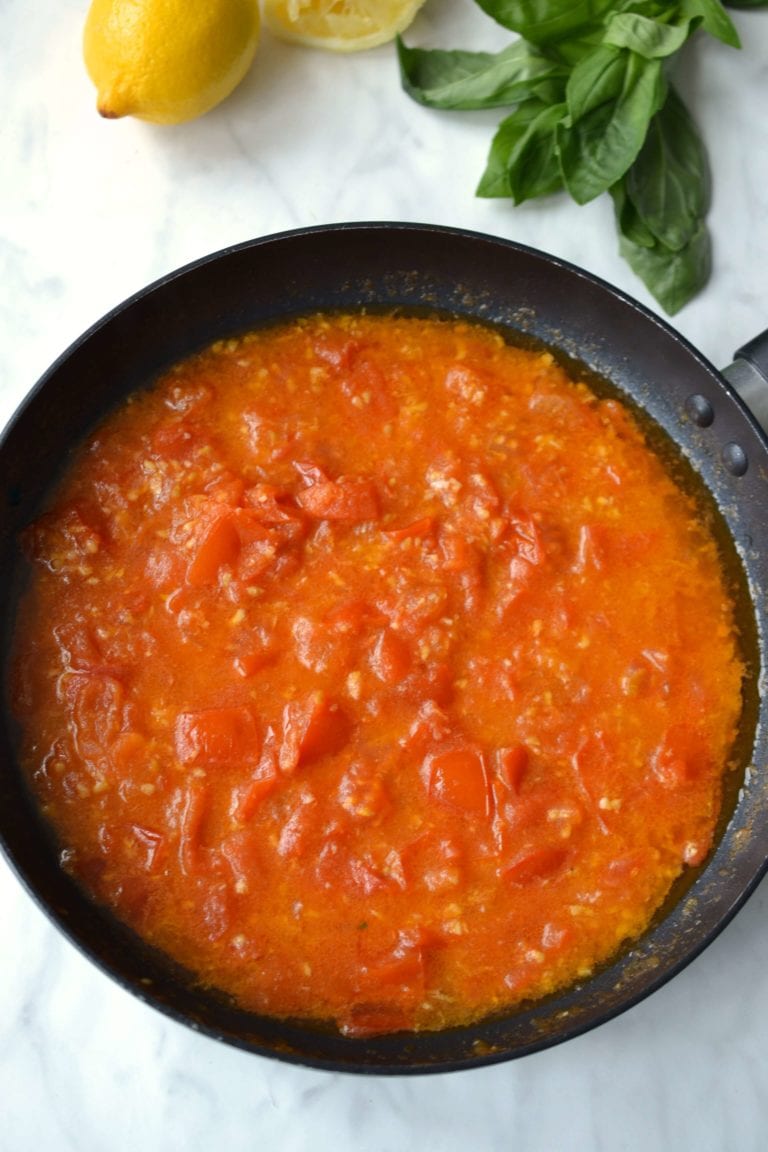 If you are planning on making these ravioli for a dinner party, you could prep them a few hours in advance and then just bake them quickly before serving.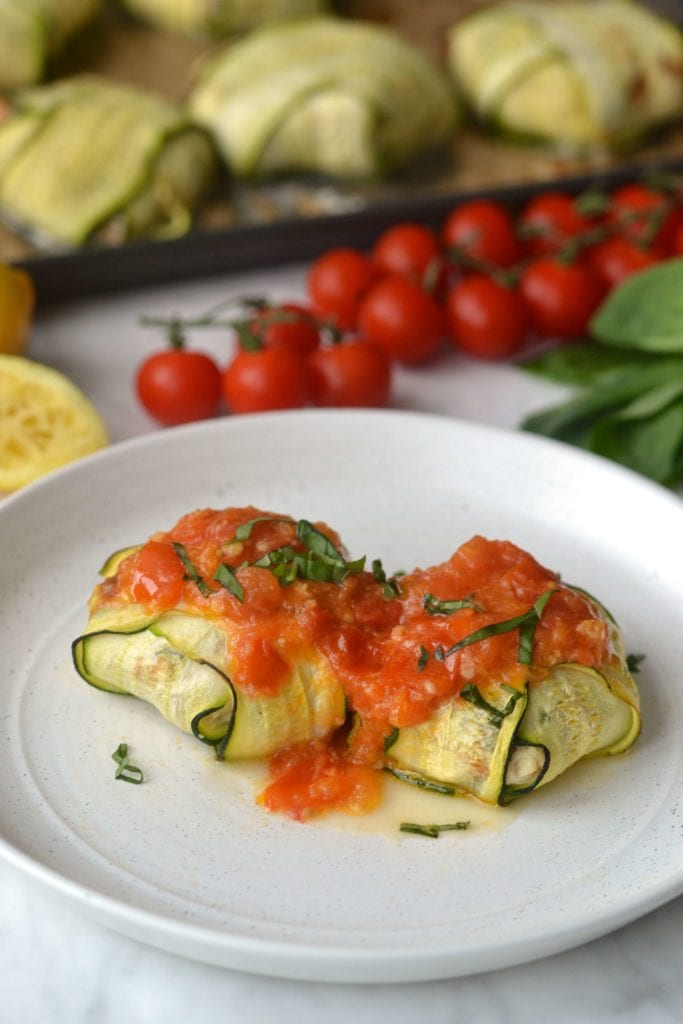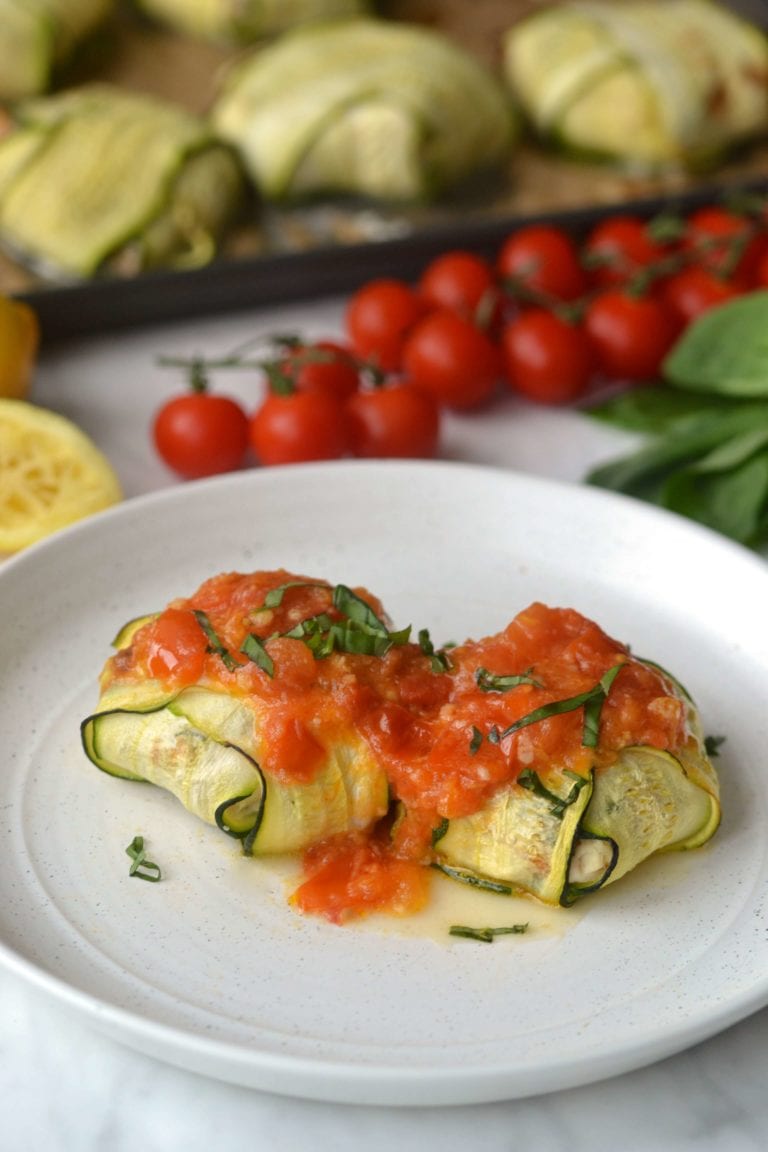 If you make this recipe let me know in the comment section below, I would love to hear what you think or take a photo and tag me (@everylastbite_) on Instagram, I love seeing your photos!
[embedyt] https://www.youtube.com/watch?v=Pm_XgUXFh-A[/embedyt]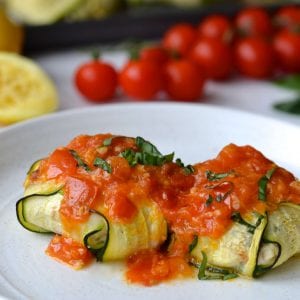 Shrimp & Crab Ravioli with Lemon Tomato Sauce
Ingredients
Ravioli
3 zucchini (ideally thin and straight)
1/3 cup cashews
2 tbsp almond milk
1 clove garlic
300 grams shrimp *
1 1/2 cups crab * (or seabass)
1 tbsp olive oil
2 tbsp parsley
1/2 tsp pepper
1/4 tsp salt
Lemon Tomato Sauce
1/4 cup ghee (or butter if not Whole30)
3 cloves garlic crushed
2 cups chopped tomatoes
1 tsp lemon zest
1 1/2 tbsp lemon juice
1/4 tsp salt
2 tbsp chopped basil
Instructions
For the Ravioli
Preheat the oven to 350F (175 C)

Cut the ends off of the zucchini and then cut each zucchini in half length wise. Using a vegetable peeler cut very thin slices of zucchini (you can also use a knife for mandoline for this but make sure the slices are very thin).


In a high speed blender or nutribullet combine the cashews, almond milk and garlic and blend until completely smooth.

Cook the the shrimp in oil until pink (approx 4 minutes) once cooked place them on a cutting board and roughly chop them into small pieces.

In a bowl combine the shrimp, crab (or seabass, see notes), parsley, salt and pepper. Start by adding in half of the cashew cream and stir and then add more as needed until the mixture binds together

On a cutting board lay out 3 slices of zucchini, overlapping in the centre to form a star. Place approximately 1 1/2 tbsp of the filling in the center of the strips where they overlap and then fold each slice of the zucchini overtop to cover. Place seam side down on a baking sheet and repeat with the remaining zucchini strips, it should make 8-10 ravioli. Bake the ravioli for 20 minutes until the zucchini wrappings become tender.
Lemon Tomato Sauce
Melt the ghee in a skillet on medium heat, add the garlic and cook for 1 minute before adding in the chopped tomatoes. Leave to simmer for 5 mins before adding in the lemon zest and juice and continue to simmer for another 10 minutes.
To Assemble
Once the ravioli are done baking, top with the lemon tomato sauce and a sprinkle of fresh basil.
Notes
*The crab or prawns can be substituted for seabass to make seabass and crab ravioli or seabass and shrimp ravioli to do this: 
Place 4 fillets seabass (approx 1lb) on a baking sheet, top with 2 tsp olive oil, salt and pepper and bake in the oven for 12 minutes at 350F (175C) 
After 12 minutes of baking, remove the seabass from the skin and place it into a bowl. Use a fork to break the fish up into flakes. 
And then continue on to step 4