Chimichurri Steak Salad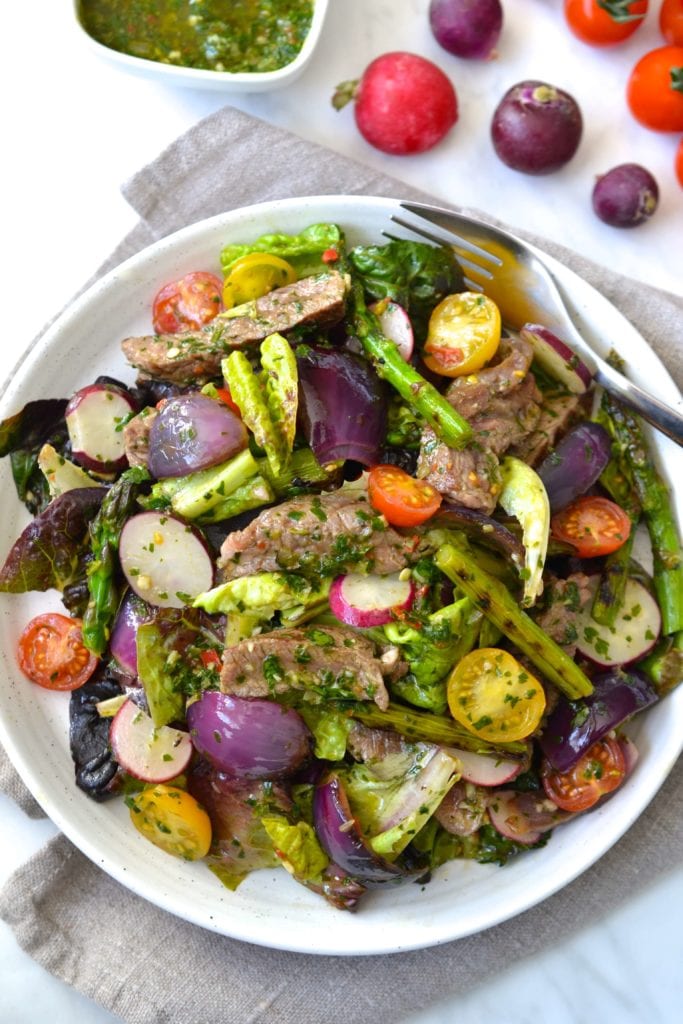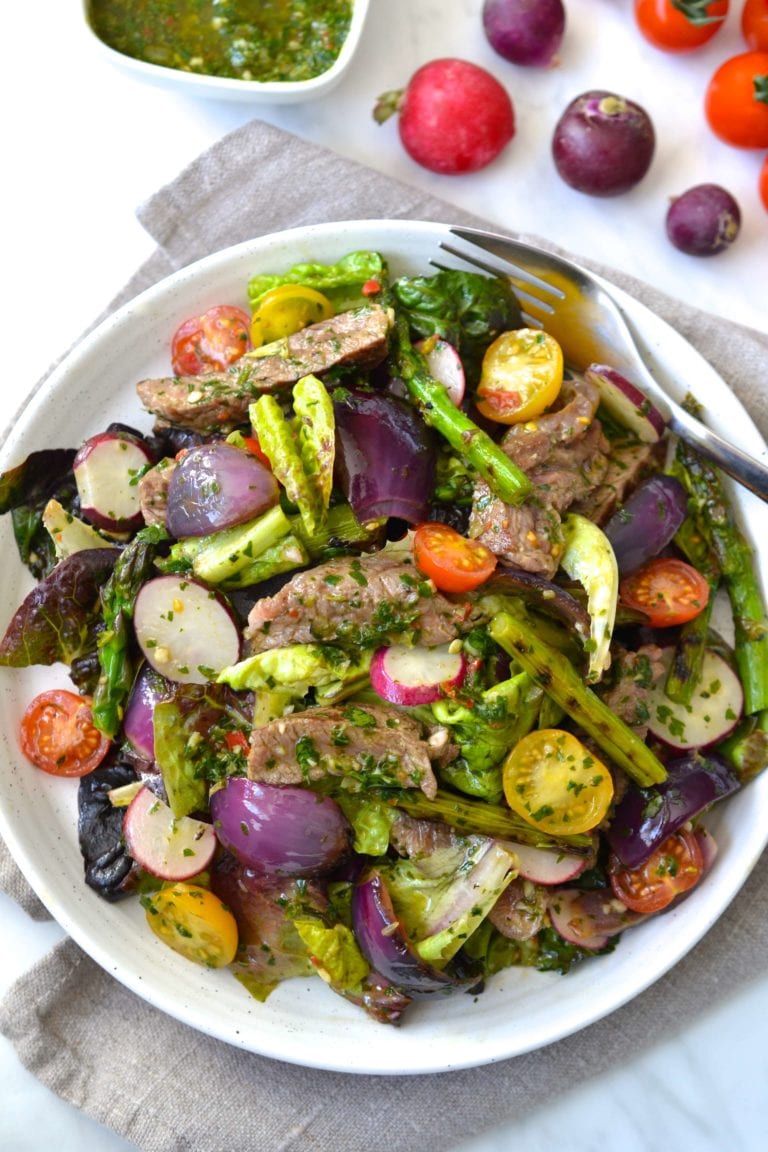 This salad is like spring in a bowl (even if it doesn't quite feel like spring outside). It's bursting with so much fresh flavour, veggies, and perfectly cooked steak and is all tossed in a spicy chimichurri dressing.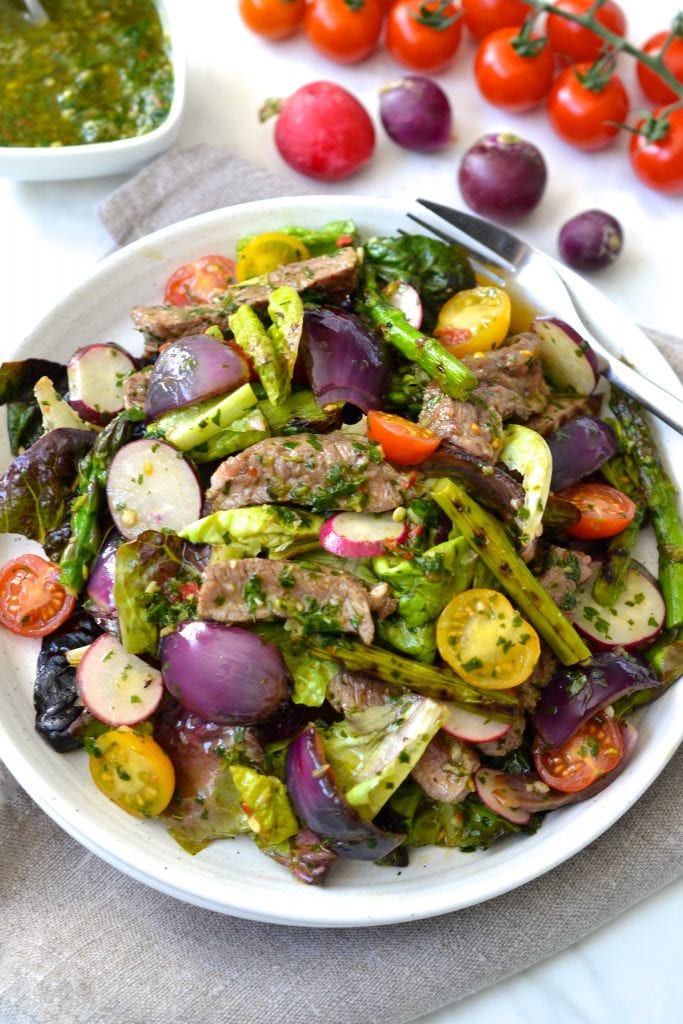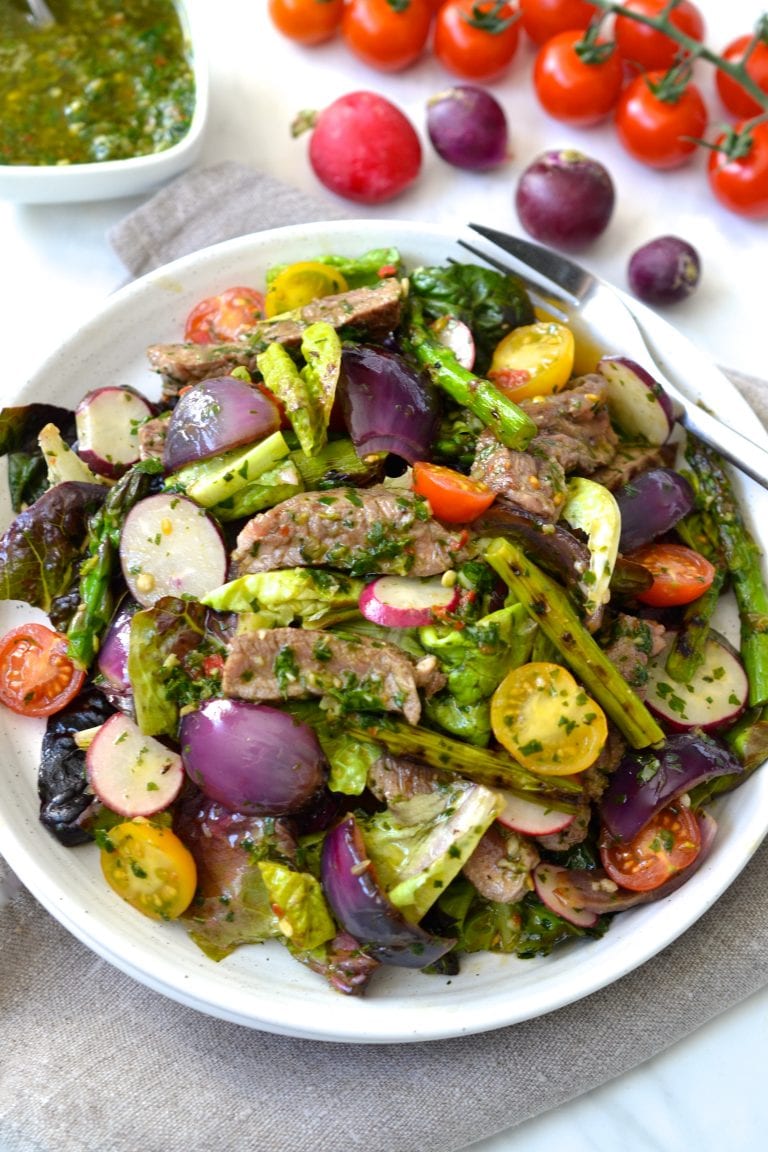 Chimichurri is such a great sauce to spice up a dish. It Although it's traditionally made using a mortar and pestle, to keep this dish under 30 minutes I tossed everything into a food processor and blended and it turned out fantastic. Just be sure that you don't blend the sauce into a smooth paste, you want it to remain slightly chunky with bits of herb and chili.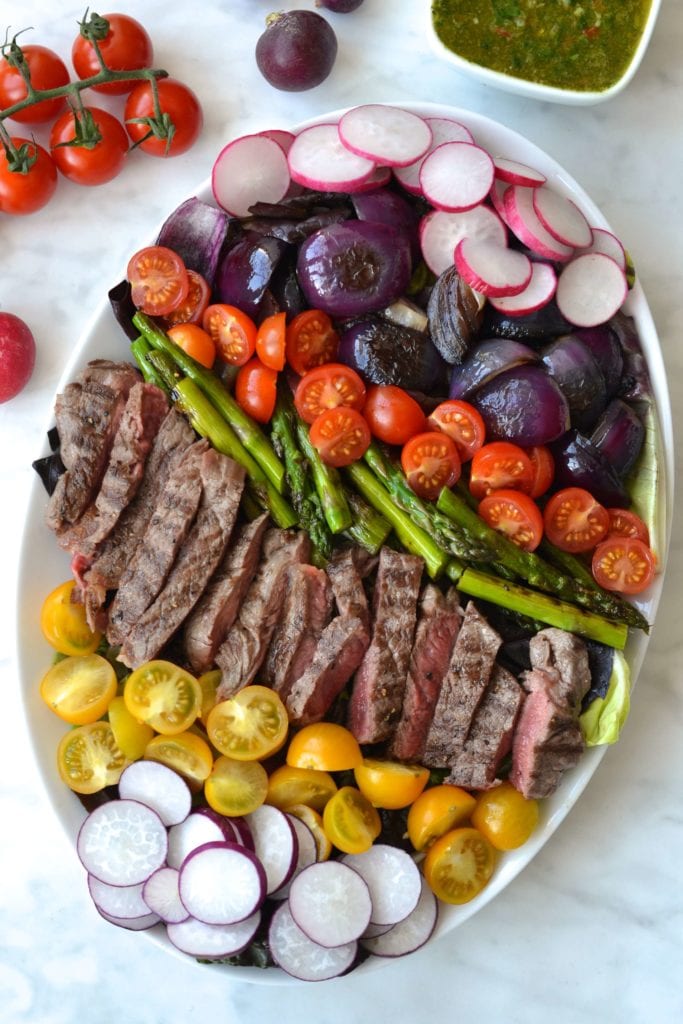 Chimichurri is a great way to use up leftover herbs. I always use a base of parsley, but from there you can add in any other leafy fresh herbs such as mint, tarragon, chives or basil. I normally serve chimichurri as a sauce over grilled veggies, meat or seafood, but I absolutely LOVE it as a salad dressing.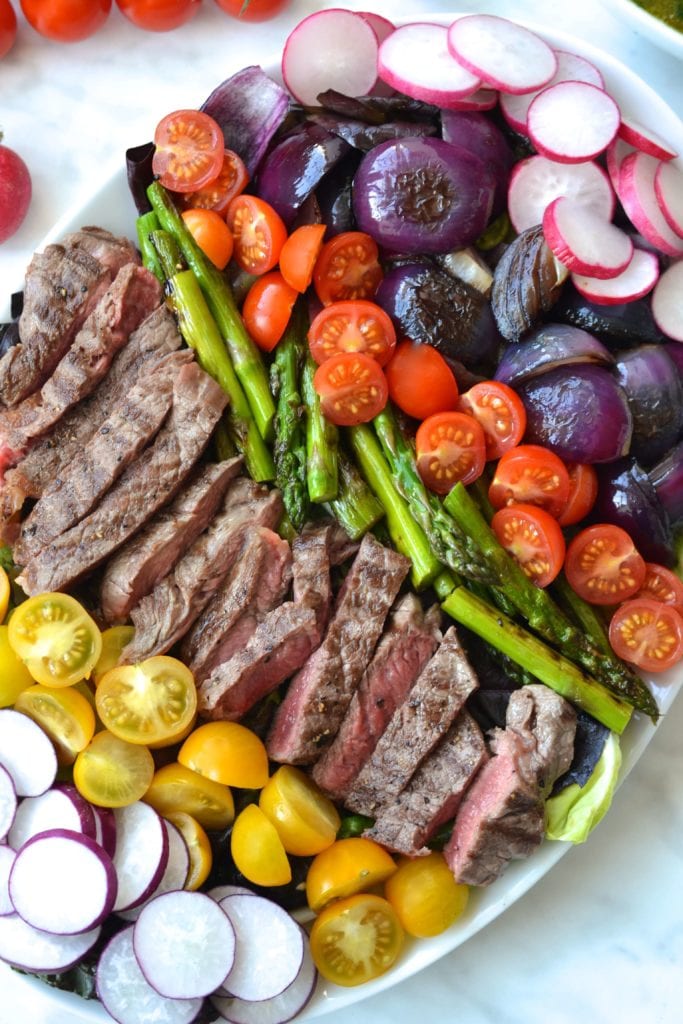 I love the combination of warm and cold ingredients in a salad, I find it really helps to make the salad feel like a more satisfying "dinner worthy" meal.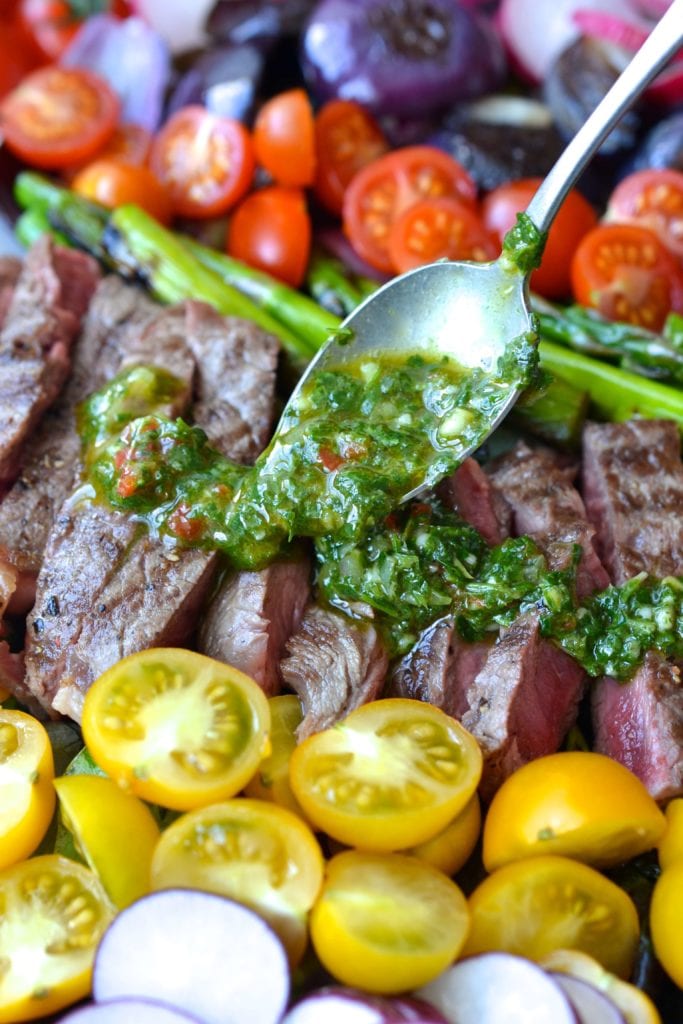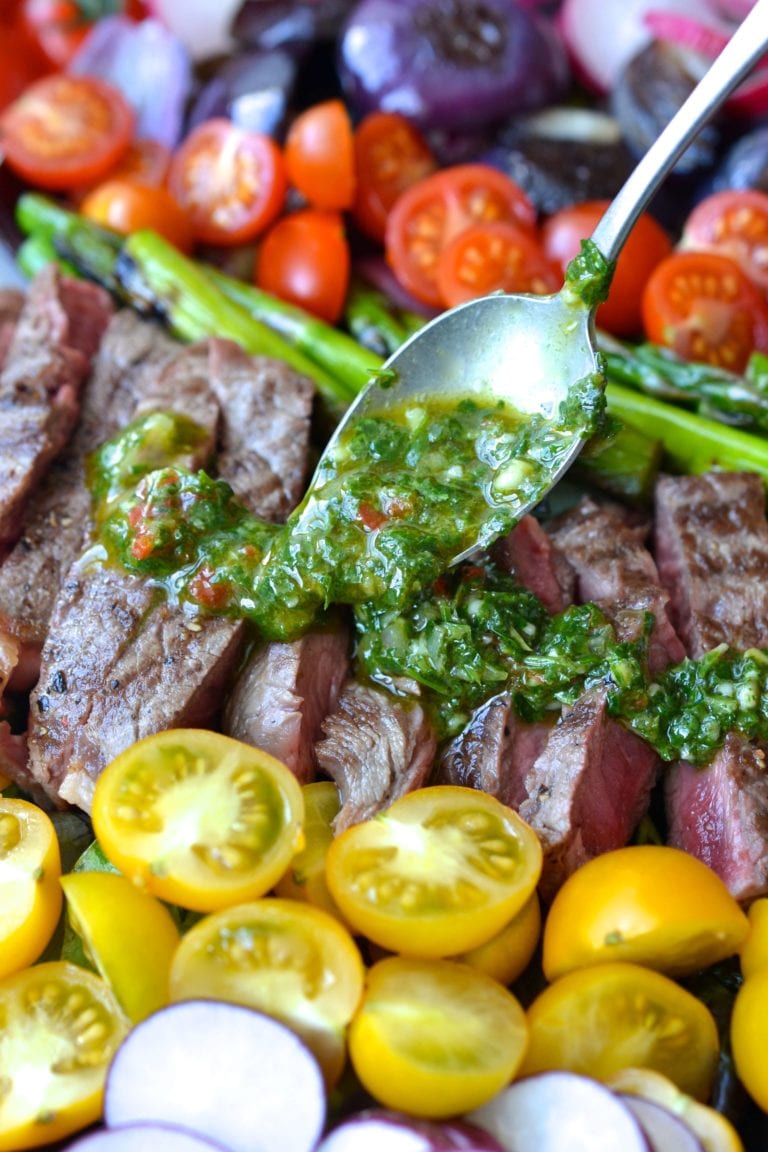 The asparagus and red onions are quickly cooked in a grill pan until just tender. You could alternatively cook them on the BBQ or on a baking sheet in the oven for about 10 minutes.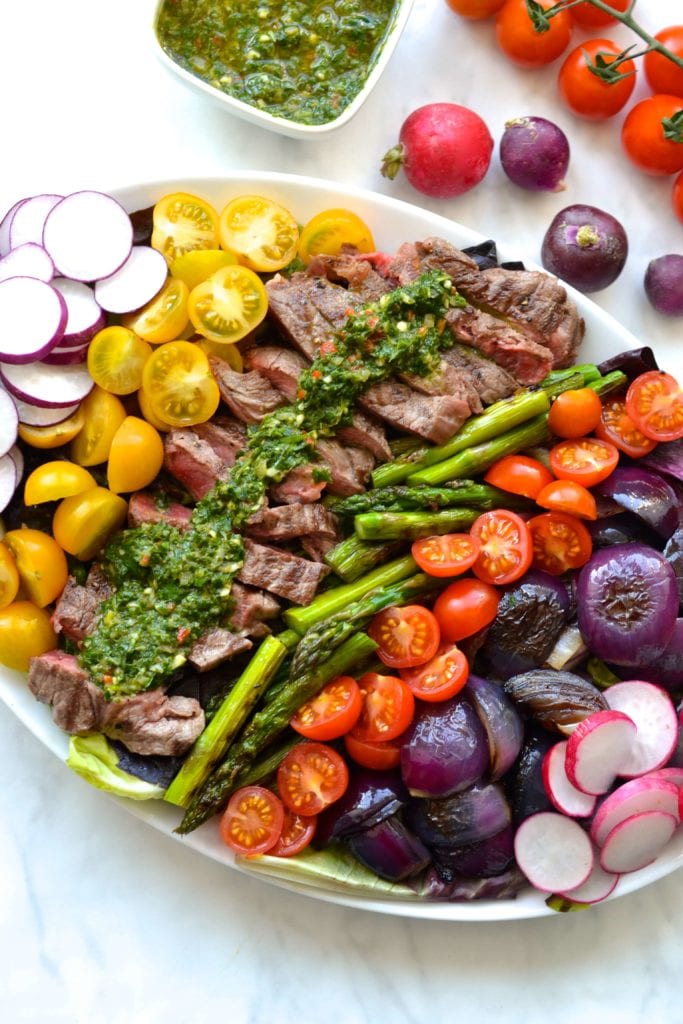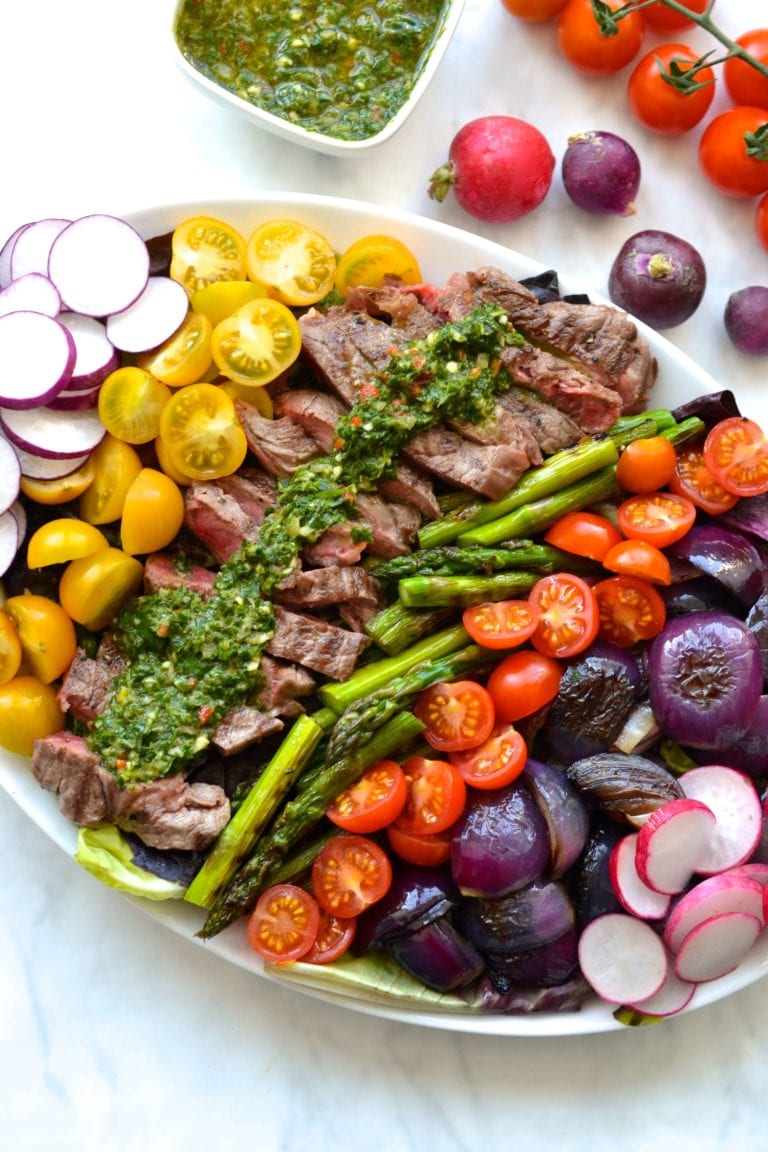 If you are serving this salad to a group, you can lay it all out separately on a platter (I think this looks really pretty) and let people select portions of each and serve themselves. Alternatively for a fast family meal just add everything into a bowl and toss it all together. Either way I think everyone will love it.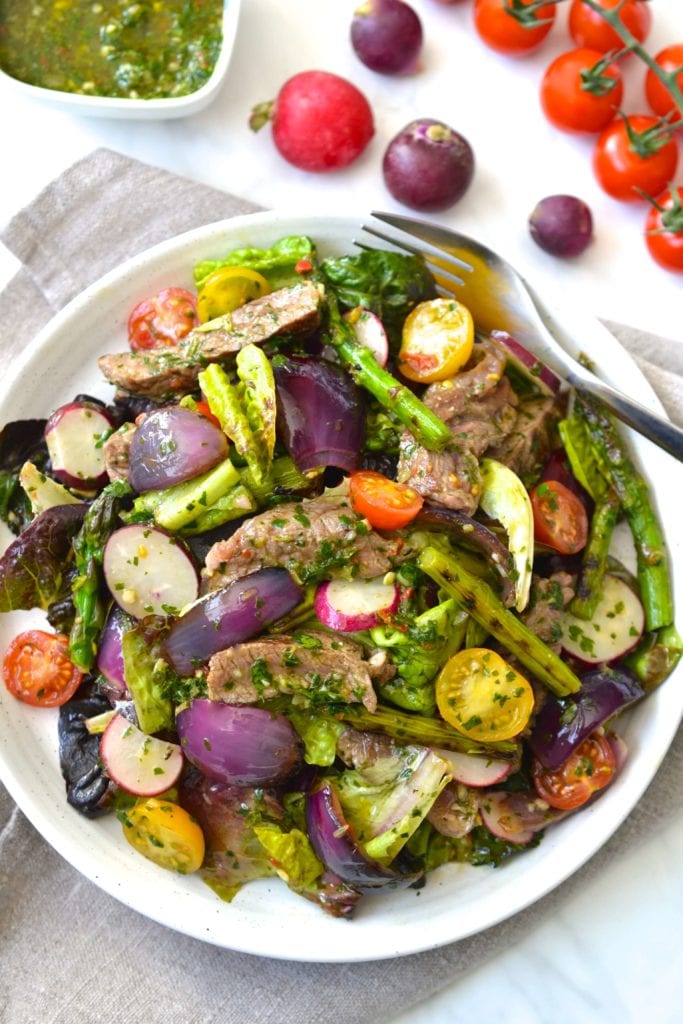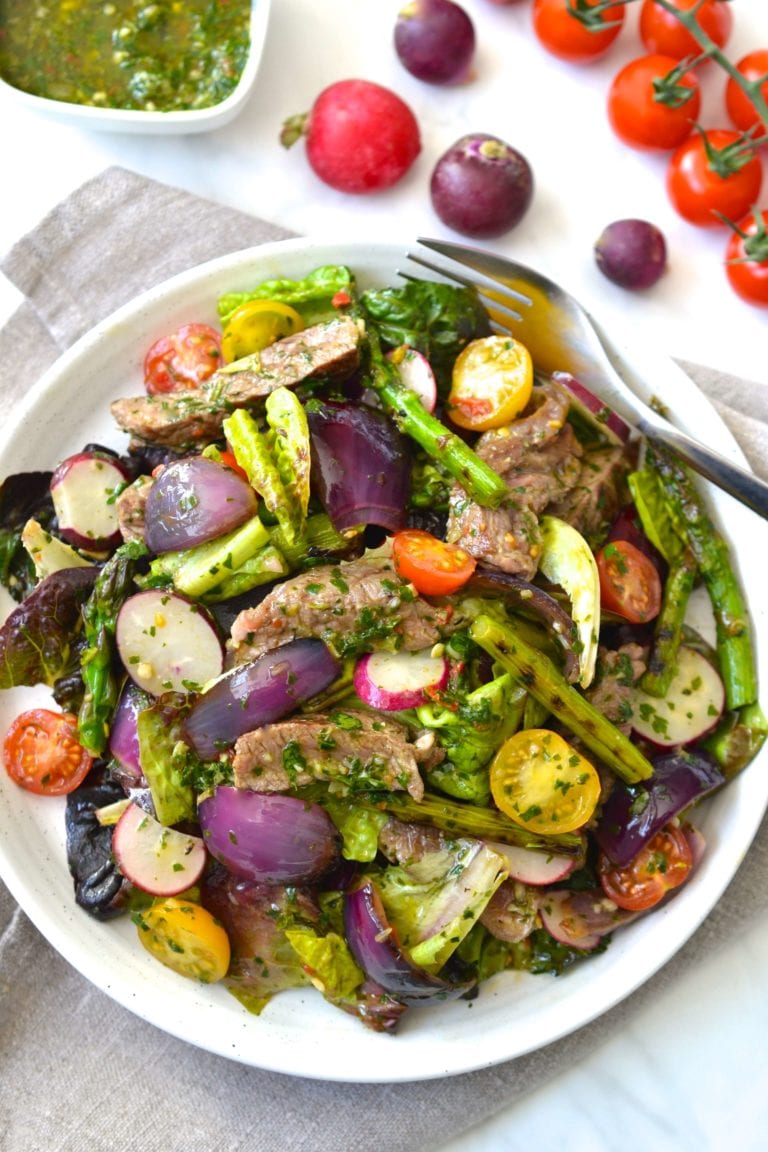 If you make this recipe let me know in the comment section below, I would love to hear what you think or take a photo and tag me (@everylastbite_) on Instagram, I love seeing your photos!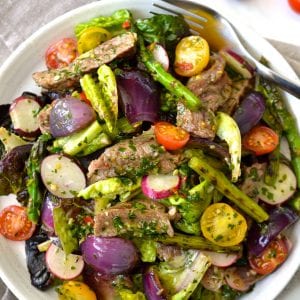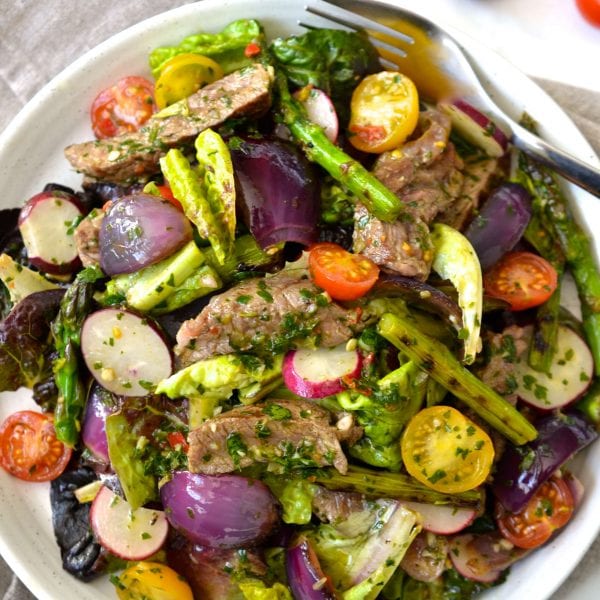 Chimichurri Steak Salad
Ingredients
2 small red onions cut into chunks
1/2 tbsp olive oil
6 asparagus spears (cut into half or thirds depending on length)
3/4 lbs sirloin or ribeye steak
1 1/2 cups cherry tomatoes halved
1/2 cup radishes thinly sliced
5 cups lettuce
Chimichurri
2 cups parsley
2 tbsp fresh oregano
1 shallot
1 red chili roughly chopped
4 cloves garlic
1/4 cup red wine vinegar
2/3 cup olive oil
Instructions
Toss the red onion pieces in 1/2 tbsp oil oil. Heat a grill pan on medium high heat, add the red onion and leave to grill for 7-8 minutes until they have softened and grill marks form. With about 5 minutes left of cooking add the asparagus pieces to the pan and let them cook for 4-5mins until the are tender. Set aside

Combine all of the chimichurri ingredients in a food processor and blend until smooth. Set aside.

Season the steak with salt and pepper and then place it on the grill pan set on medium high heat and cook for 4 minutes per side for rare (or until the steak reaches your desired doneness). Once cooked remove the steak and set aside for 5 minutes to rest before slicing.

To assemble start with the lettuce base on a serving plate or large salad bowl. Top with the sliced radishes, cherry tomatoes, grilled asparagus and red onion. Place the sliced steak over top and then toss everything with the chimichurri before serving.