One Pan Mediterranean Cod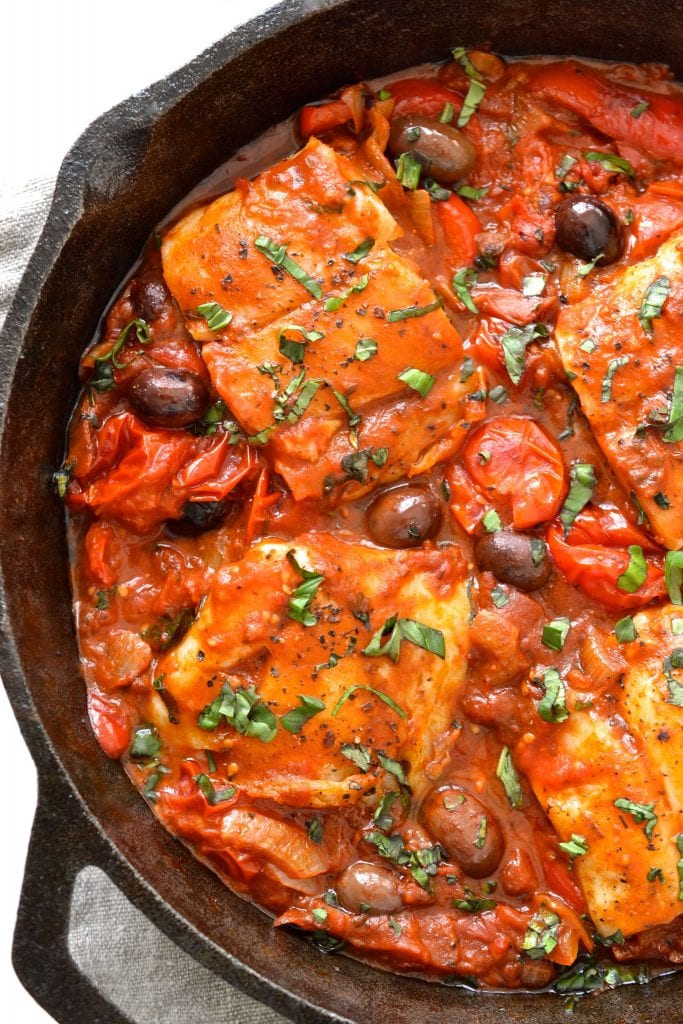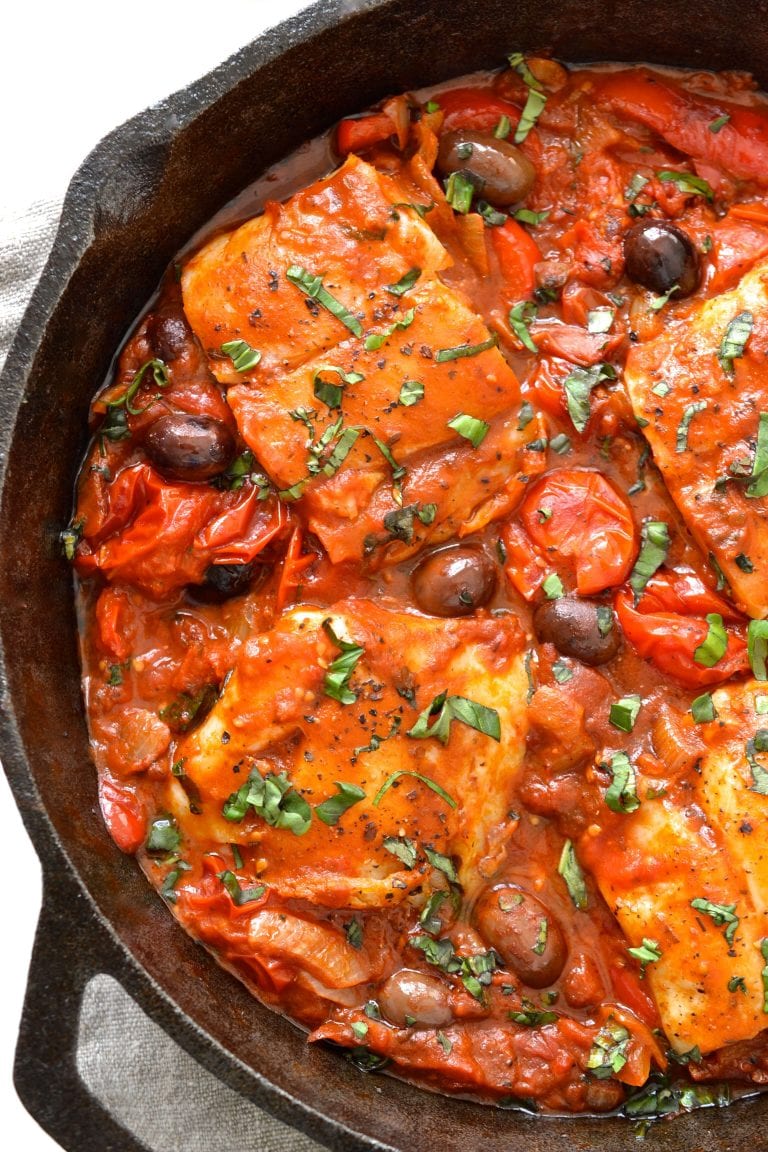 I'm always looking for easy new ways of preparing fish and it seems like a lot of you are too. When I asked on Instagram if you had any requests for Whole30in30 dishes fish was by far the most suggested thing.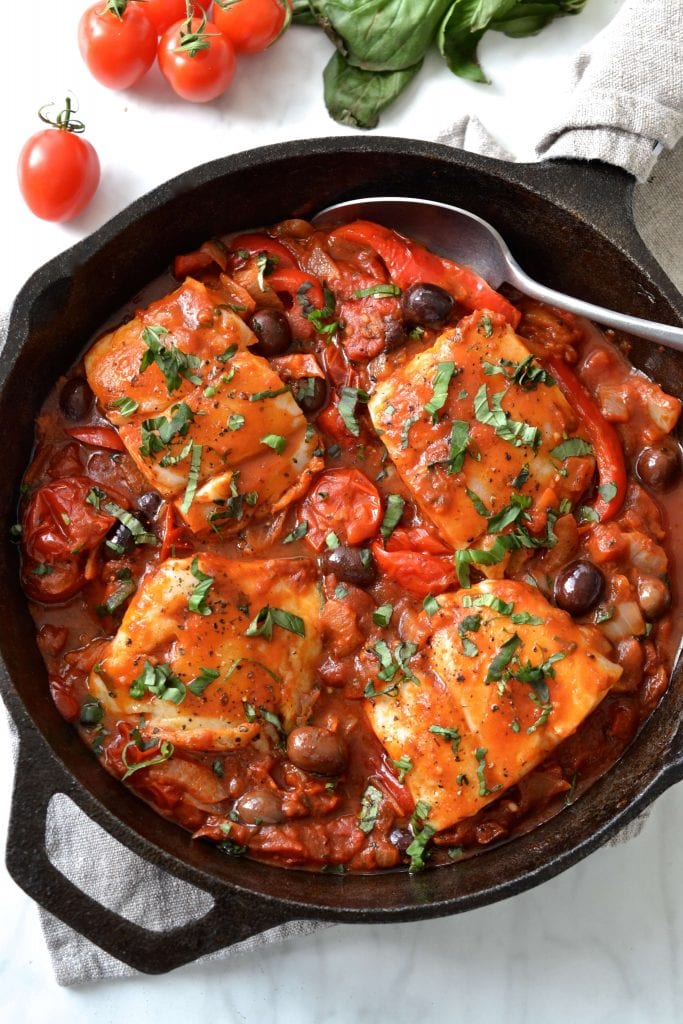 I think you are really going to like this easy one pan Mediterranean cod dish. The sauce is stew like with tomatoes, peppers, olives and herbs. The cod is quickly seared and then returned to the pan for just a few more minutes of cooking once the vegetables have softened.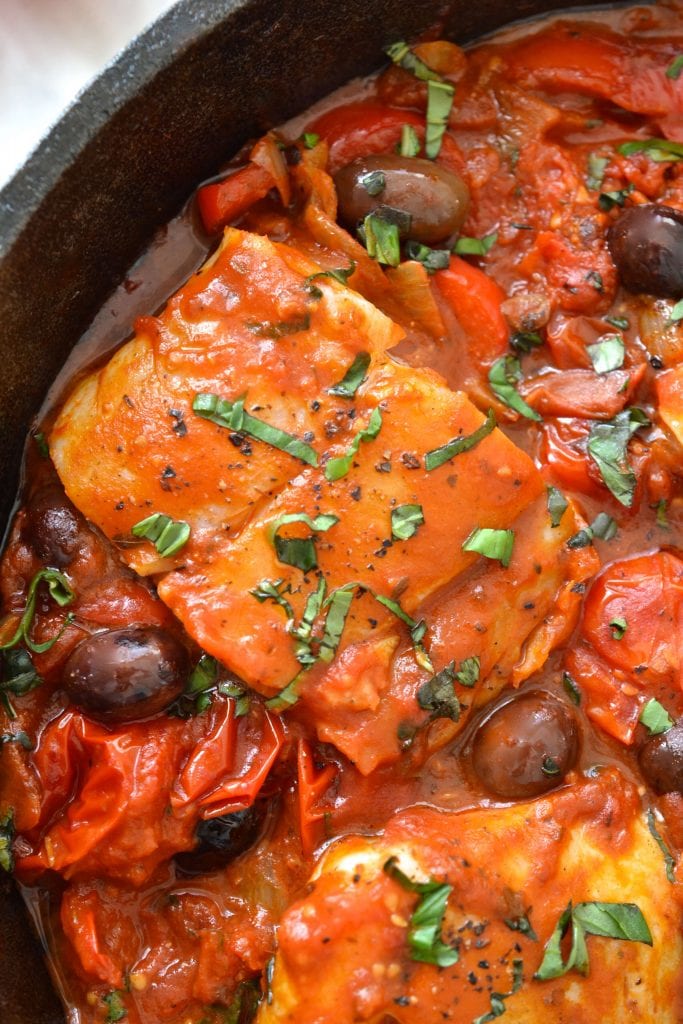 Feel free to swap the cod for another meaty white fish like halibut, Hake or tilapia. If you aren't a fan of fish you could swap it for prawns or even chicken breasts that you will have to simmer for awhile longer in the sauce to ensure they are cooked through.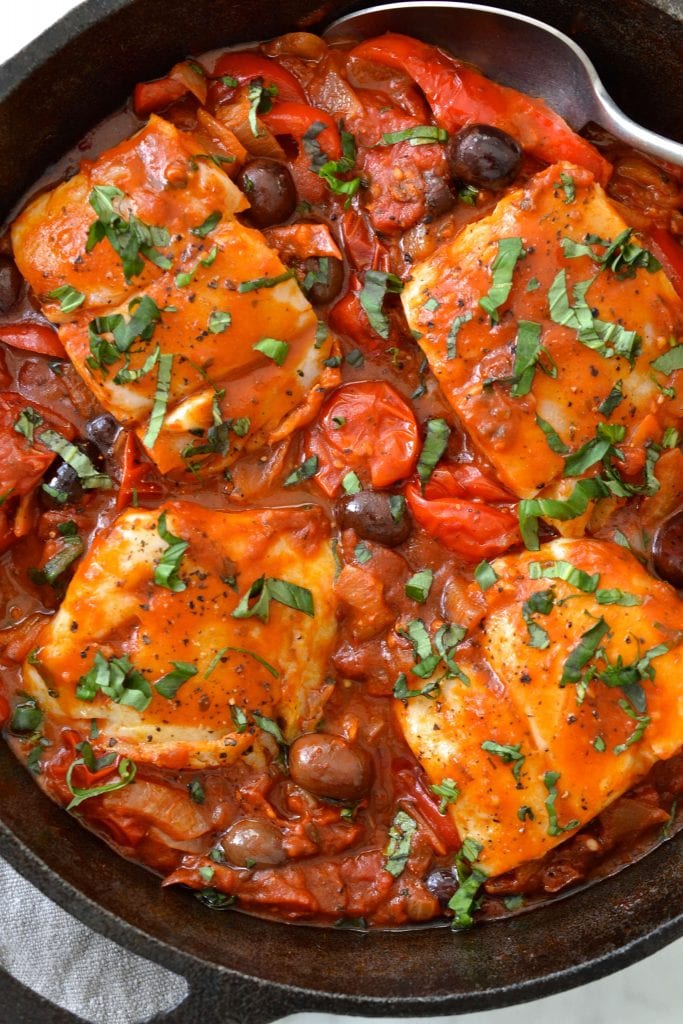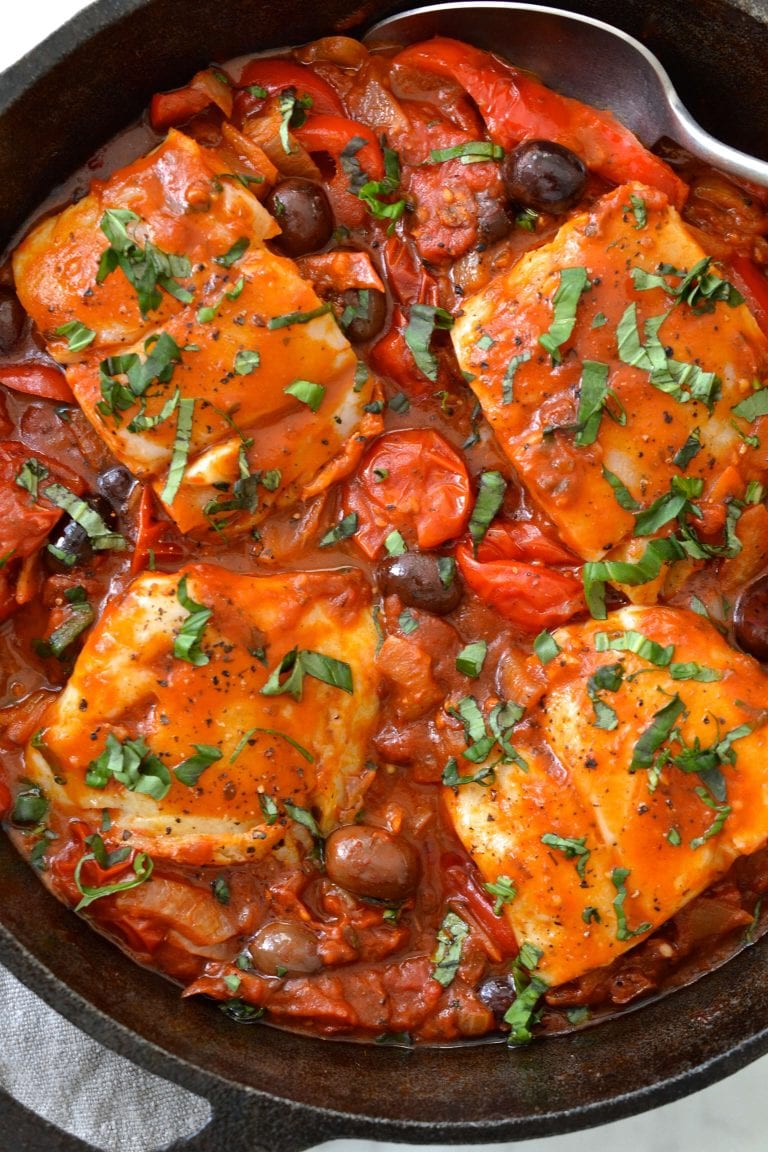 Although this dish is fantastic on its own, for a heartier meal you could serve it with cauliflower rice or mash to absorb some of the delicious sauce.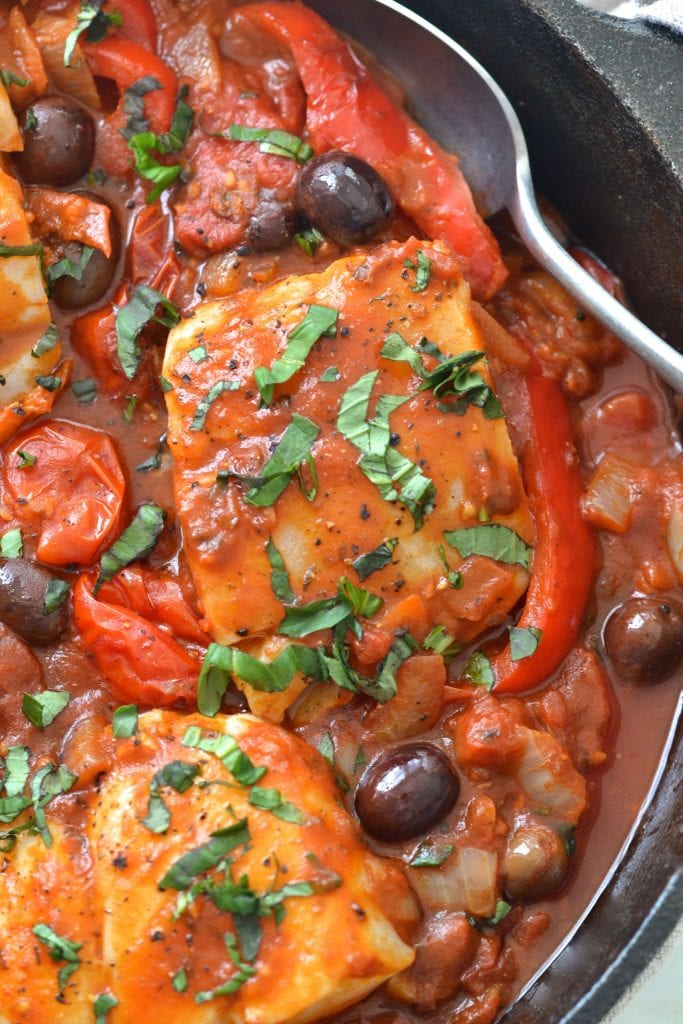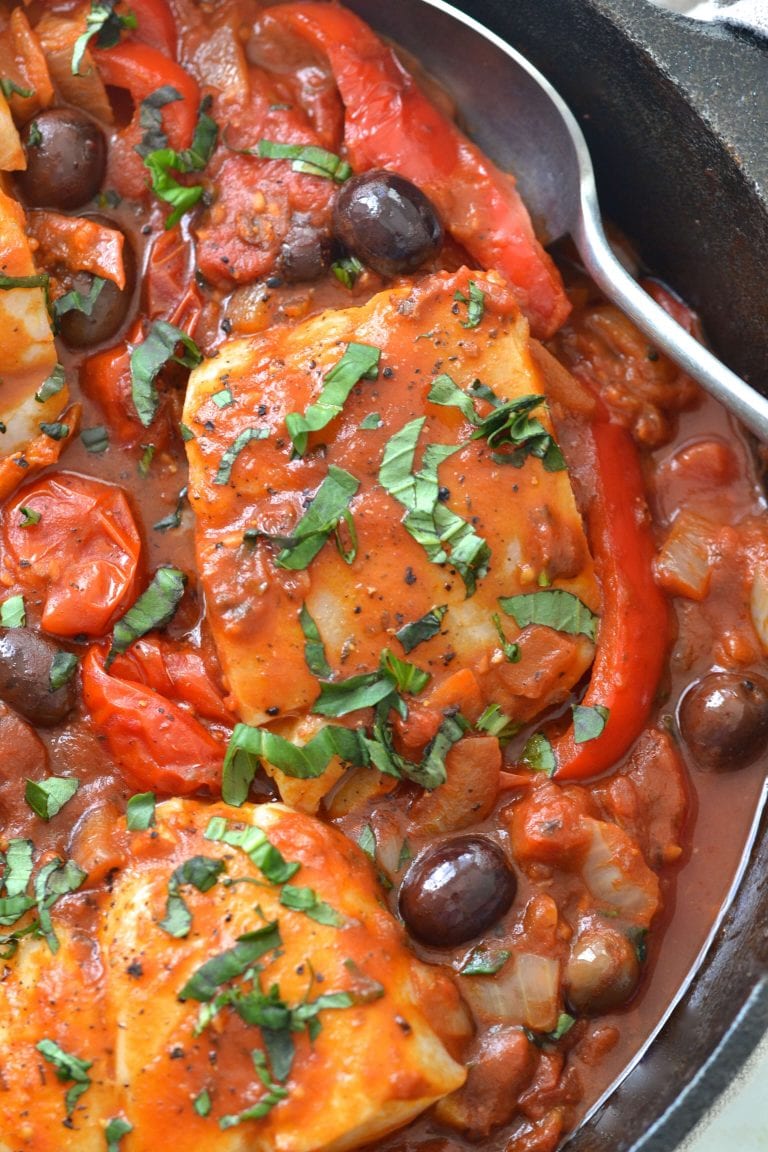 If you make this recipe let me know in the comment section below, I would love to hear what you think or take a photo and tag me (@everylastbite_) on Instagram, I love seeing your photos!
[embedyt] https://www.youtube.com/watch?v=O_kw59xR3go[/embedyt]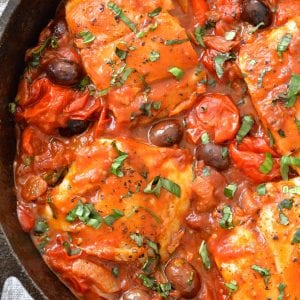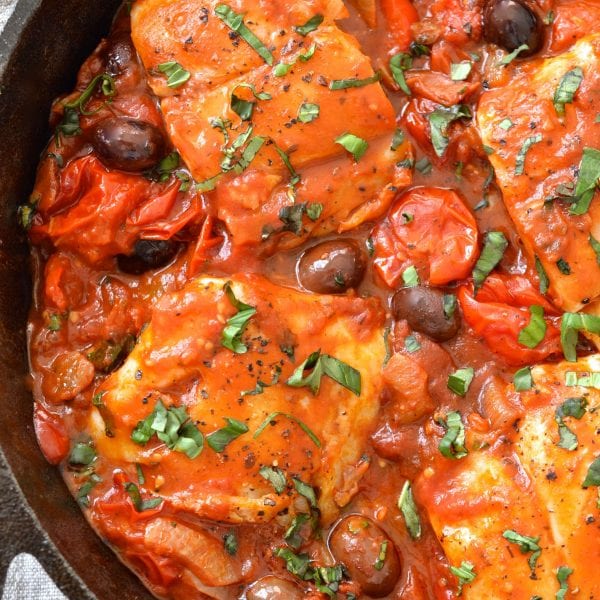 One Pan Mediterranean Cod
Ingredients
1 tbsp olive oil
1 lbs cod fillets
2 cloves garlic crushed
1 red bell pepper thinly sliced
1 onion finely diced
1/2 tbsp red wine vinegar
1/2 tsp smoked paprika
1 tsp dried oregano
1 14oz can chopped tomatoes
1 1/2 cups cherry tomatoes
1/3 cup olives
1/4 tsp salt
1/4 tsp pepper
2 tbsp fresh basil chopped
Instructions
Heat the olive oil in a pan. Pat the cod fillets dry with a paper towel and then sprinkle with salt and pepper. Sear them in a pan for 2 minutes per side and then set aside.

Add to the pan the 2 crushed cloves garlic and cook for a minute until the garlic becomes garlic and then add in the onion and sliced peppers. Leave to cook for 5-6 minutes until the peppers begin to soften

After 5 minutes of cooking pour in the vinegar to deglaze the pan and then stir in the paprika, oregano, salt, pepper, can of chopped tomatoes as well as the cherry tomatoes and olives. Leave to simmer on medium low heat for 12 minutes.

After 12 minutes of cooking return the cod fillets to the pan and spoons some of the sauce overtop of each. Leave to cook for 3-4 minutes until the fish is completely cooked through. Top with fresh basil before serving.