Salmon Cake Eggs Benedict with Lemon Hollandaise & Crispy Capers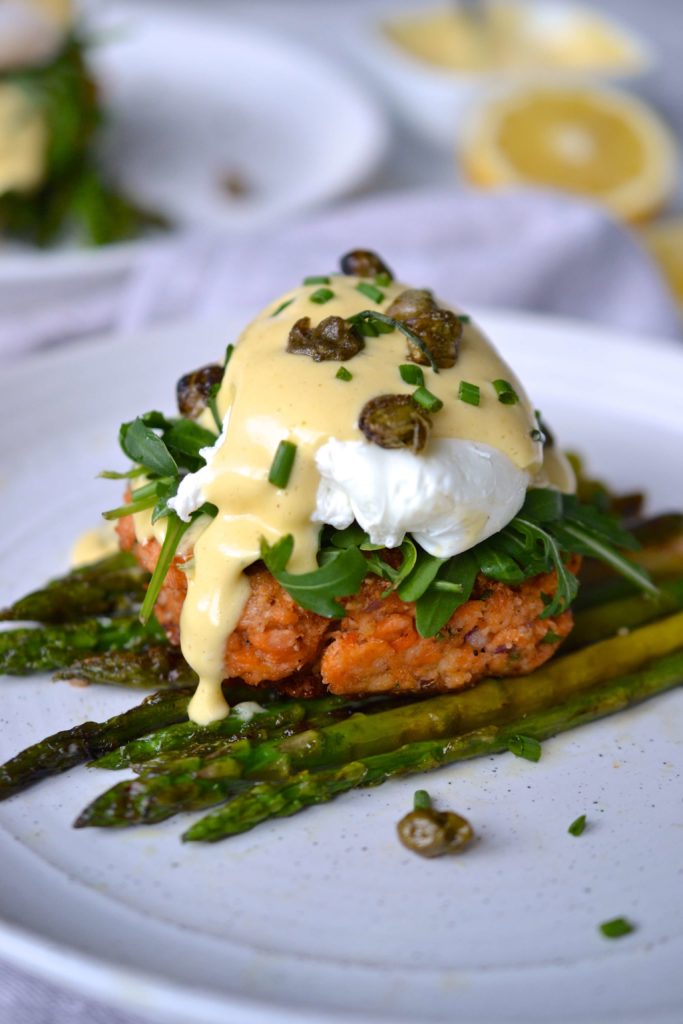 With Easter just a few days away, brunch seems to be on a lot of people's minds. With that in mind I thought it was the perfect time to share this recipe for my upscale Eggs Benedict.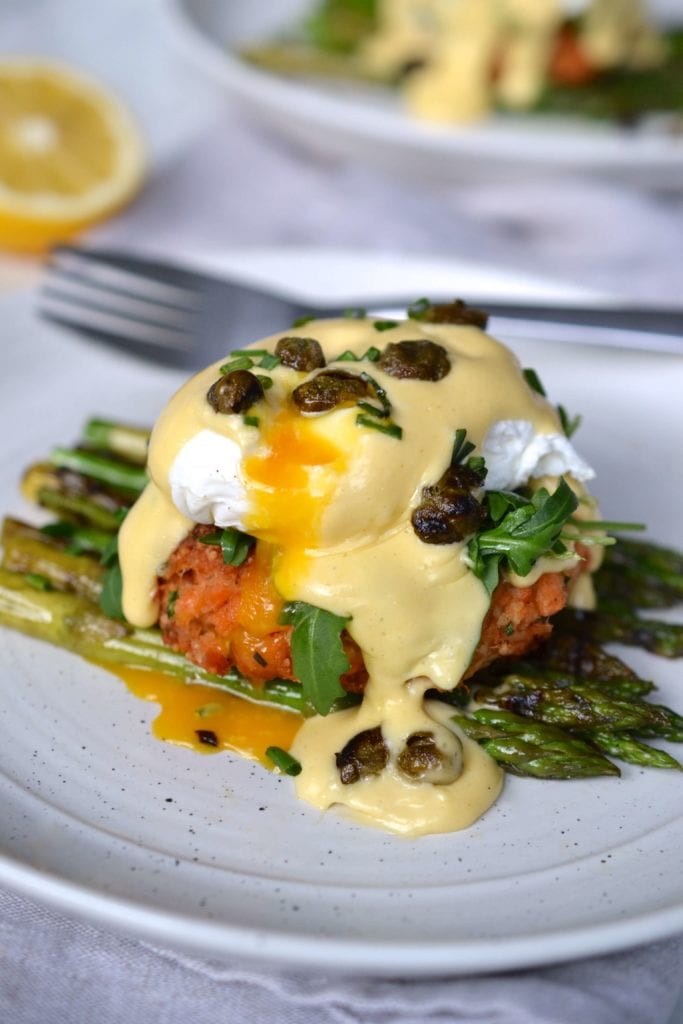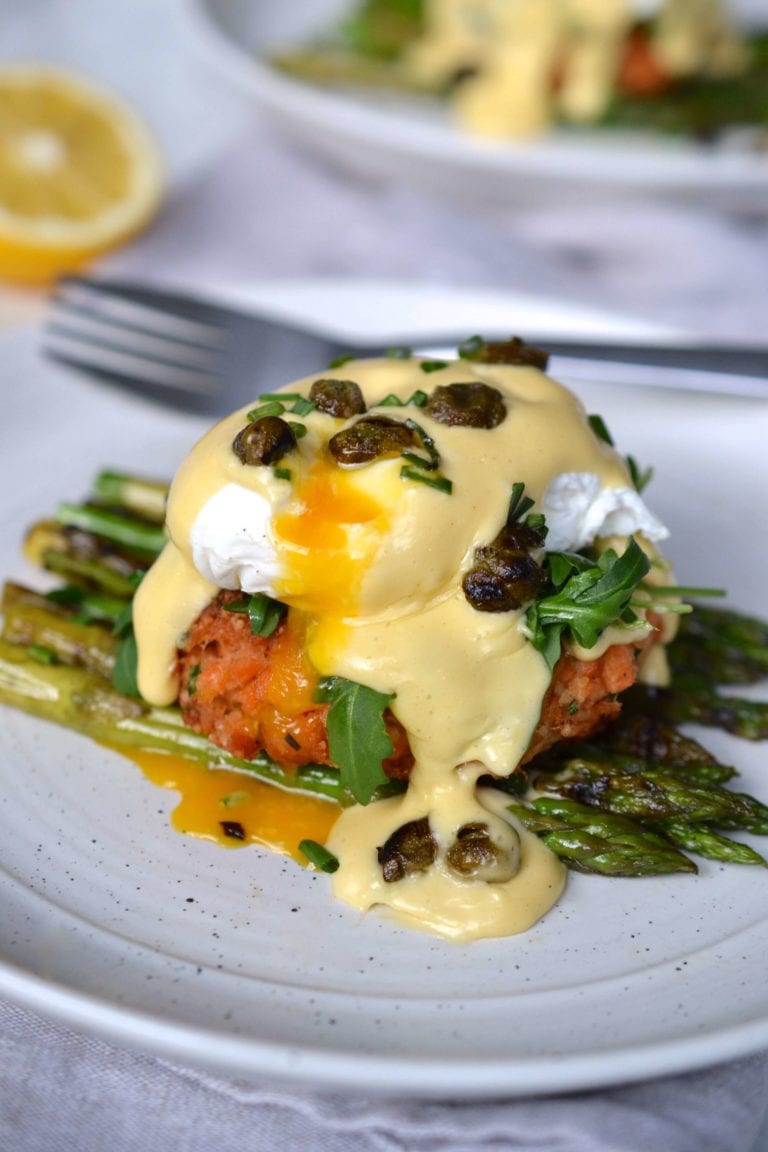 This is not just your average eggs Benedict. Salmon cakes take the place of English muffins and are served with arugula, grilled asparagus spears, poached eggs, lemony hollandaise and crispy capers. Every bite is packed with so much delicious flavour, from zesty lemon to spicy arugula and creamy eggs its really got it all.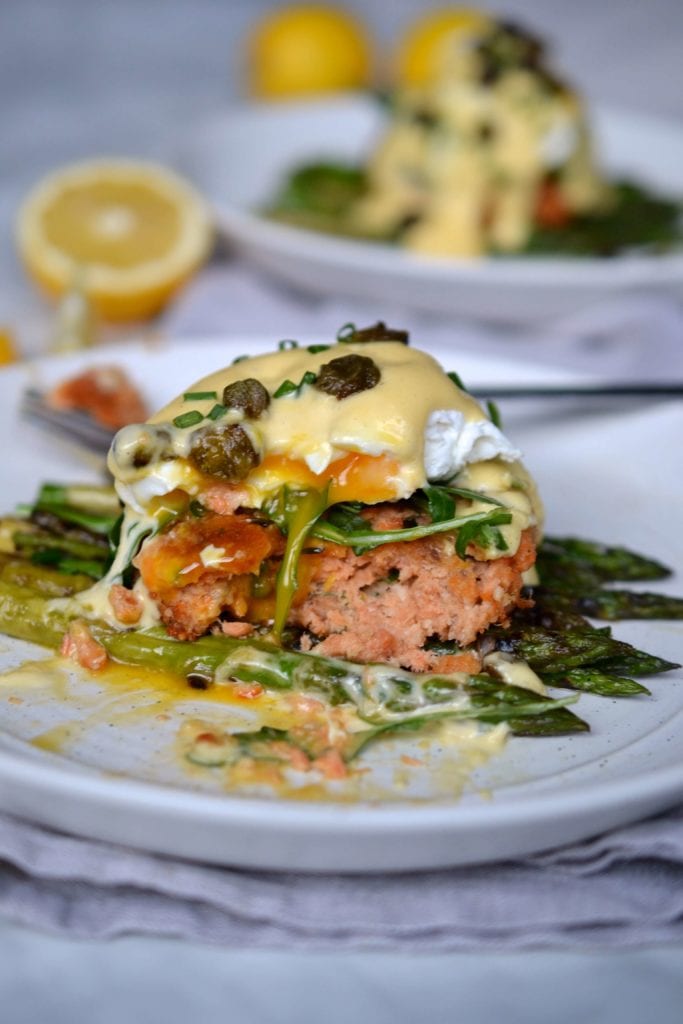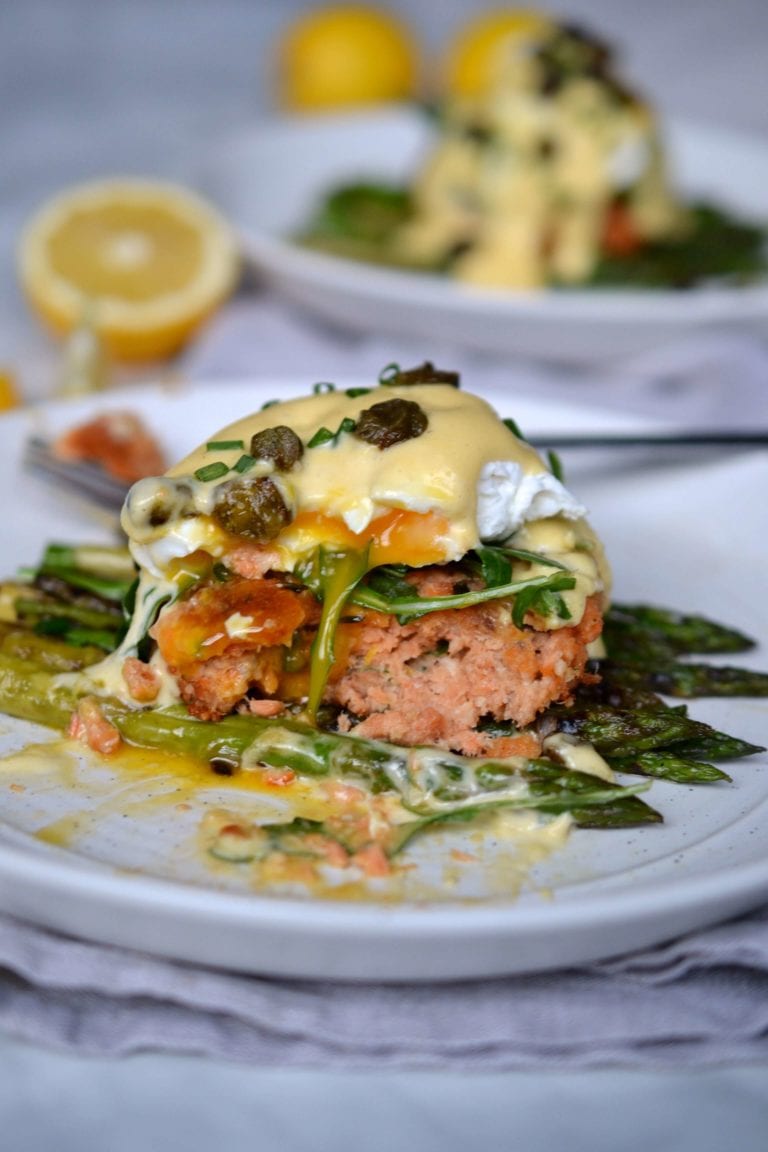 If you are serving this to a crowd for brunch, the salmon cakes can be made and cooked the night before and the asparagus can also be grilled. Prepping these two potions of the dish ahead of time will reduce the cook time to just 15 minutes the morning of.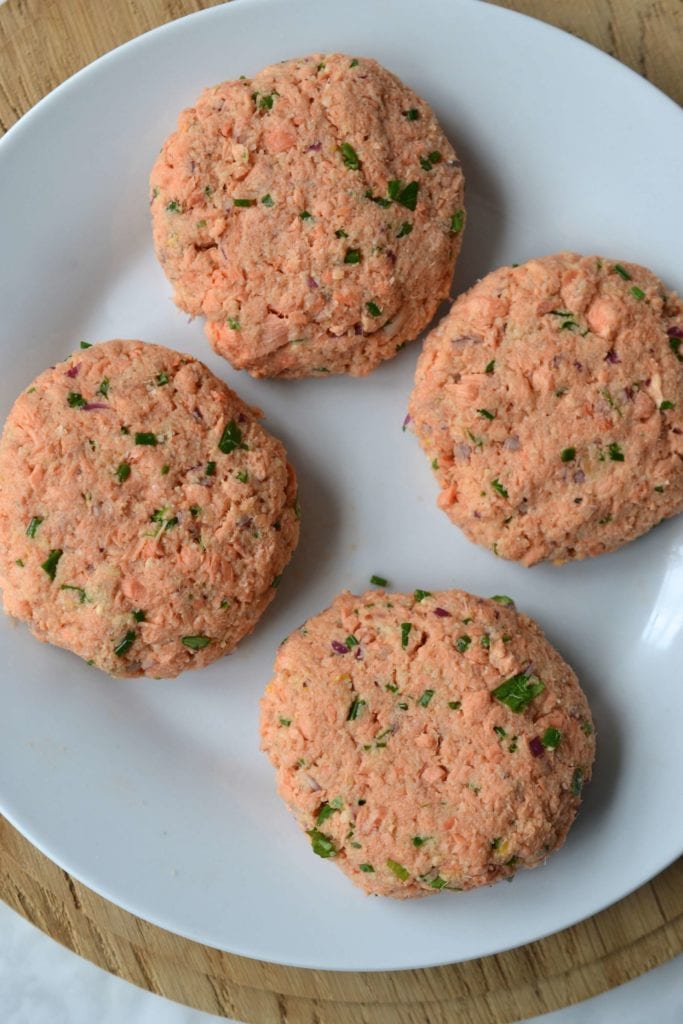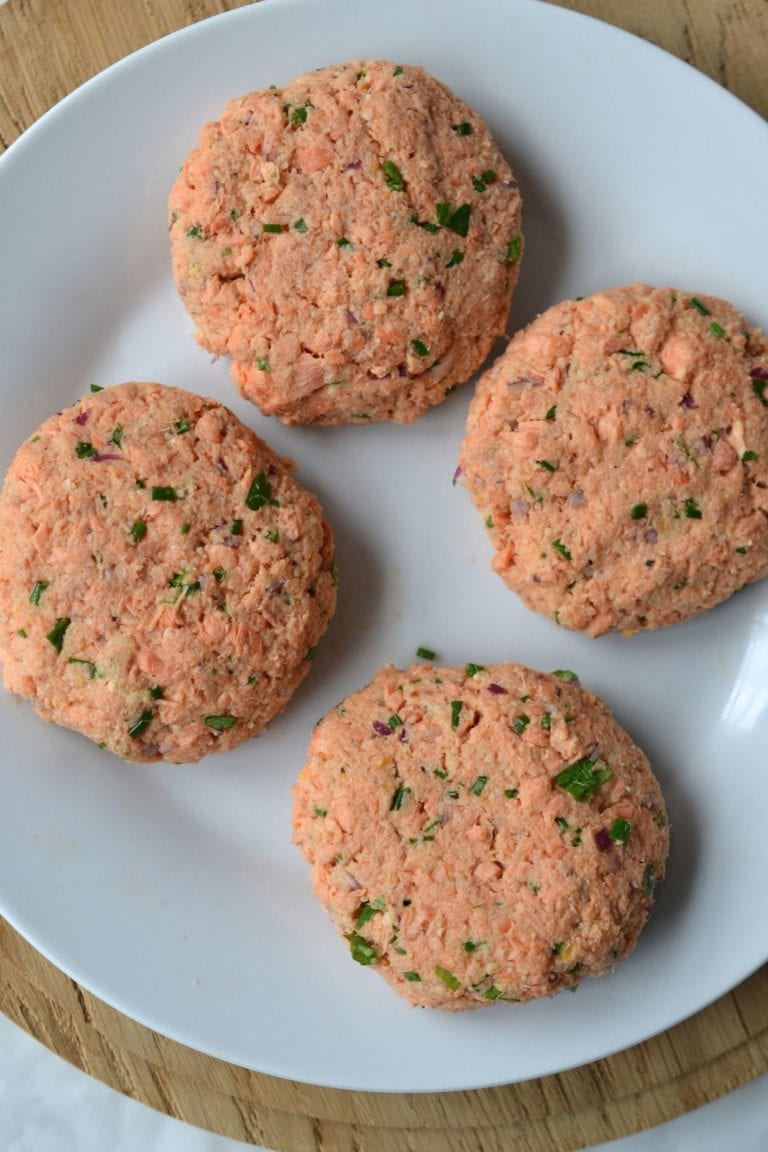 This is a really (practically foolproof) hollandaise recipe that comes together in just minutes. I find it easiest to make it using an immersion blender and tall container, but you could also make it in a blender.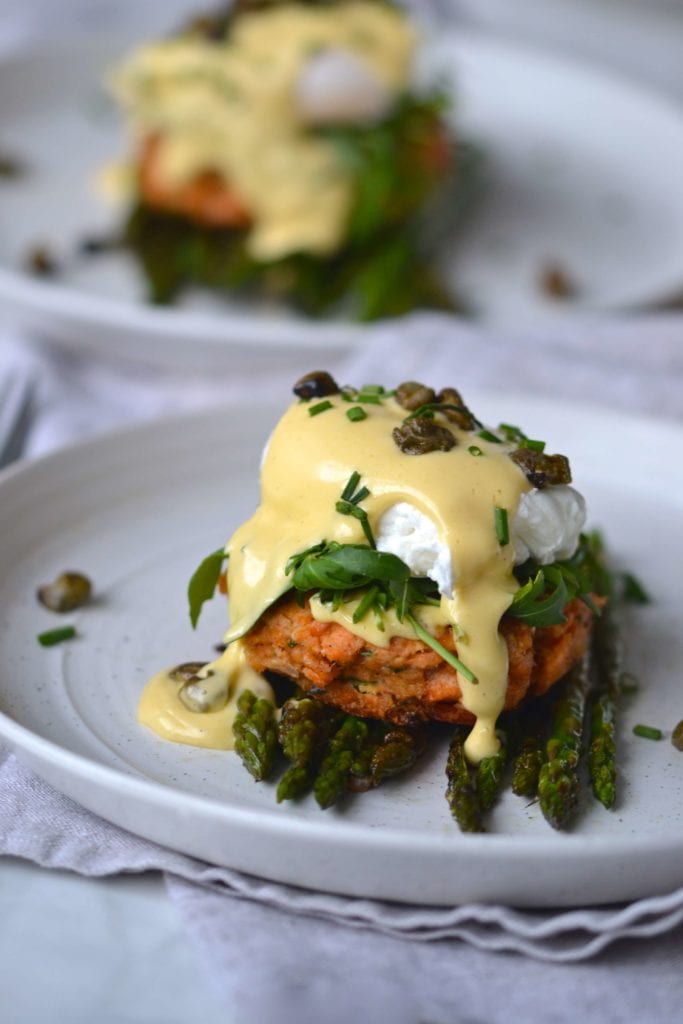 I think you guys are going to absolutely love this recipe. The salmon cakes really elevate this beyond a typical eggs benedict and are perfect for sopping up the runny egg yolk and rich hollandaise. If you are looking for an impressive brunch to serve to friends and family then look no further.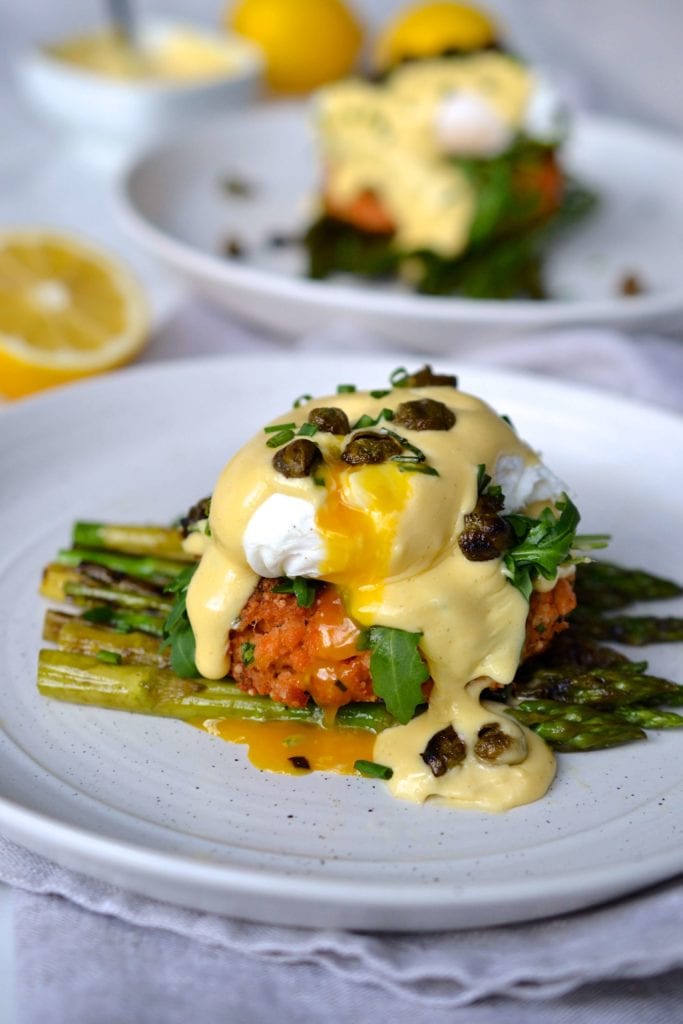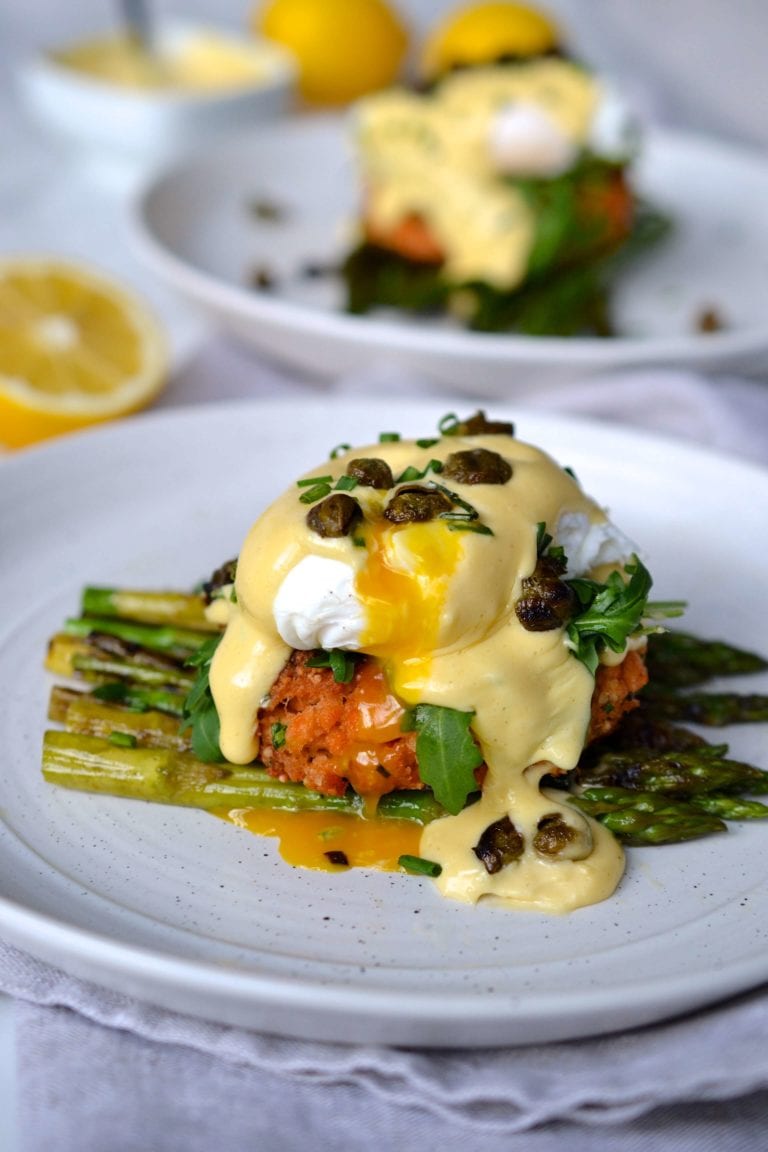 If you make this recipe let me know in the comment section below, I would love to hear what you think or take a photo and tag me (@everylastbite_) on Instagram, I love seeing your photos!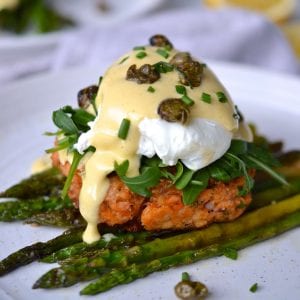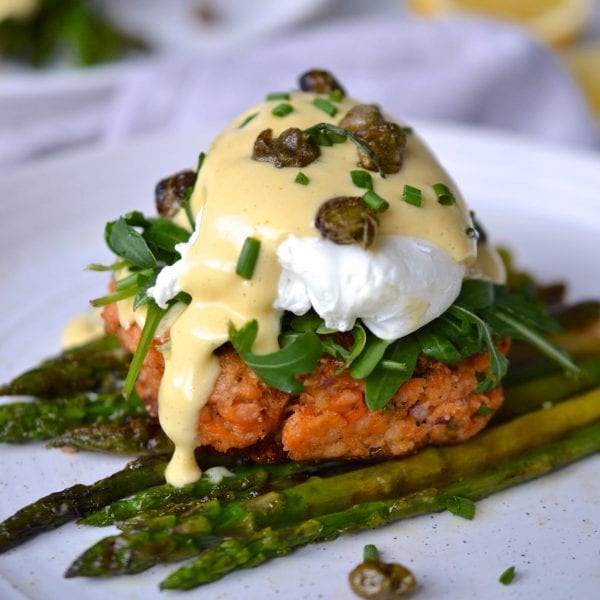 Salmon Cakes Egg Benedict with Lemon Hollandaise & Crispy Capers
Ingredients
Salmon Cakes
1 6oz can boneless skinless salmon
1 egg
1/2 tbsp chopped parsley
1 tbsp chopped chives
1/3 cup almond flour
1/2 tbsp finely chopped red onion
1/4 tsp pepper
1 lemon
1 tbsp olive oil
Lemon Hollandaise
1 egg yolk
1/2 tsp water
1 1/2 tsp lemon juice
pinch of salt
1/2 cup melted ghee (or butter if not Paleo)
Assembly
1/2 tbsp olive oil
1 bunch asparagus
2 tbsp capers
1 cup arugula
4 large eggs
1 tsp white wine vinegar
1 tbsp chopped chives
Instructions
To make the salmon cakes, in a bowl combine the canned salmon, egg, parsley, almond flour, red onion and juice and zest from 1 lemon. Using your hands work the mixture so that its well blended. Form the mixture into 4 patties.

Heat 1 tbsp olive oil in a skillet on medium heat. Cook the salmon cakes for 4 minutes per side until a golden crust forms on both sides. Once done cooking transfer them to a plate and put in the oven to keep warm.

To make the lemon hollandaise, in a tall container add the egg yolks, salt, lemon juice and water. Insert an immersion blender into the container and blend for 30 seconds. Very slowly drizzle the melted ghee into the container while blending. This could also be done in a blender if you do not have an immersion blender. Continue blending until the egg begins to emulsify and creates a thick sauce.

Drizzle the capers with olive oil and then place them on a grill pan on medium high heat along with the asparagus spears. Cook the asparagus for 4-5 minutes until grill marks form and the asparagus begins to soften. The capers will take 3-4 minutes to cook and are done when they have puffed up and become crispy.

Bring a pot filled with approx 3 inches of water to a bottle and add in the white vinegar. Once the water is boiling, reduce the heat to medium low and move a spoon quickly in a circular motion in the water to create a whirlpool and then crack an egg into the middle. Leave to cook for 4 minutes before removing it from the water using a slotted spoon. Repeat with the remaining eggs.

To assemble place 4-5 asparagus spears on the center of the plate and top with 2 salmon cakes. Place on top of each a handful of arugula, 2 poached eggs and pour some of the lemon hollandaise overtop. Sprinkle with the crispy capers and chopped chives before serving.