Grapefruit Bowls with Fruit Salad & Orange Poppy Seed Dressing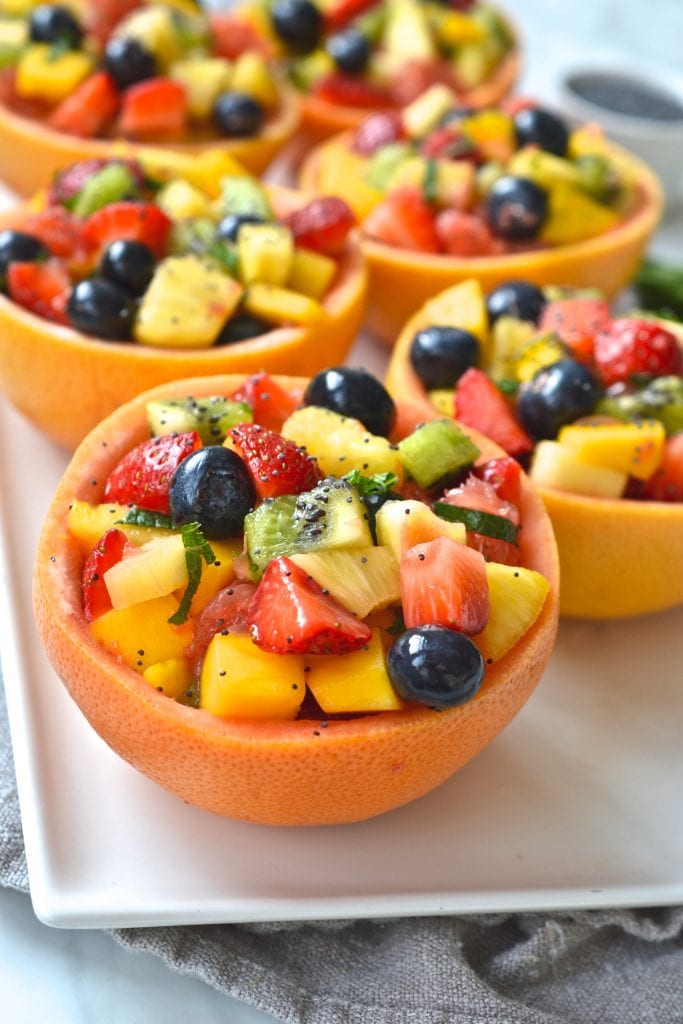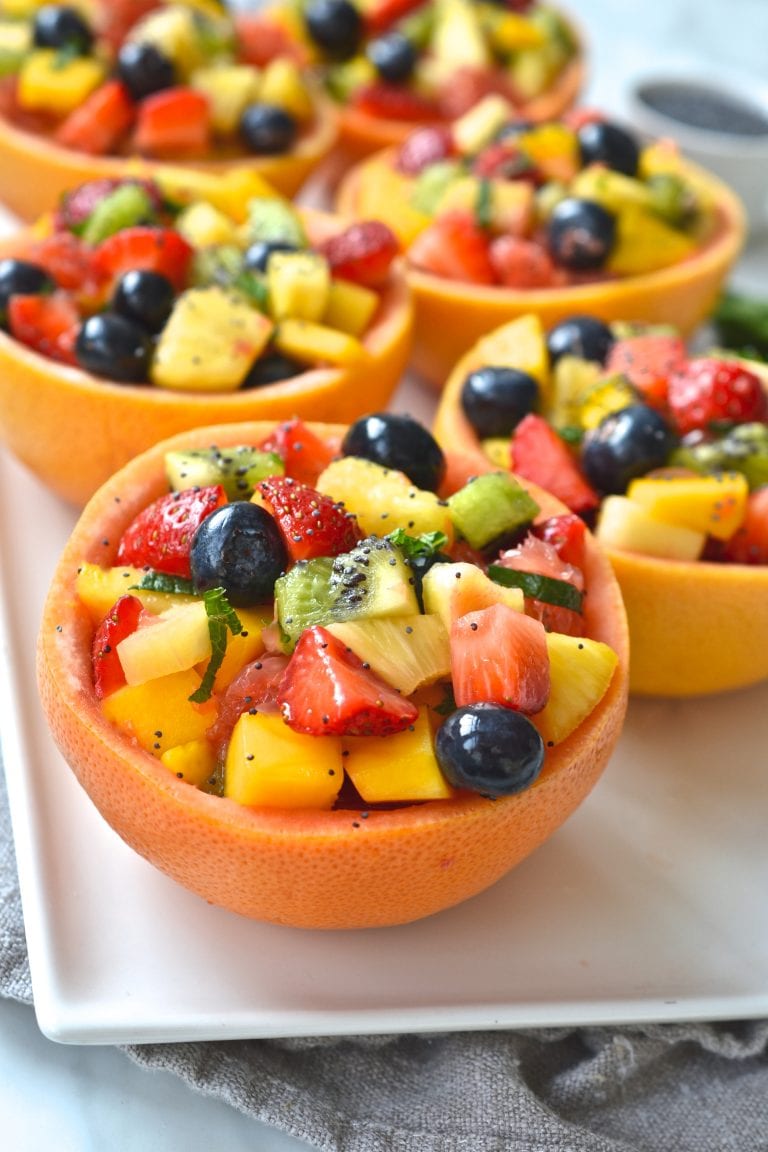 How cute are these grapefruit bowls?! They have been one of my go to brunch dishes for years, but I never considered posting them as a "recipe" because well, they don't really require a recipe. But when putting together some brunch ideas for Easter, I thought these would be a great easy addition to any menu.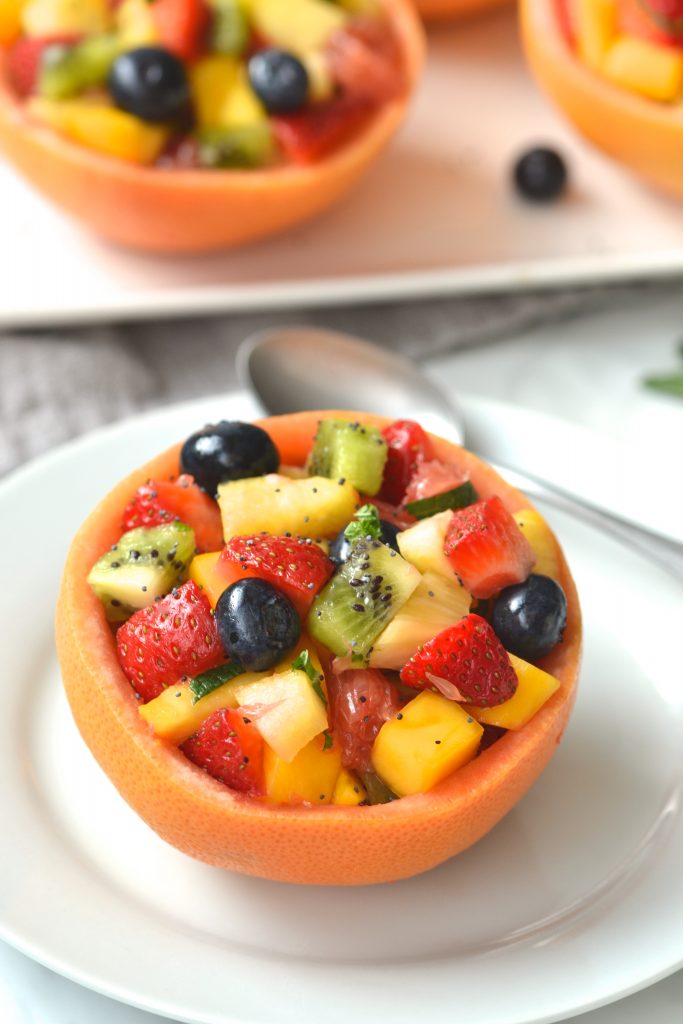 These grapefruit bowls are incredibly easy to make. You can prep them a day or two in advance and then quickly fill them with fruit salad before serving. I love how durable they are and the fact that they can easily be picked up and eaten from without the need for a plate or bowl.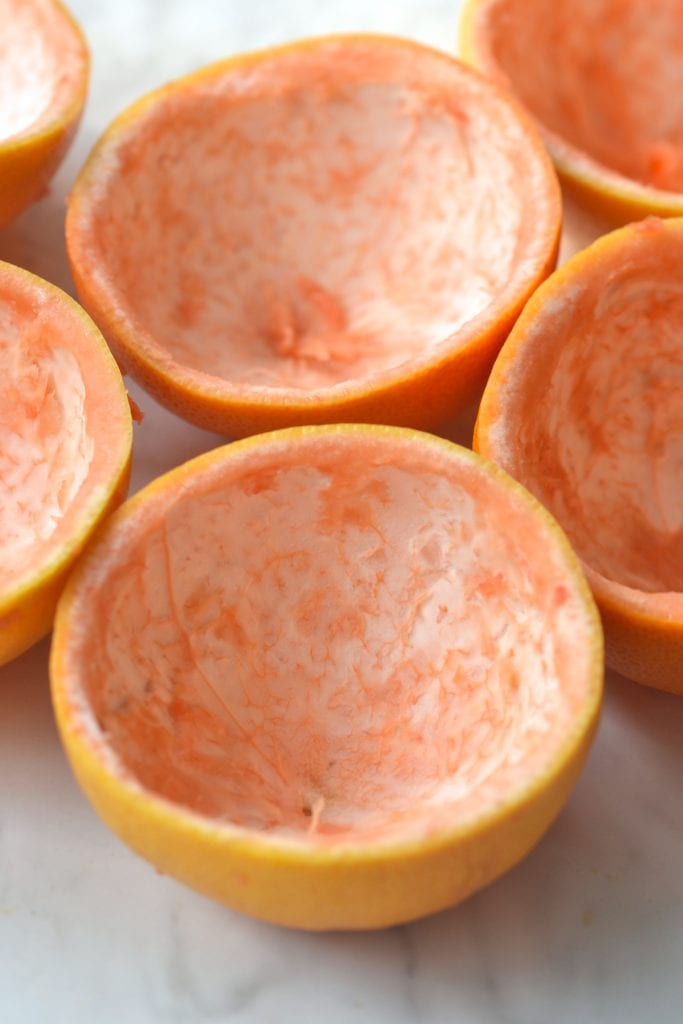 For this recipe I filled the grapefruit bowls with a simple fruit salad tossed in an orange and poppy seed dressing and sprinkled with fresh mint. I included pineapple, mango, kiwi, blueberries and strawberries but feel free to really use any fruit that you prefer. I would just recommend trying to ensure you have a lot of different coloured fruits to make the salad more vibrant.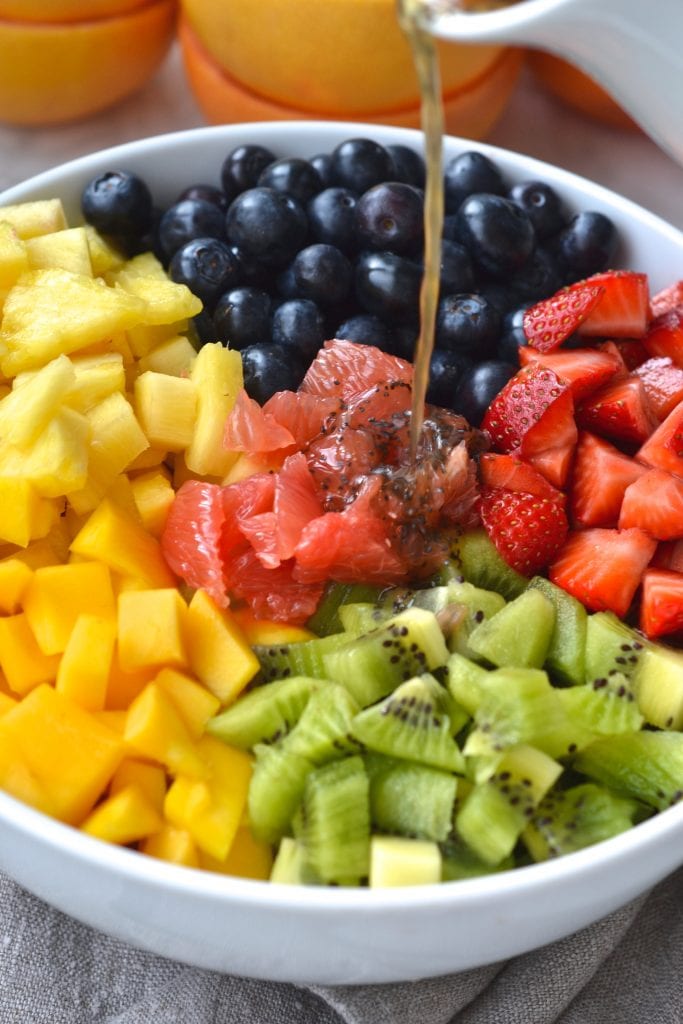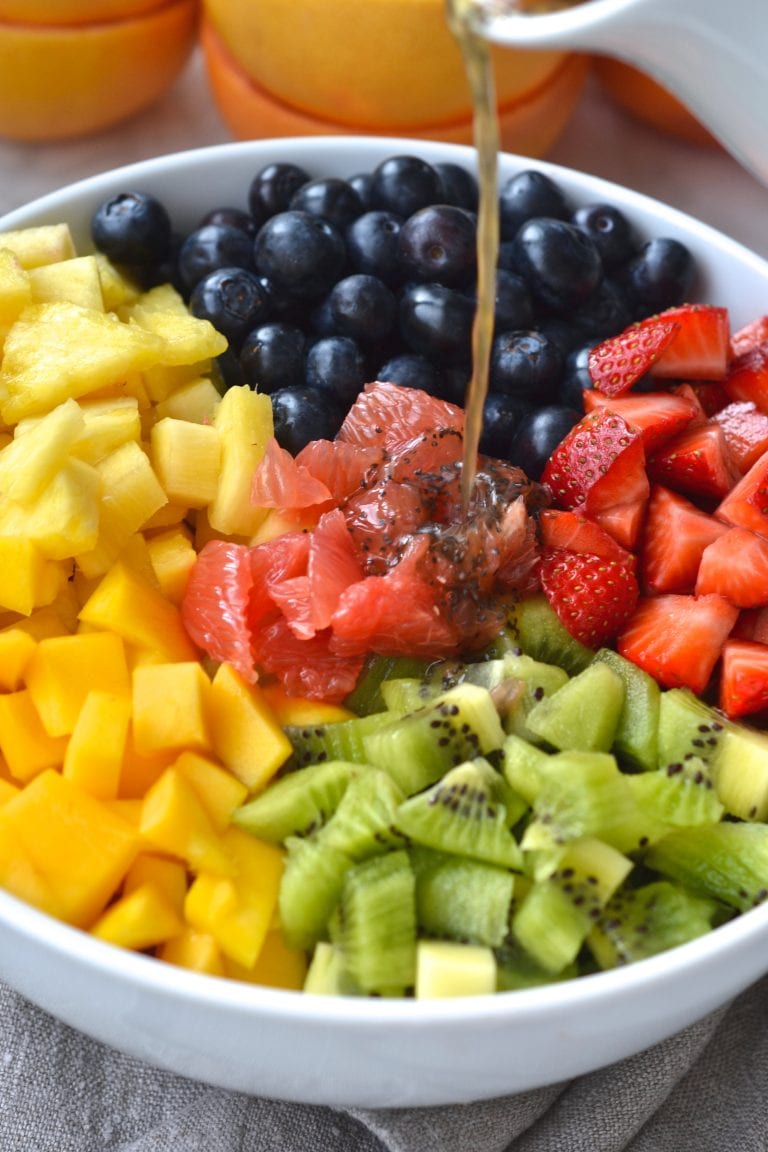 I really like the flavours of this dressing and the slight crunch that poppy seeds add. I have included a bit of honey to sweeten the dressing and balance out the tart flavour of the grapefruit juice, but you can definitely skip it if you are trying to lower your sugar intake.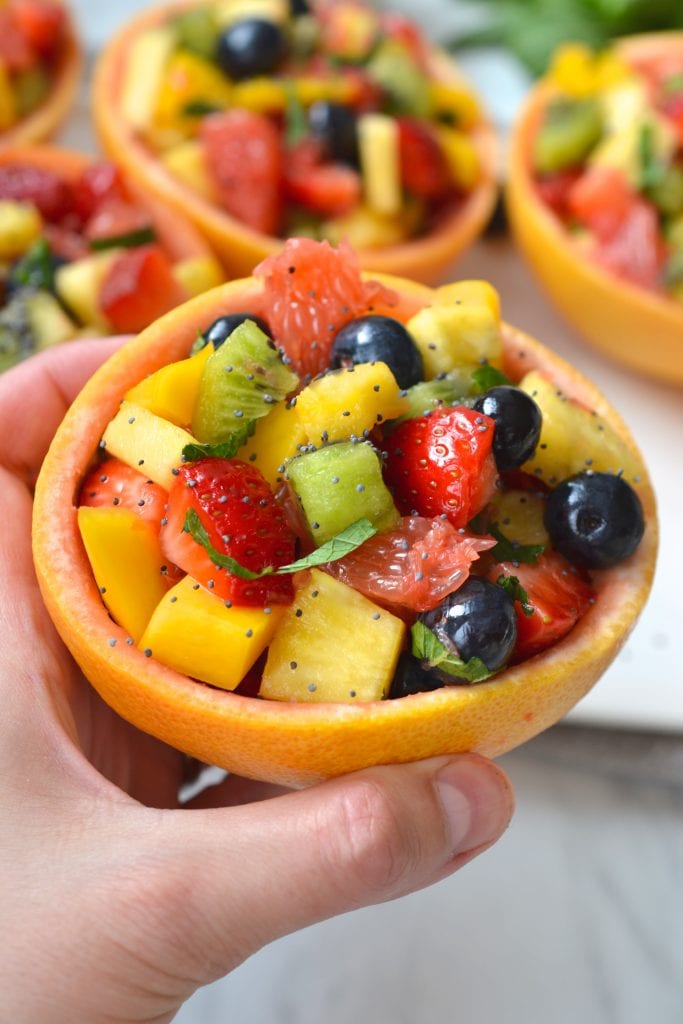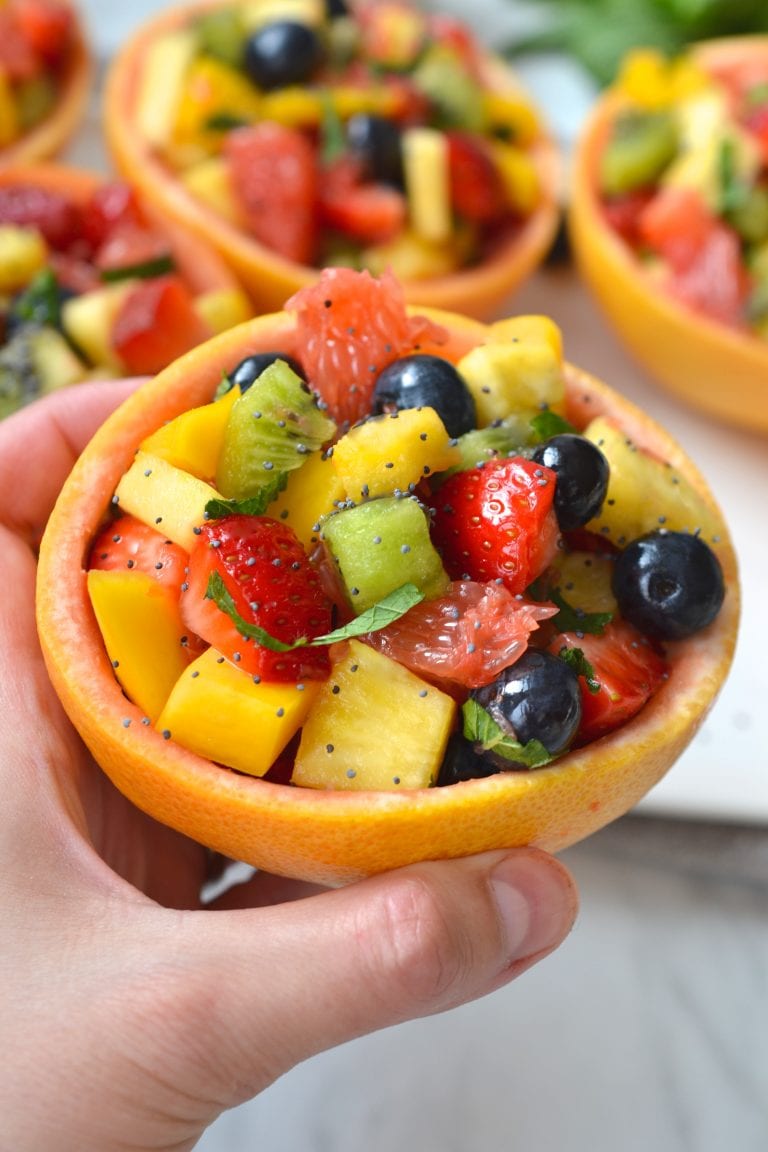 This would also be a fantastic dessert as well. You could serve the bowls with fruit salad and a scoop of ice cream on top, and there is no need to worry about the bowls getting soggy or leaking.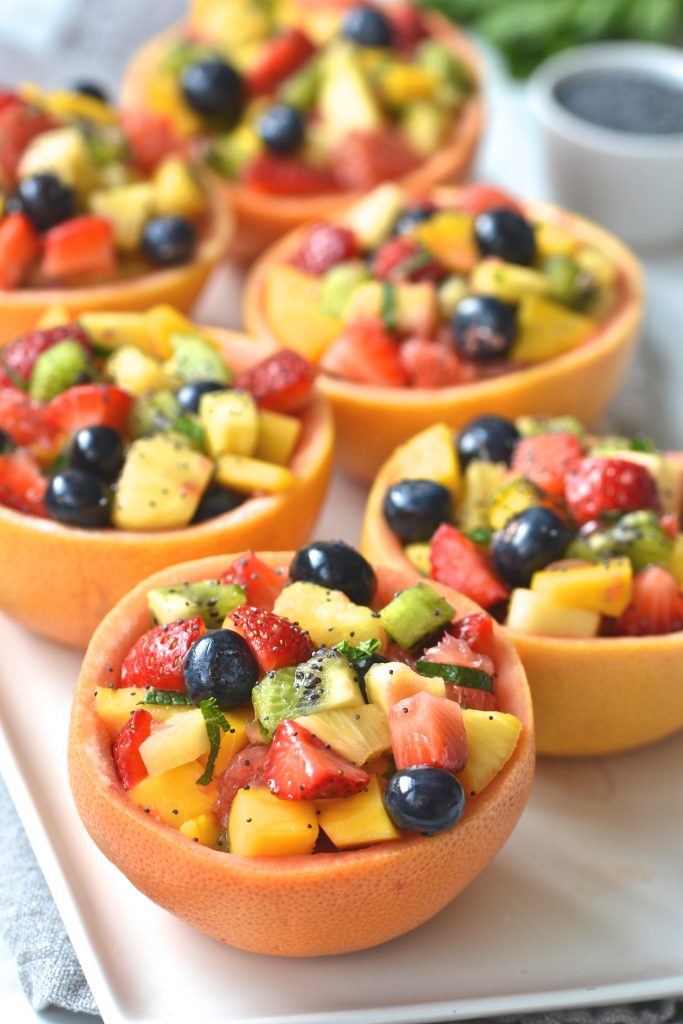 If you make this recipe let me know in the comment section below, I would love to hear what you think or take a photo and tag me (@everylastbite_) on Instagram, I love seeing your photos!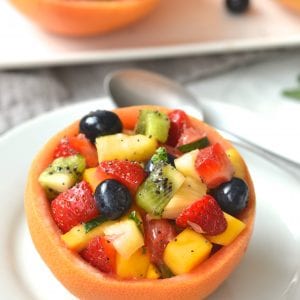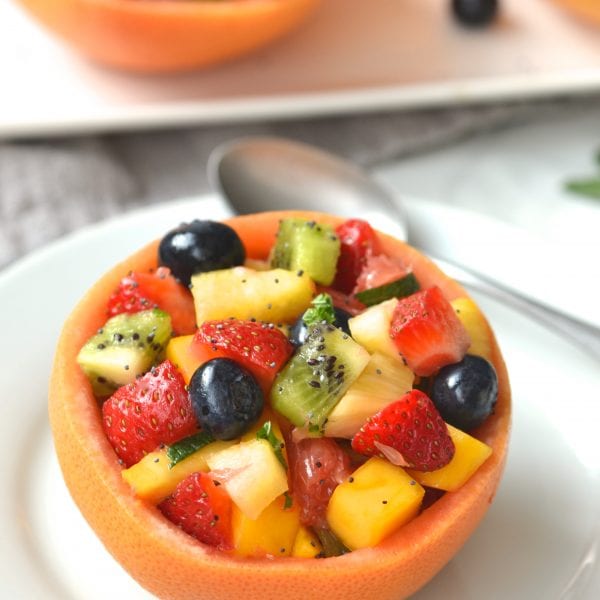 Grapefruit Salad with Fruit Salad & Orange Poppy Seed Dressing
Ingredients
3 large grapefruits
1 large mango cut into bite sized pieces
2 kiwi fruit peeled and cut into bite sized pieces
1 cup blueberries
1 cup chopped strawberries
1 cup chopped pineapple
1 tbsp honey (or maple syrup) (omit for Whole30)
1/3 cup orange juice
1 tsp poppy seeds
1/3 cup shredded fresh mint
Instructions
Start by cutting the grapefruit in half through the middle and then remove the pulp using a sharp knife and then scooping out the segments with a spoon. Reserve any of the excess grapefruit juice in a bowl.

In a bowl combine all of the fruit for the fruit salad (including the grapefruit segments)

In a small bowl whisk together the honey, orange juice, 2 tbsp grapefruit juice and poppy seeds.

Pour the dressing over the salad, add in about 1/4 cup of the shredded mint and toss to ensure the fruit is well coated. Spoon the fruit salad out into each of the grapefruit bowls and garnish with a bit more shredded mint before serving.
Notes
*feel free to use any fruit that you prefer for the salad, I would just recommend trying to include different colours