Chicken Shawarma Platter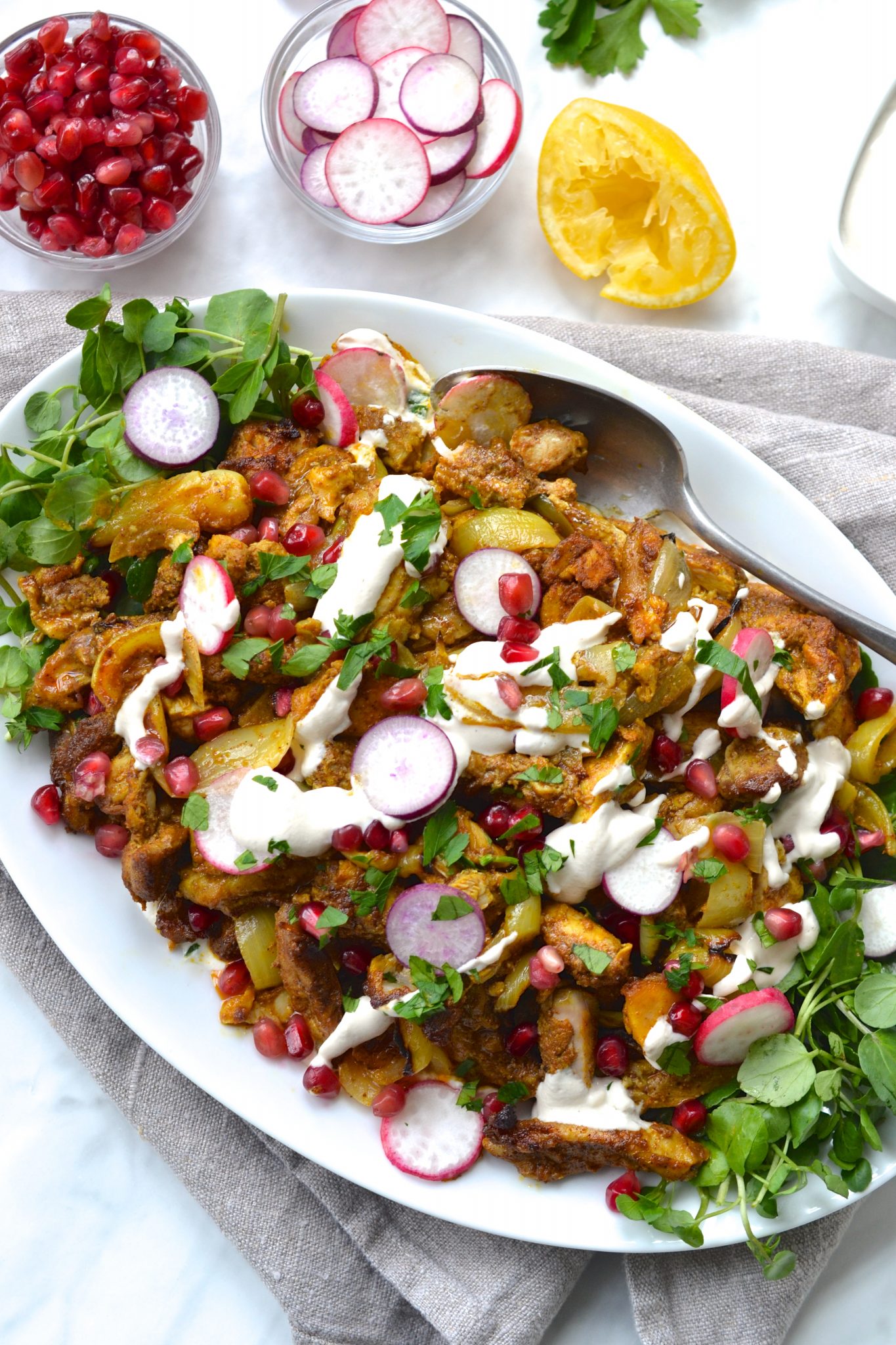 This is not your typical chicken shawarma, IT'S SO MUCH BETTER! It's more flavourful, healthier and so delicious.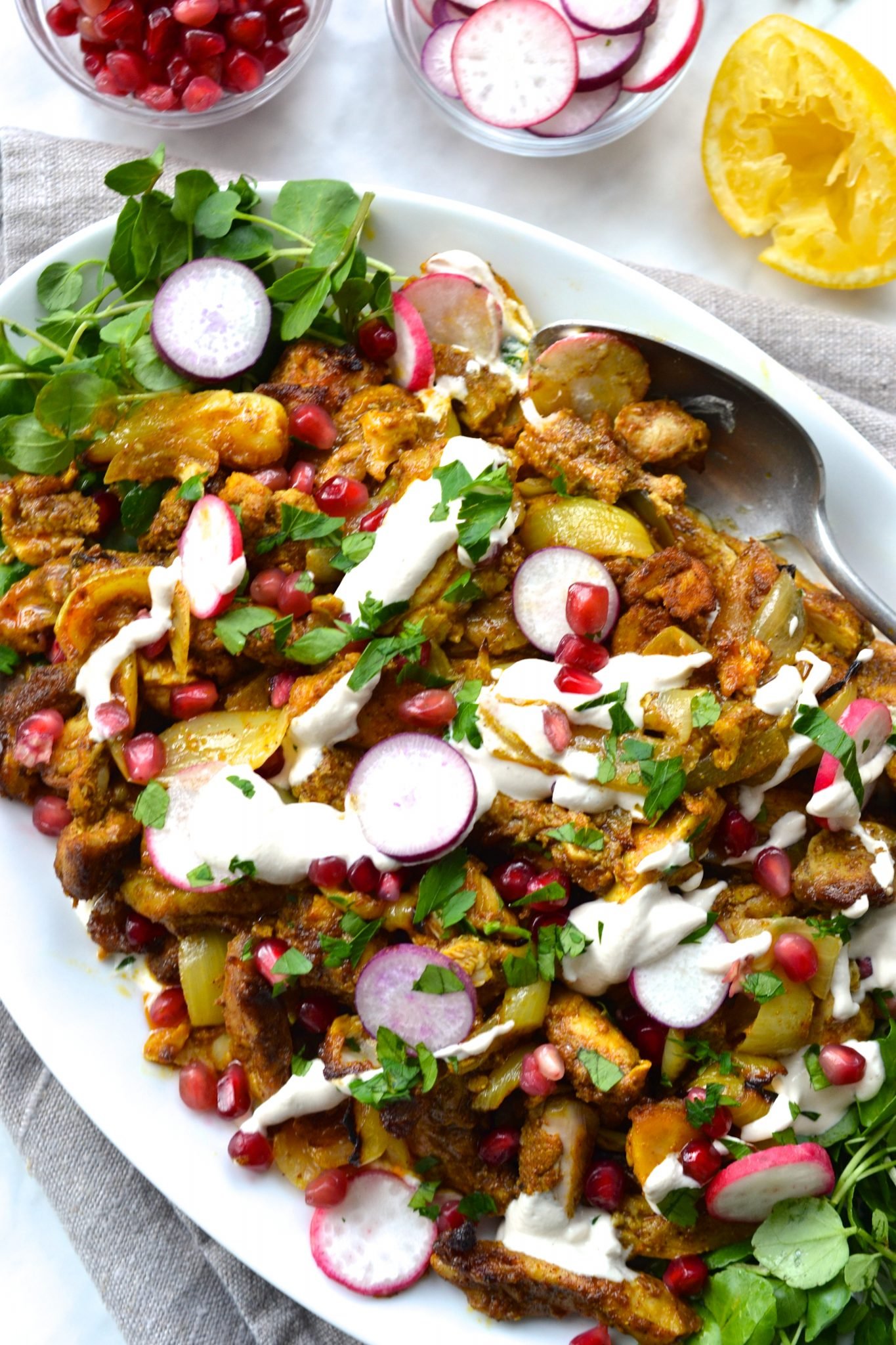 I had a similar version of this dish served on pita at a local restaurant and new I had to recreate a Paleo version of it at home. With a creamy tahini sauce base, tender spicy strips of chicken, onion and toppings of pomegranate seeds, thin slices of radish, parsley and more tahini, every bite is packed with so much flavour.

The chicken is marinated in a mix of spices including cumin, turmeric, cinnamon and coriander which give it a traditional shawarma type flavour. I prefer using chicken thighs, but chicken breasts or even thinly sliced beef would work well in this recipe.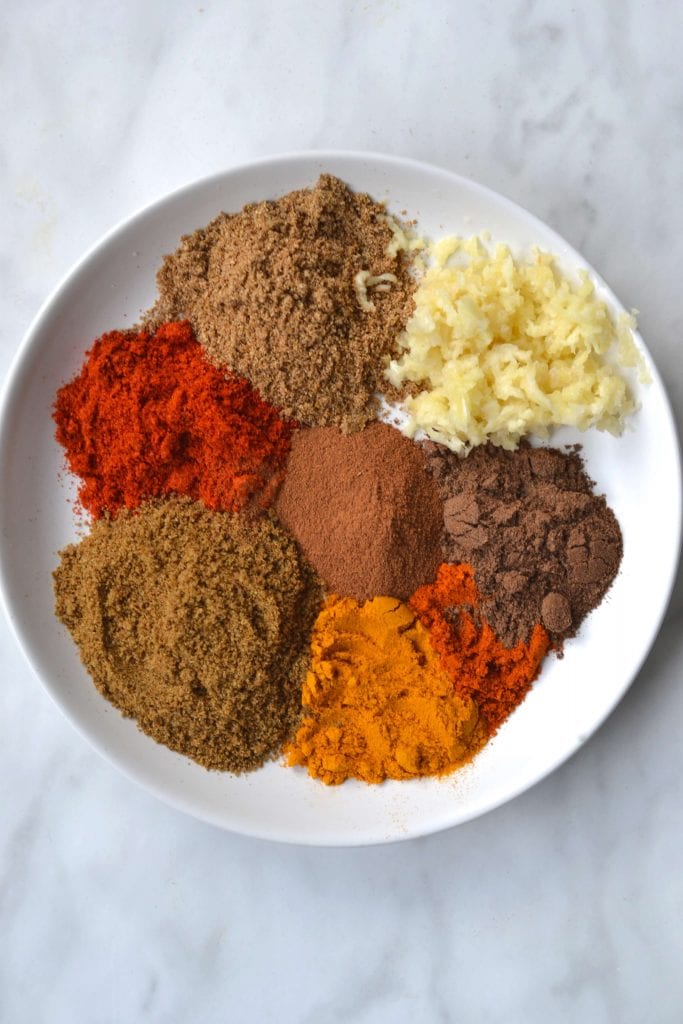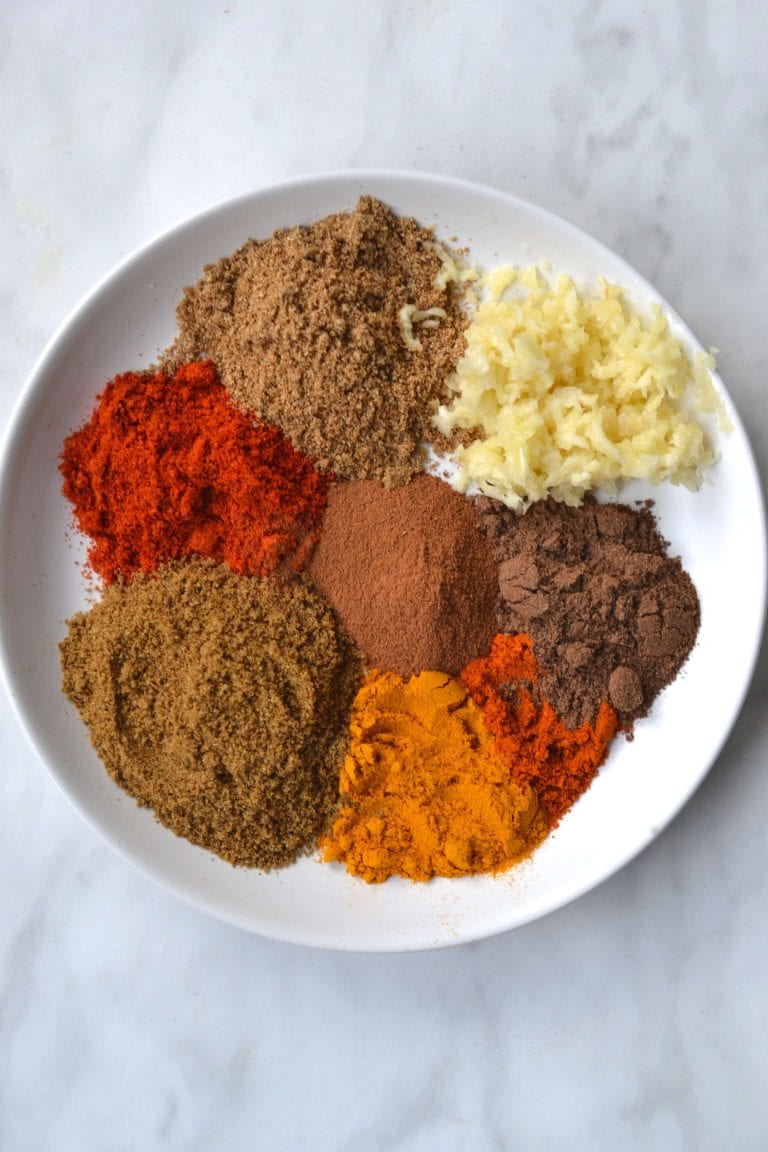 After marinating for a minimum of 4 hours (but ideally overnight) the chicken and chunks of onion are placed on a baking tray and baked for 30 minutes until tender.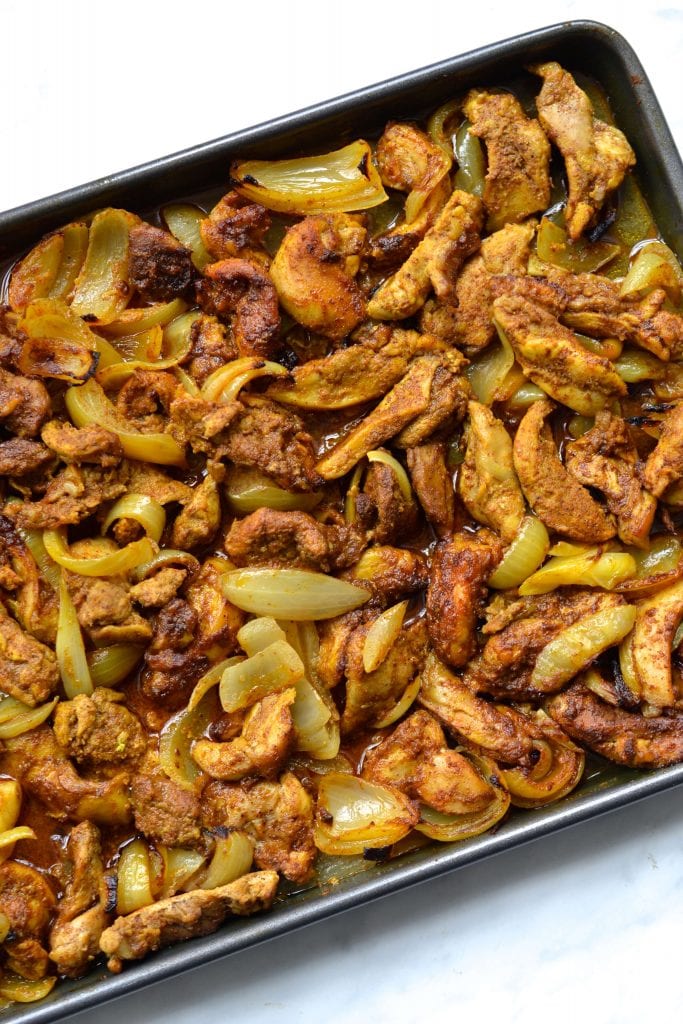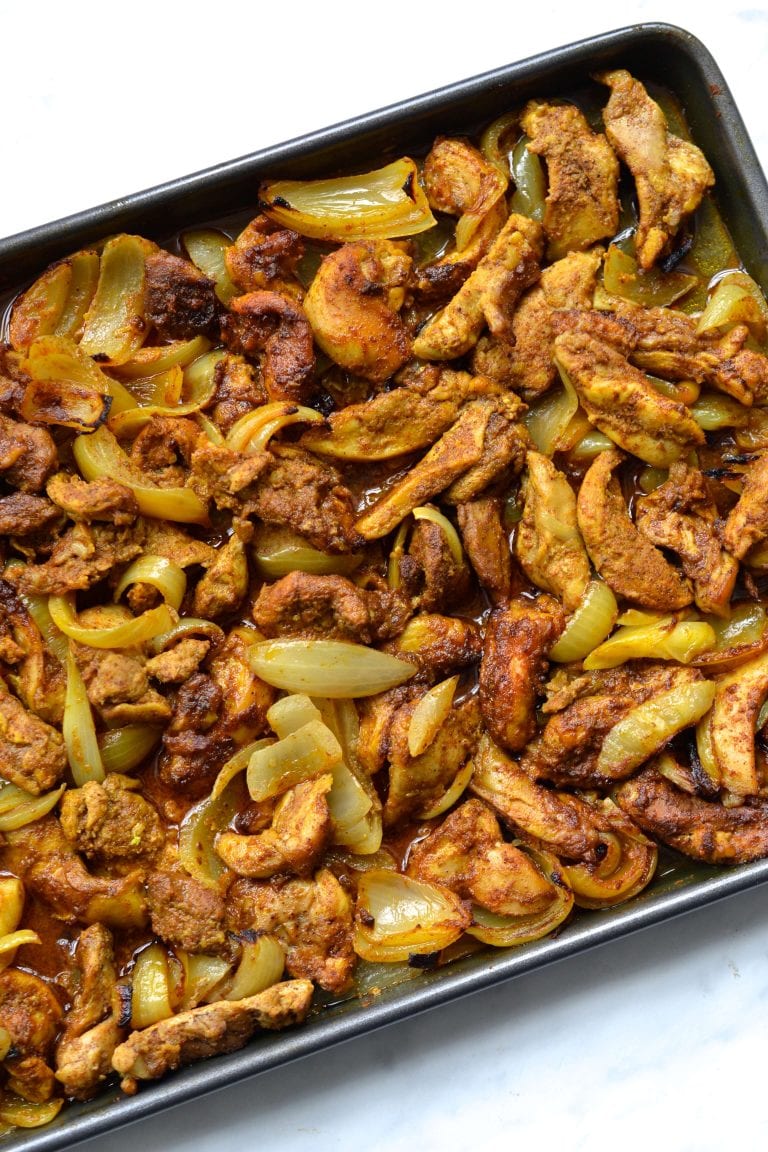 If it wasn't for the marinating time, this would definitely be a Whole30in30 recipe because the whole dish comes together so quickly. If you have any leftovers, they are fantastic tossed warm into a salad with extra radishes and pomegranate seeds and the remaining tahini sauce used as a dressing.
If you make this recipe let me know in the comment section below, I would love to hear what you think or take a photo and tag me (@everylastbite_) on Instagram, I love seeing your photos!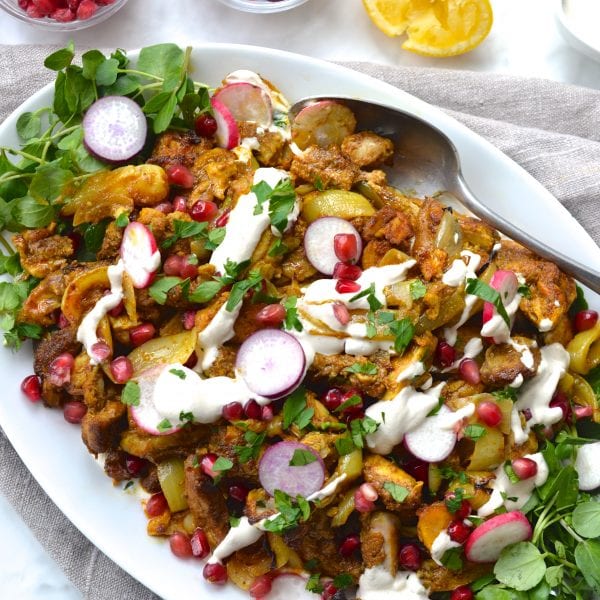 Chicken Shawarma Platter
Ingredients
Chicken
2 lbs boneless skinless chicken thighs
2 medium onions cut into slices
1 tbsp cumin
1 tsp turmeric
1 1/2 tsp paprika
1/2 tbsp coriander
1/2 tsp cinnamon
1/2 tsp cayenne pepper
1/2 tsp ground cardamom
4 cloves garlic
1/3 cup olive oil
1/2 tbsp lemon zest
1/3 cup lemon juice
Tahini Sauce
1/3 cup tahini
1 clove garlic
1 tbsp red wine vinegar
1 1/2 tbsp lemon juice
1/4 tbsp water
Shwarma Platter
1/3 cup thinly sliced radishes
2 cups watercress (you can swap for another lettuce variety of your choice)
2 tbsp chopped parsley
1/4 cup pomegranate seeds
Instructions
Cut the chicken thighs into thin strips and place them in a resealable bag along with the onion. Add in all of the remaining chicken marinade ingredients and squish it with your hands to ensure that the chicken is evenly coated in the marinade. Place in the fridge for 4 hours but ideally overnight.

Preheat the oven to 200 degrees Celsius (400 Fahrenheit) and empty the contents of the marinating chicken bag out onto a large baking tray. Use a fork to ensure everything is spread out evenly and then bake in the oven for 30 minutes until all of the chicken is cooked.

While the chicken is cooking, in a blender or nutribullet container combine all of the ingredients for the tahini sauce and blend until completely smooth. The consistency should be fluffy.

To assemble the platter spoon 1/2 the tahini sauce down onto the centre of the plate and arrange the watercress around the outside. Place all of the chicken down onto the place on top of the tahini sauce. Garnish by drizzling the remaining tahini sauce over the chicken and watercress and place the slices of radishes overtop, along with the pomegranate seeds and chopped parsley.