Butternut Squash Noodles with Tahini Lemon Sauce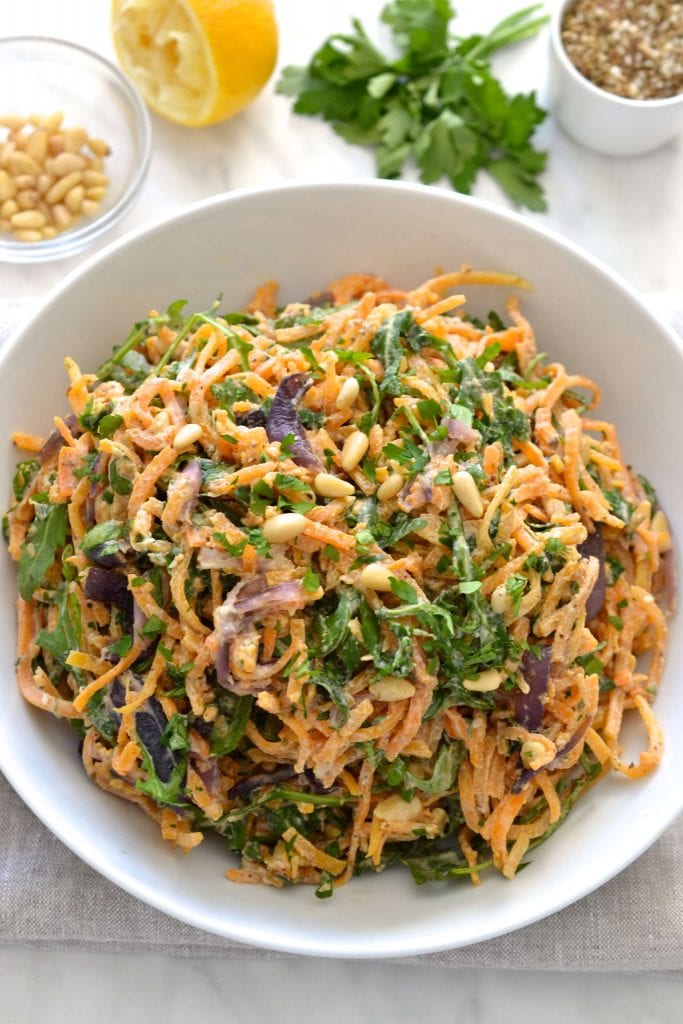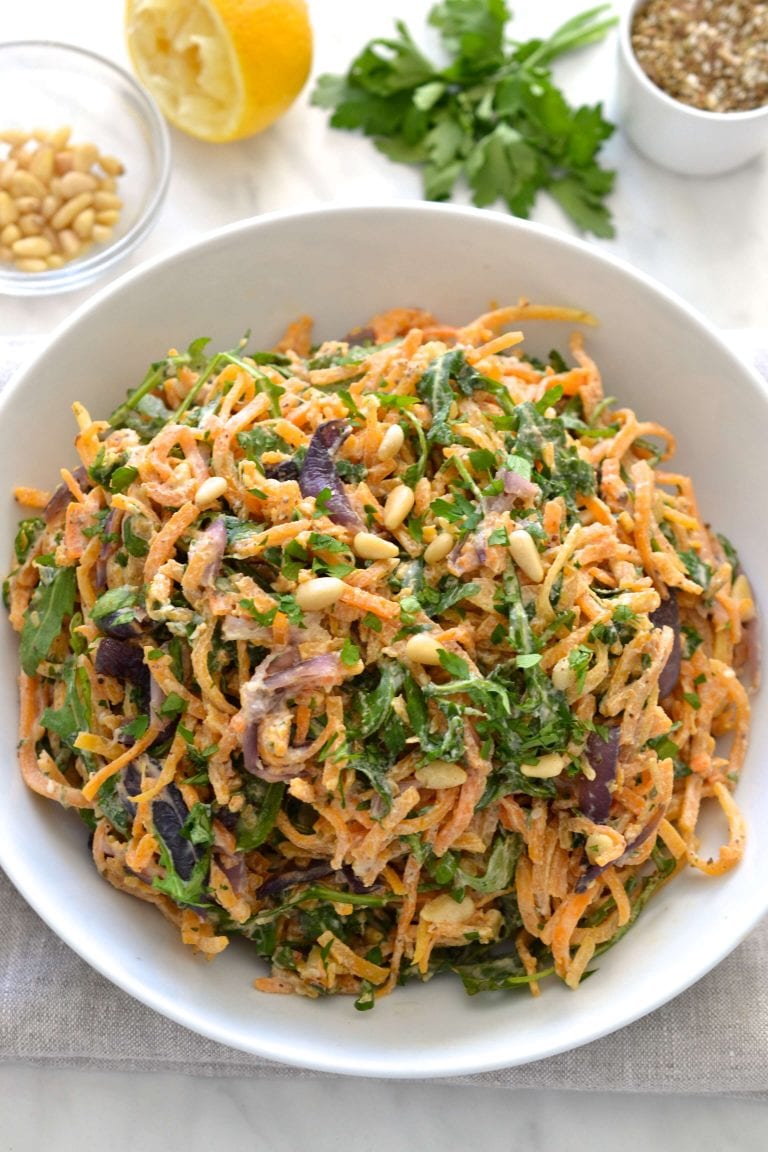 When it comes to vegetable noodles, in my opinion, nothing beats butternut squash noodles. I love how they stay firm and hold their shape, even after cooking and that they don't become watery like zucchini noodles do, which means leftovers are just as good on day 2.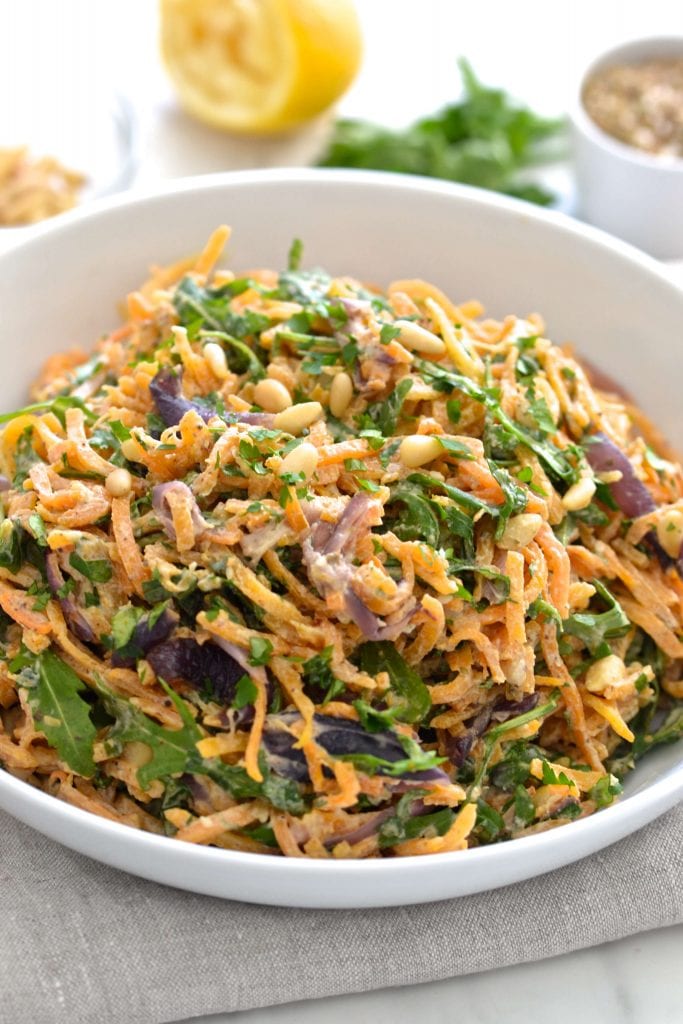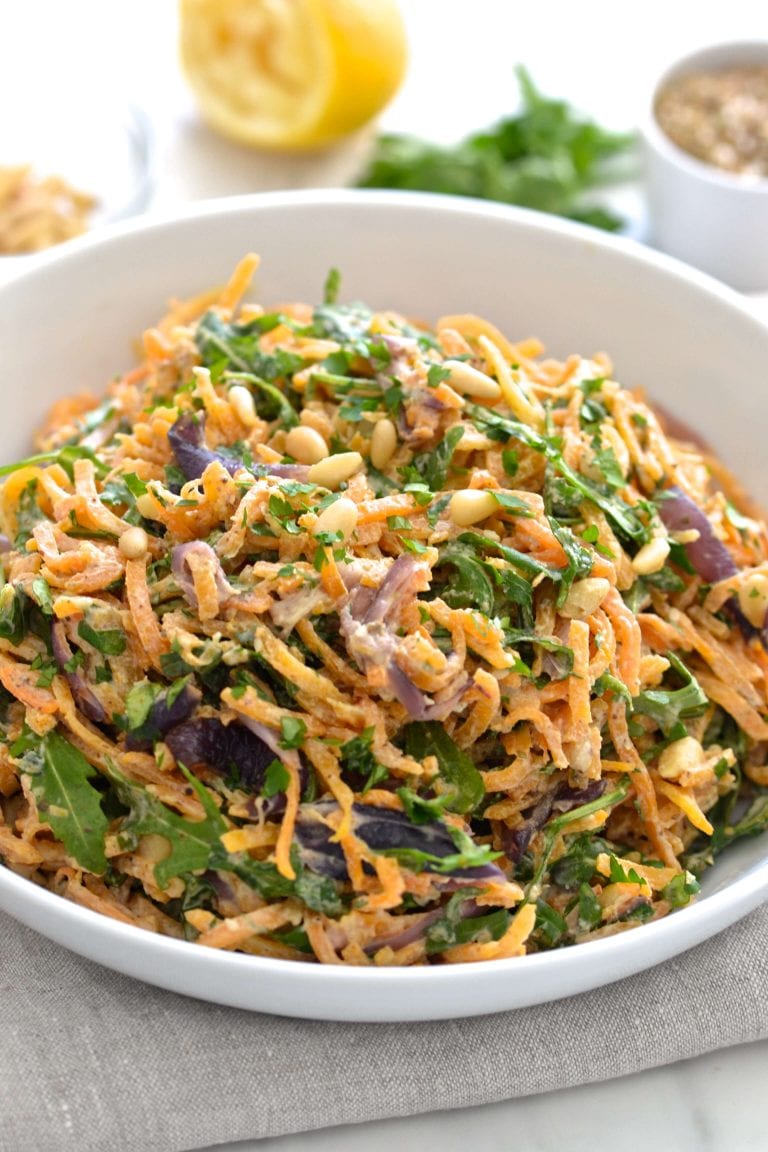 This recipe for Butternut Squash Noodles with Tahini Lemon Sauce is a fun change from all of the normal pasta dishes. The Butternut squash noodles are tossed with roasted red onion, spicy arugula, crunchy pine nuts, and then everything is coated in a creamy lemon and garlic tahini sauce.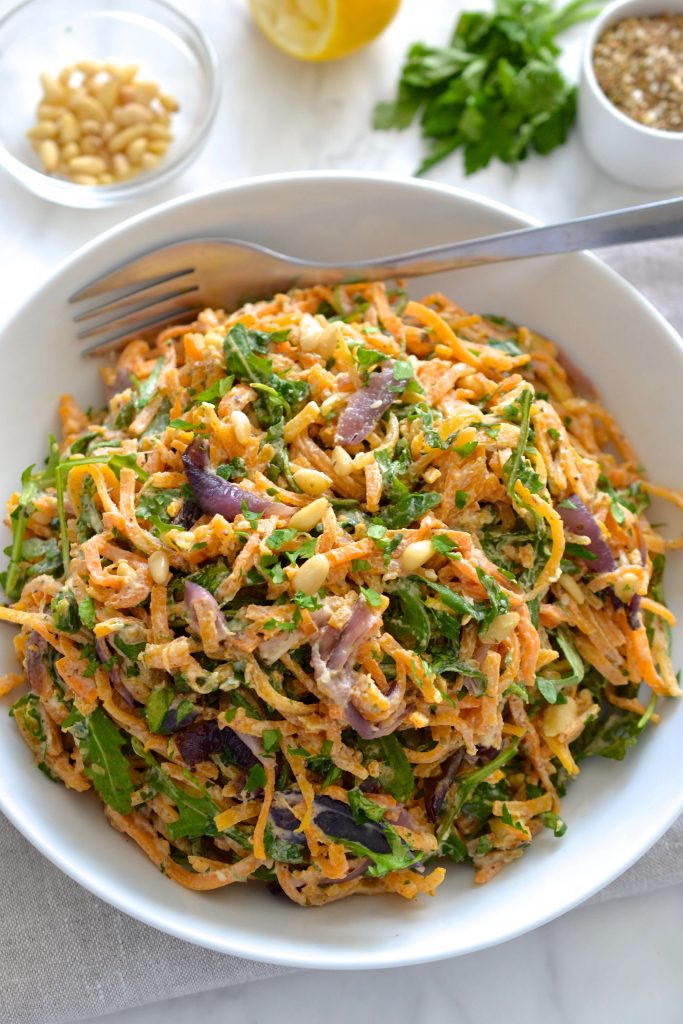 I love how easy this is to throw together with a total time of under 30 minutes. The Butternut Squash noodles and red onion are baked in the oven until the onions become slightly caramelized and the squash is tender. While that is baking all of the sauce ingredient can be quickly tossed into a blender.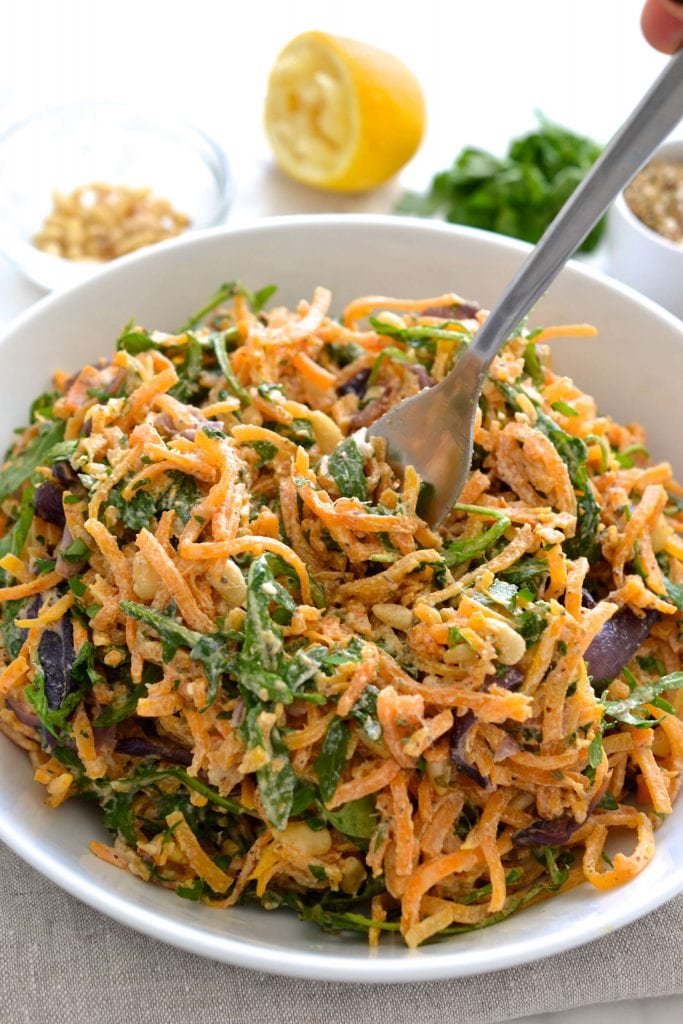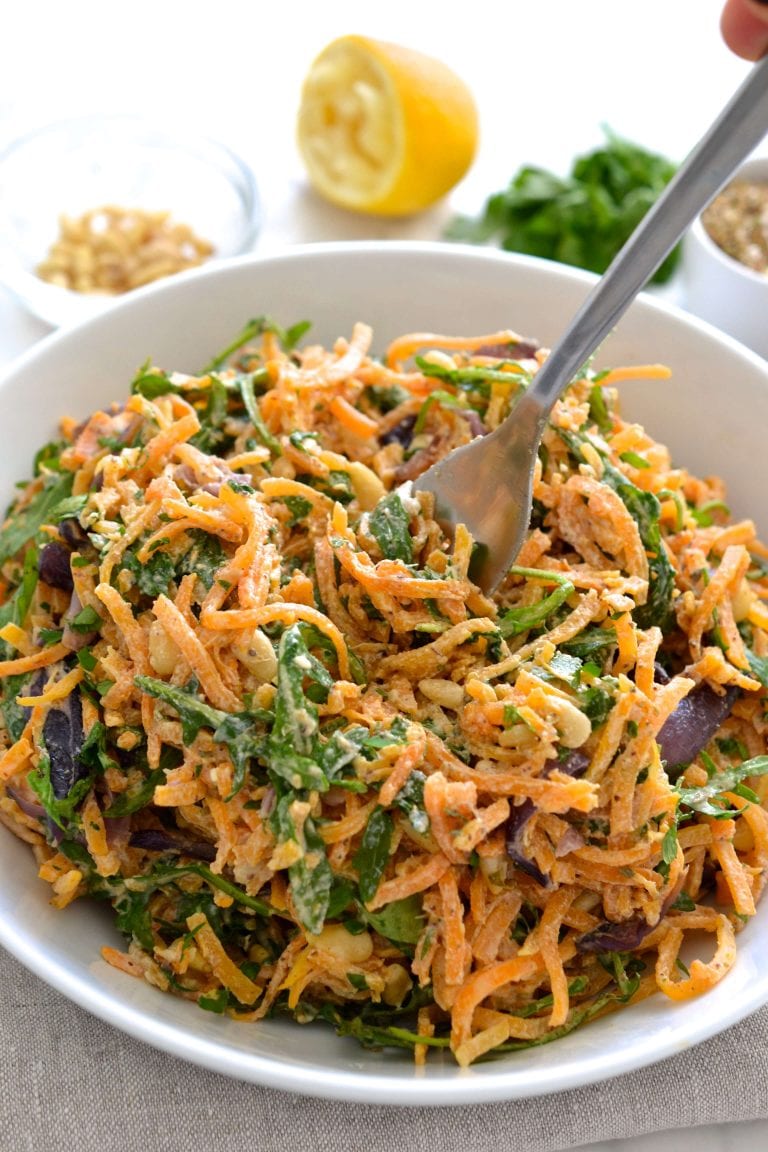 This dish can be served either hot or cold and is truly fantastic either way. I like having it warm for dinner and then enjoying the leftovers cold as a salad the following day. I would recommend adding the arugula right before serving so that it remains fresh.
If you make this recipe let me know in the comment section below, I would love to hear what you think or take a photo and tag me (@everylastbite_) on Instagram, I love seeing your photos!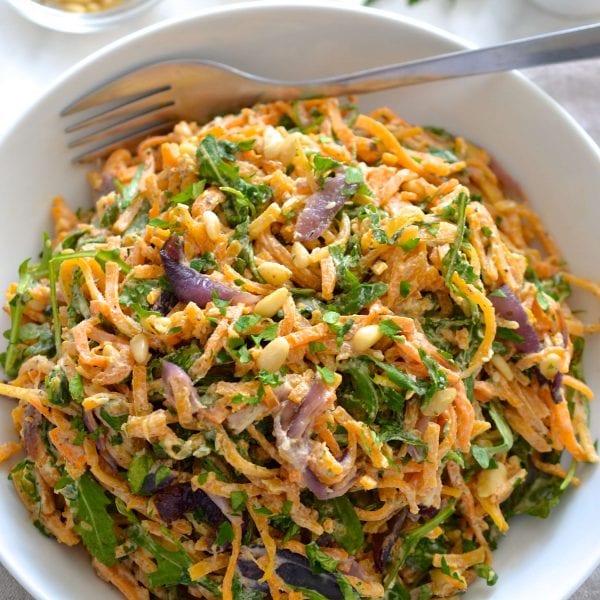 Ingredients
2 small red onion cut into eighths
1/2 tbsp olive oil
6 cups butternut squash noodles *
3 tbsp toasted pine nuts
1/4 cup chopped parsley
1/4 tsp salt
1 1/2 tbsp za'atar
2 cups arugula
Lemon Tahini Sauce
1/4 cup tahini
2 tbsp lemon juice
2 cloves garlic
3 tbsp water
1/2 tsp salt
Instructions
Preheat the oven to 200 degrees Celsius (400 degrees Fahrenheit). Place the wedges of red onion on a baking tray, drizzle in the 1/2 tbsp olive oil and bake in the oven for 15 minutes.

After 15 minutes of baking take the baking tray out and lay the butternut squash noodles out evenly on the tray. Return to the oven and bake for another 8-10 minutes until the noodles are tender.

In a blender or nutribullet container combine all of the ingredients for the tahini lemon sauce and blend until completely smooth. You may need to add a splash more water if the sauce is too thick.

In a bowl combine the butternut squash noodles, red onion, parsley and pine nuts. Pour the sauce overtop and toss until the pasta is well coated before adding in the arugula, za'atar and salt and toss until everything is mixed together. Serve.
Notes
*you can use store bought precut noodles, or peel and cut the long neck off of a butternut squash and use a spiralizer to make the noodles or a julienne peeler.