Grilled Portobello Mushrooms with Walnut Arugula Pesto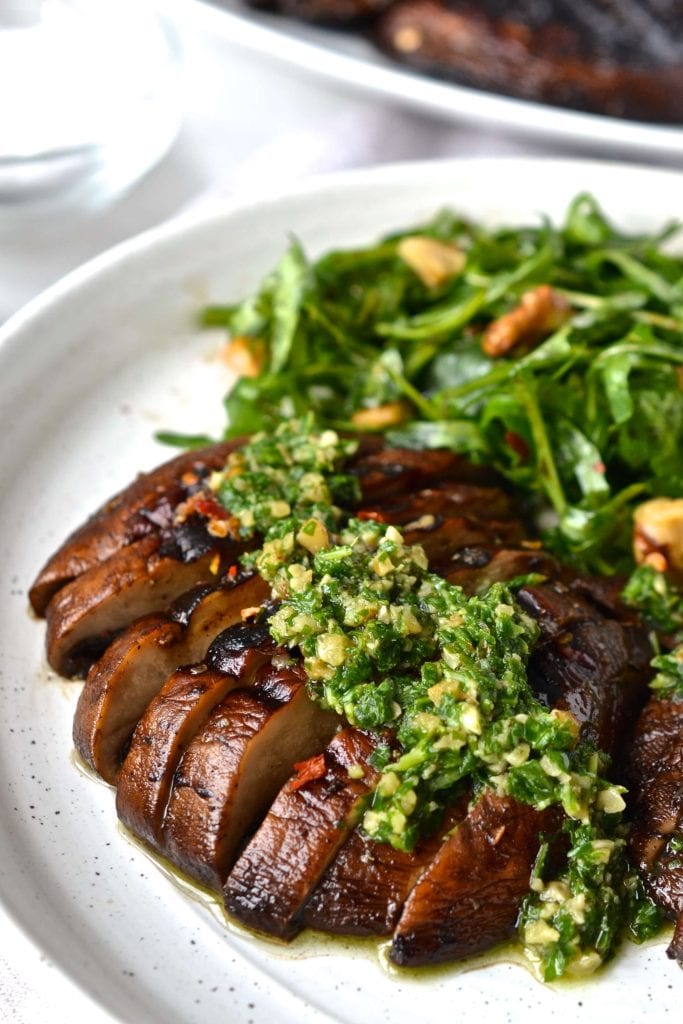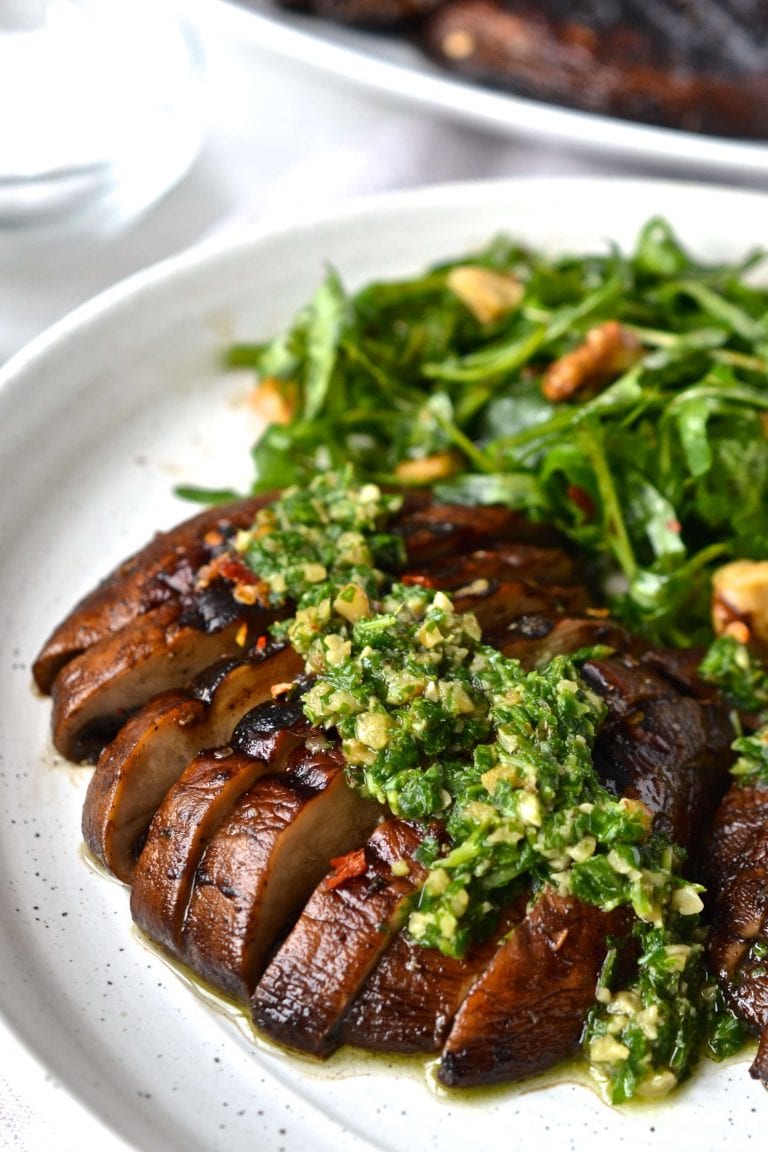 With barbecue season just weeks away, I have been on the hunt for fun veggie dishes that can be made on the barbecue.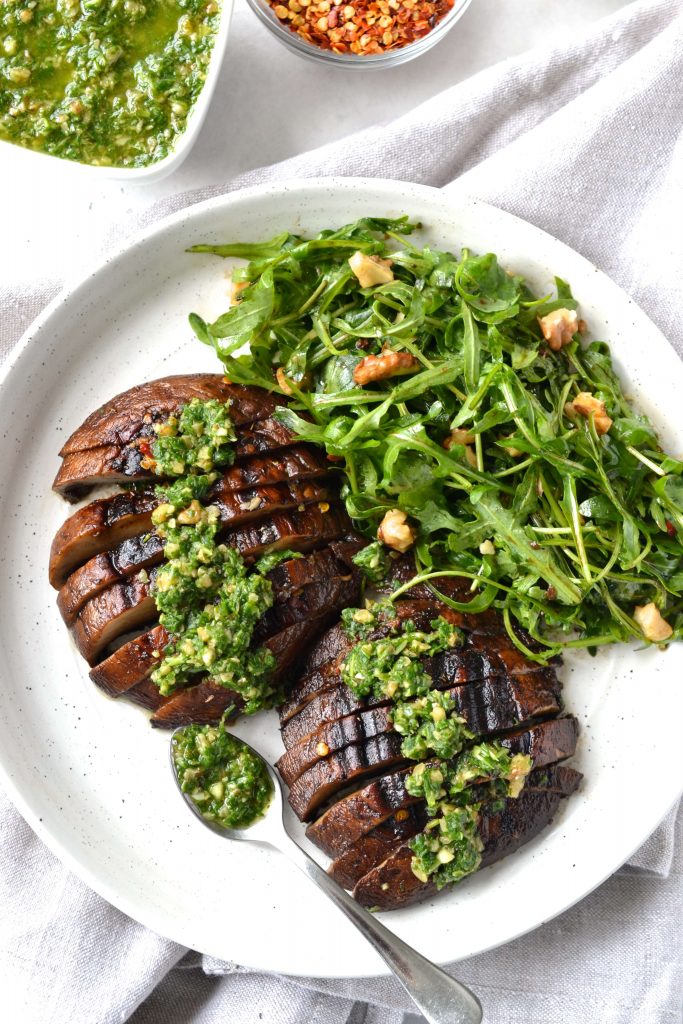 I already have quite a few barbecued vegetable side dishes on the site, like these Grilled Scallions & Asparagus and this Eggplant, but unfortunately the options for a vegetarian main dish is quite limited.

Enter these portobello mushrooms which would satisfy even the hungriest carnivore. If you are looking for a filling "meaty" vegetable to serve a crowd, these mushrooms are perfect.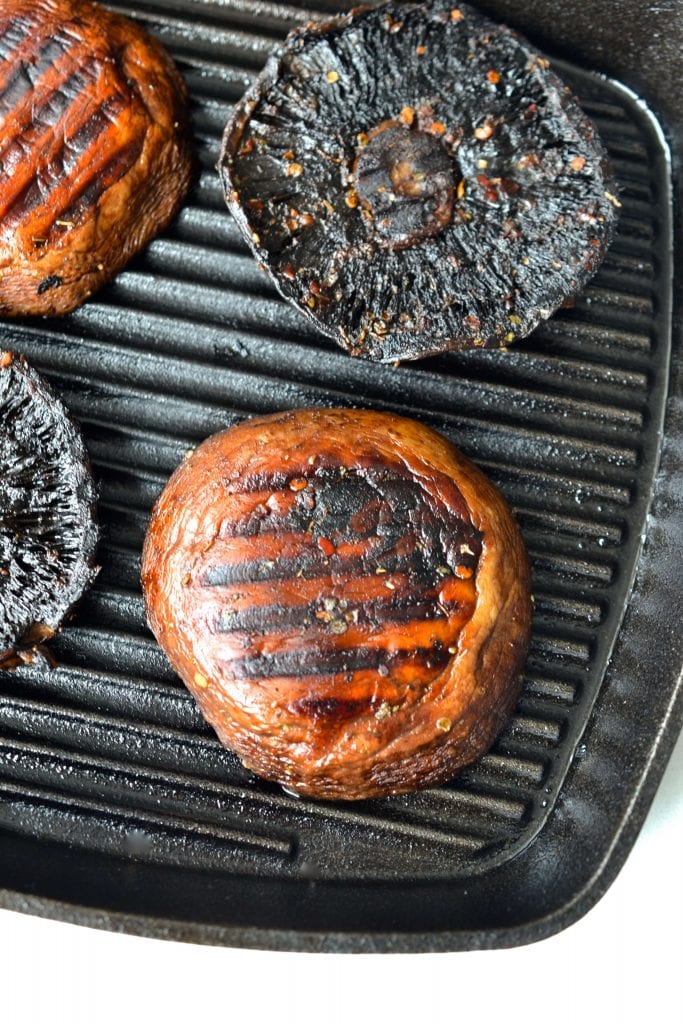 These aren't just grilled mushrooms, they are marinated grilled mushrooms and let me tell you, the marinade takes them to a whole new level of deliciousness. It's a similar marinade to something I would use for steak, which only increases the "meatiness" of the mushrooms. They absorb a lot of the marinade so every bite is incredibly flavourful.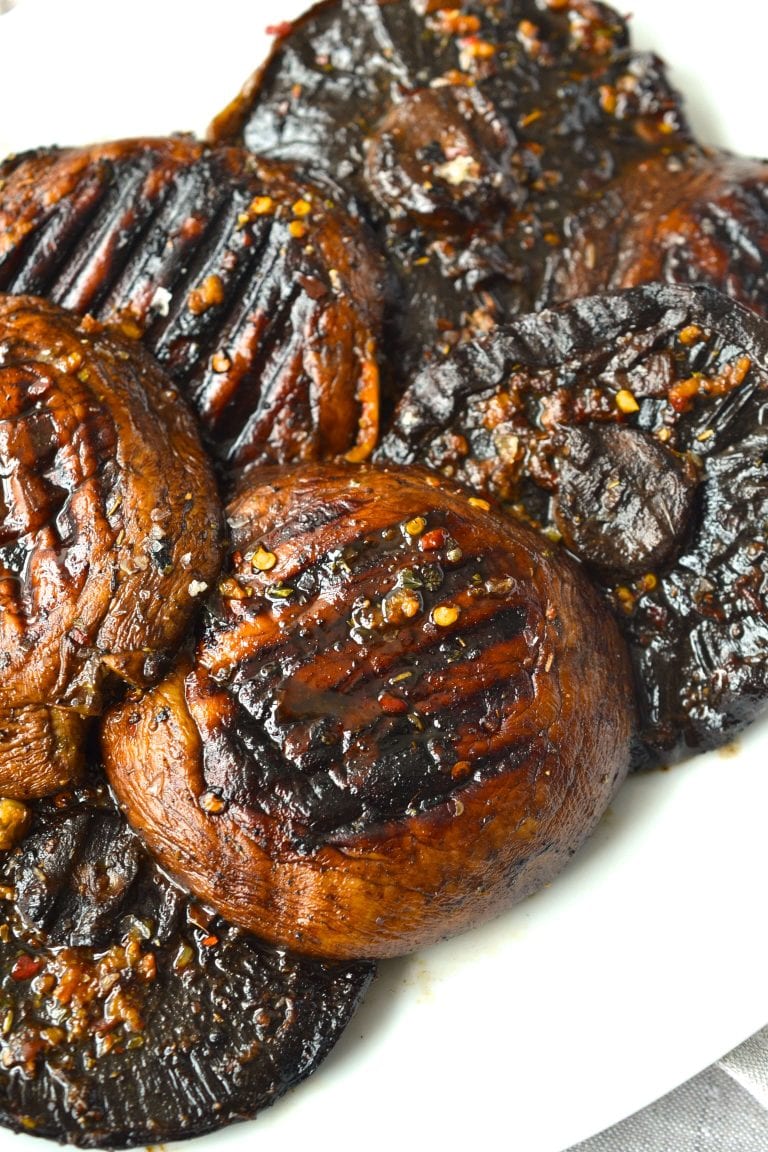 The mushrooms are then topped with a simple arugula and walnut pesto. I really like the earthiness flavour that the walnuts add to the pesto which goes really well with the mushrooms. If you are preparing this for a barbecue, the pesto could be made a few days in advance to cut down on prep time.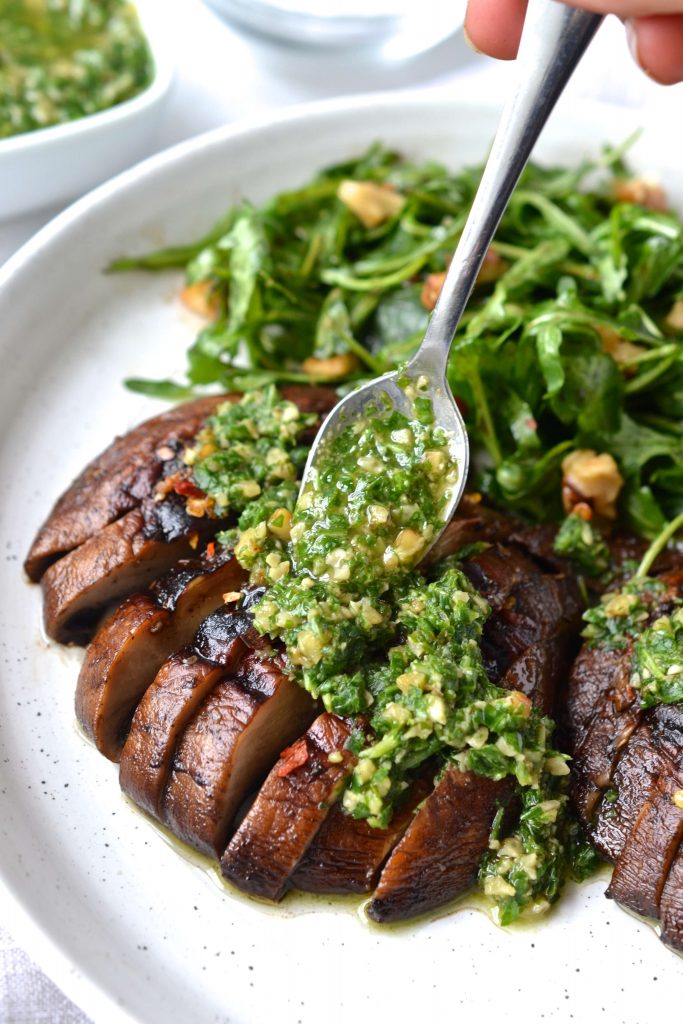 The leftovers are just as good the next day. I had a container of leftovers in my fridge that I ate cold straight from the fridge and added into salads. They are incredibly versatile and would be great for breakfast with eggs, or even added into a wrap for lunch so definitely make extra, because you are going to want to have leftovers.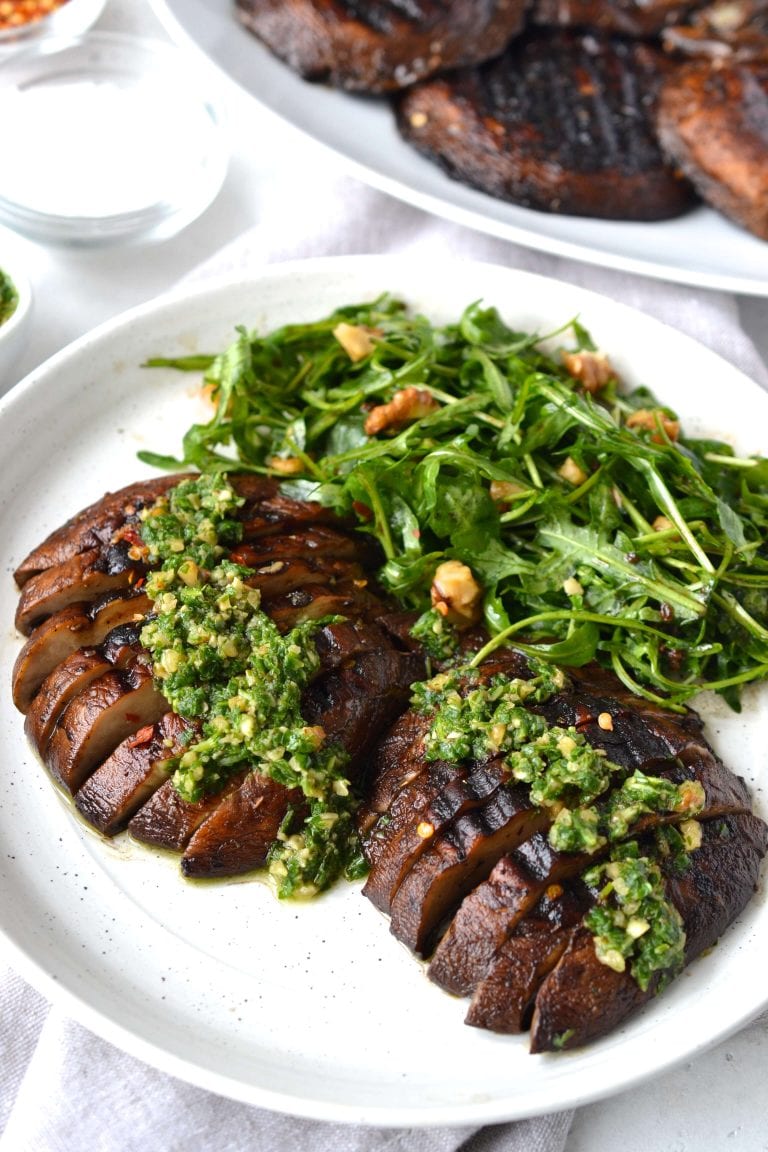 If you make this recipe let me know in the comment section below, I would love to hear what you think or take a photo and tag me (@everylastbite_) on Instagram, I love seeing your photos!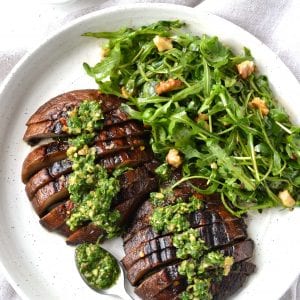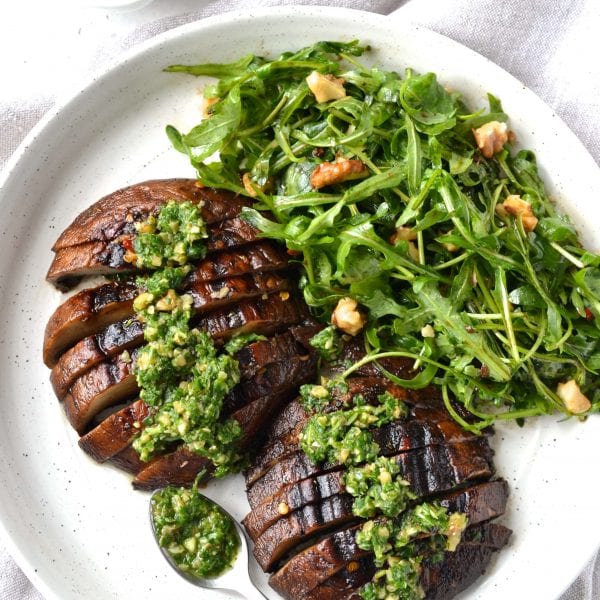 Grilled Portobello Mushrooms with Walnut Arugula
Ingredients
Marinated Portobello Mushrooms
1 tbsp dijon mustard
1/4 cup coconut aminos
1/3 cup balsamic vinegar
4 cloves garlic crushed
1/2 tbsp dried oregano
1/2 tsp chili flakes
1/2 tsp pepper
1/4 tsp salt
2/3 cup extra virgin olive oil
6-8 large portobello mushrooms
Walnut Arugula Pesto
2 cups arugula
1/3 cup toasted walnuts
1/2 cup olive oil
1/4 tsp salt
1/2 tbsp lemon juice
2 cloves garlic
Instructions
Clean the portobello mushrooms by gently rubbing the cap and gills with a damp paper towel. Place the mushrooms cap side down in a large dish or alternatively a zip loc bag. In a bowl whisk together all of the ingredients for the marinade and once well combined, pour over the mushrooms. Leave them to marinate for approx 1 hour (up to 6 hours)

To make the pesto, in a blender or food processor combine all of the pesto ingredients and pulse until its blended into a smooth consistency. Taste and adjust seasoning accordingly and then place in the fridge until ready to serve.

Heat a grill pan or barbecue on medium heat (or a sandwich press would also work) and grill the portobello mushrooms for approximately 5 minutes per side until grill marks form and they become tender. Once grilled cut then into 1/2 inch thick slices, drizzle any of the leftover marinade over each mushroom and then serve with a spoonful of the pesto on top.