BLT Caesar Salad with Crispy Chicken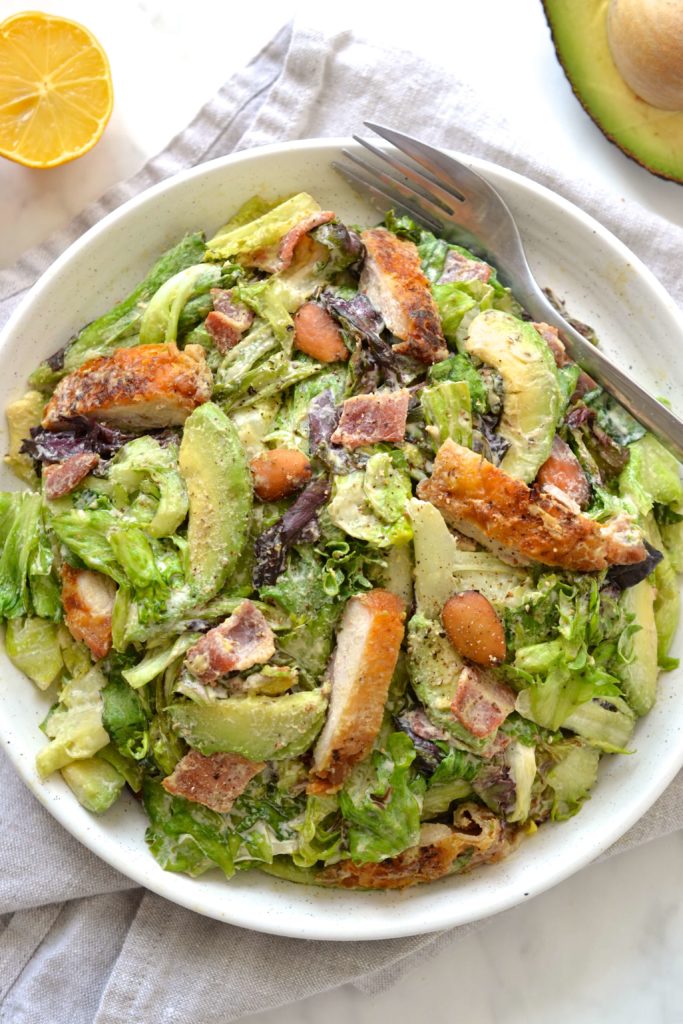 I'm a bit of a Caesar salad addict and make it at least once a week for dinner. I've been wanting to post a good Caesar salad recipe on the blog for awhile, but was struggling to come up with a way to stand out from the other thousand dairy free Caesar salads on the internet.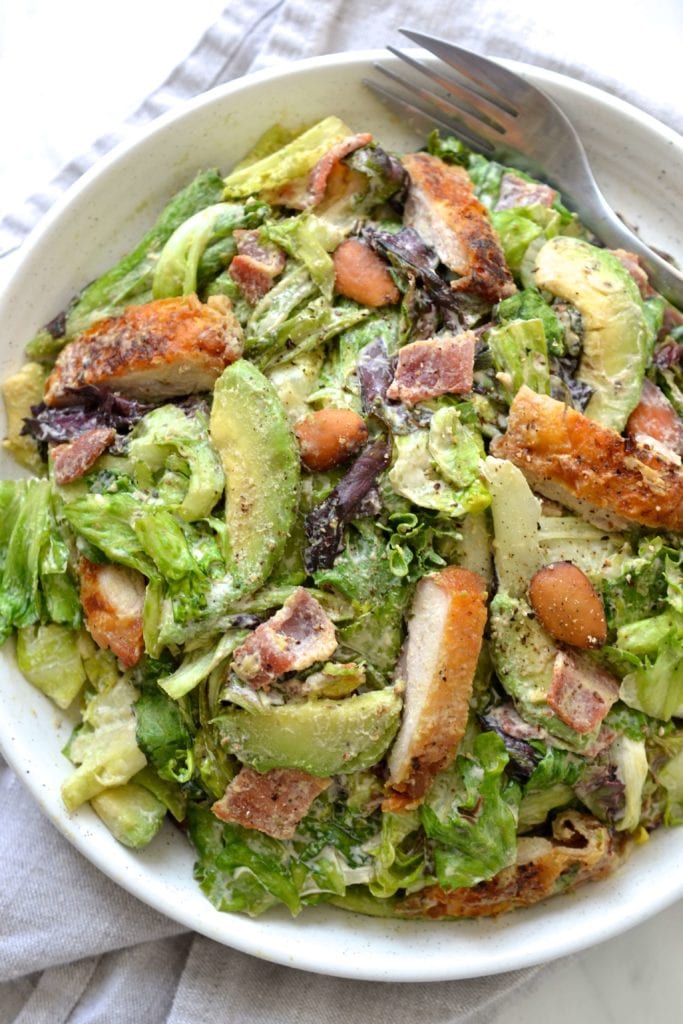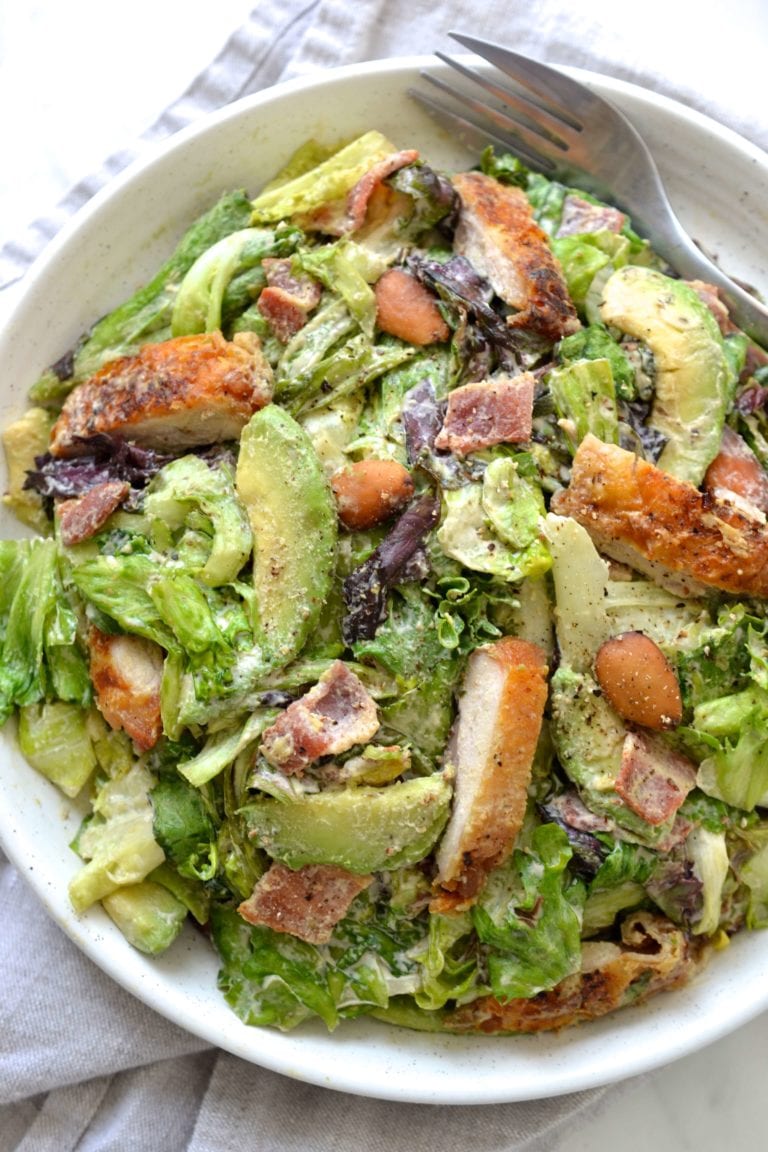 Enter this BLT Caesar salad with Crispy Chicken. There are so many fantastic components to this salad it's difficult to know where to start. So lets begin with the basic, why BLT? Bacon, Lettuce and….Tahini.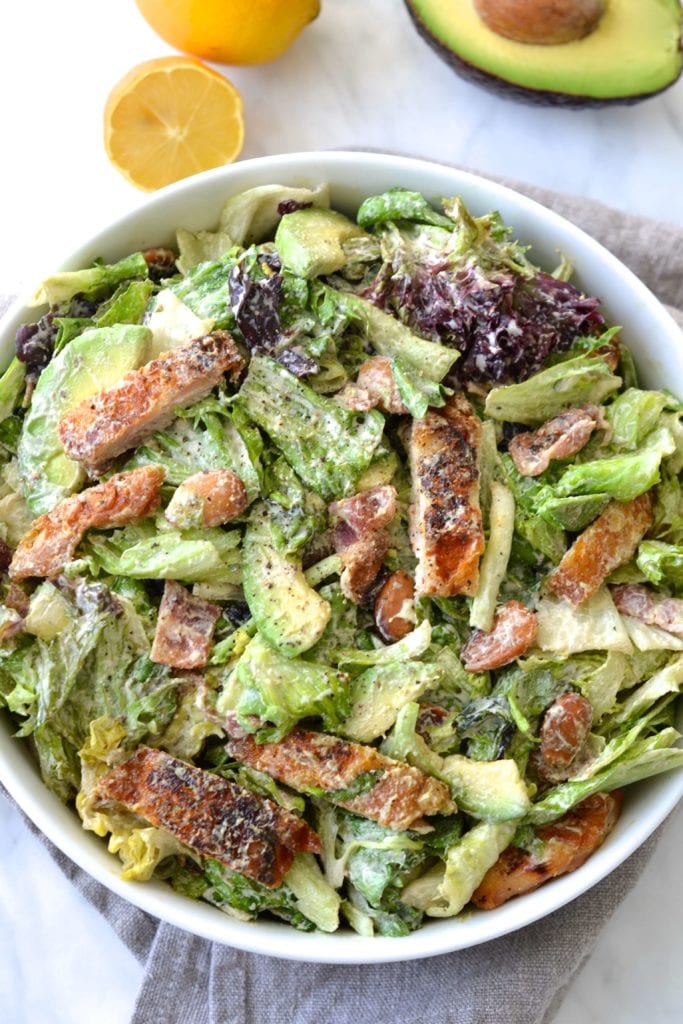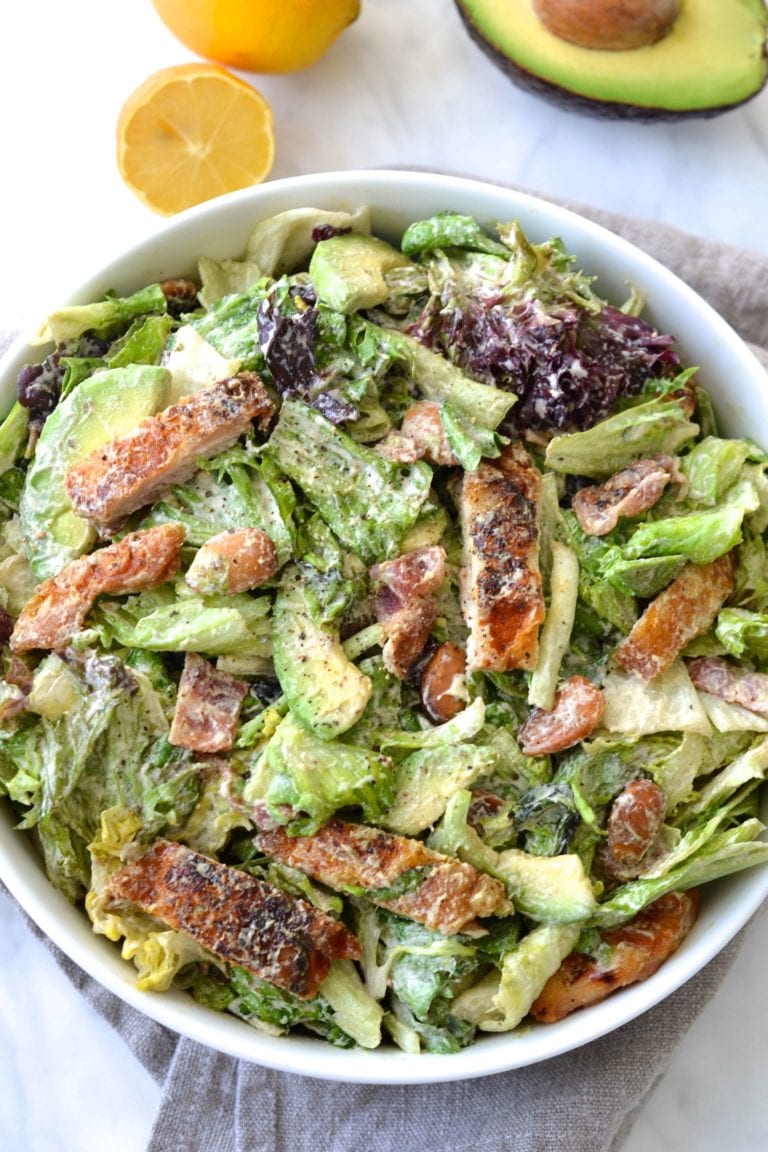 Ok let's start with the creamy, vegan, nut free and soooo delicious dressing. I took inspiration for adding tahini to the dressing from Gaby Dalkin and I have to say, its a game changer. As much as I love a mayo based caesar dressing, I find they can get quite heavy and really weigh down the lettuce. Tahini makes for a much lighter, fluffier dressing that coats the leaves much better.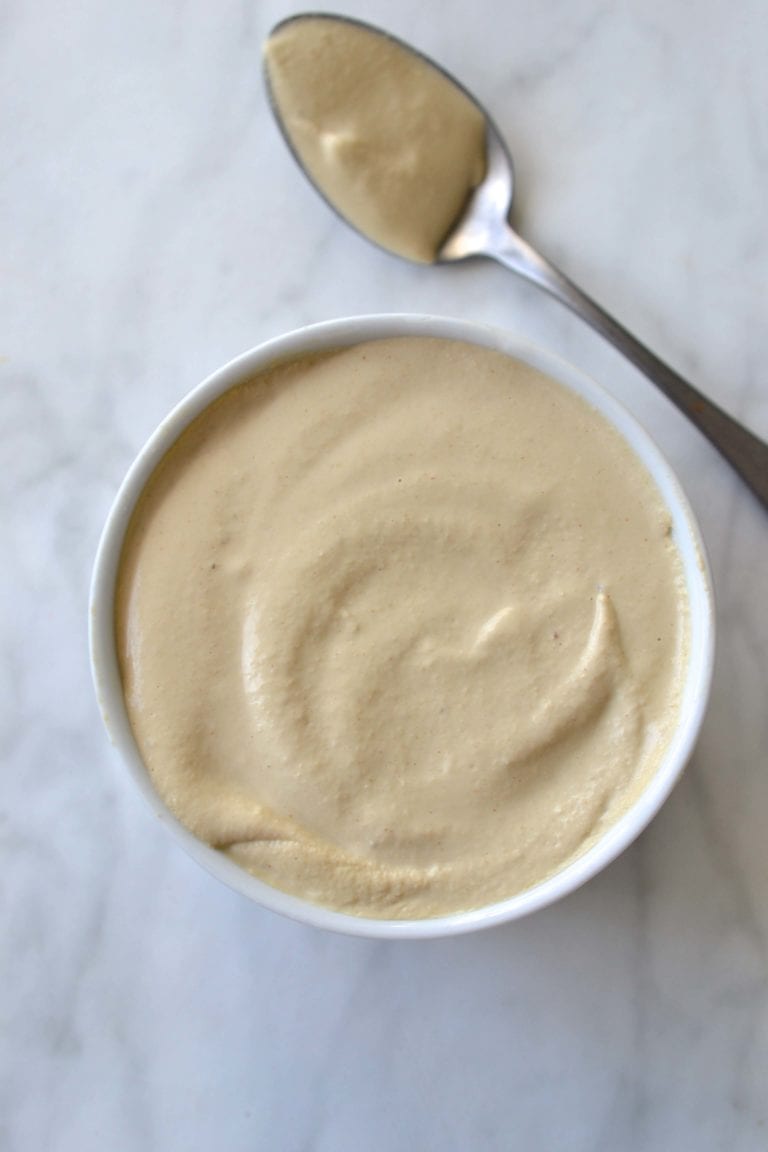 I then added a lot of the other classic caesar dressing ingredients, plus a few Whole30 approved replacements. Instead of Worcestershire sauce I used balsamic vinegar, and because I rarely use sardines, and I know a lot of people aren't fans, I added capers for that same salty flavour.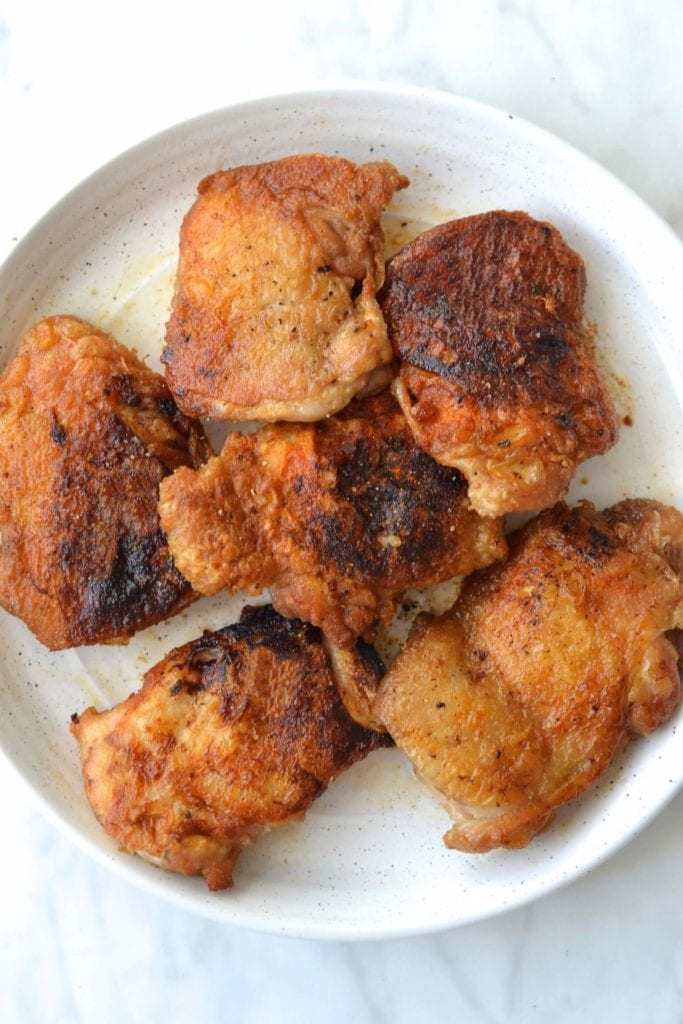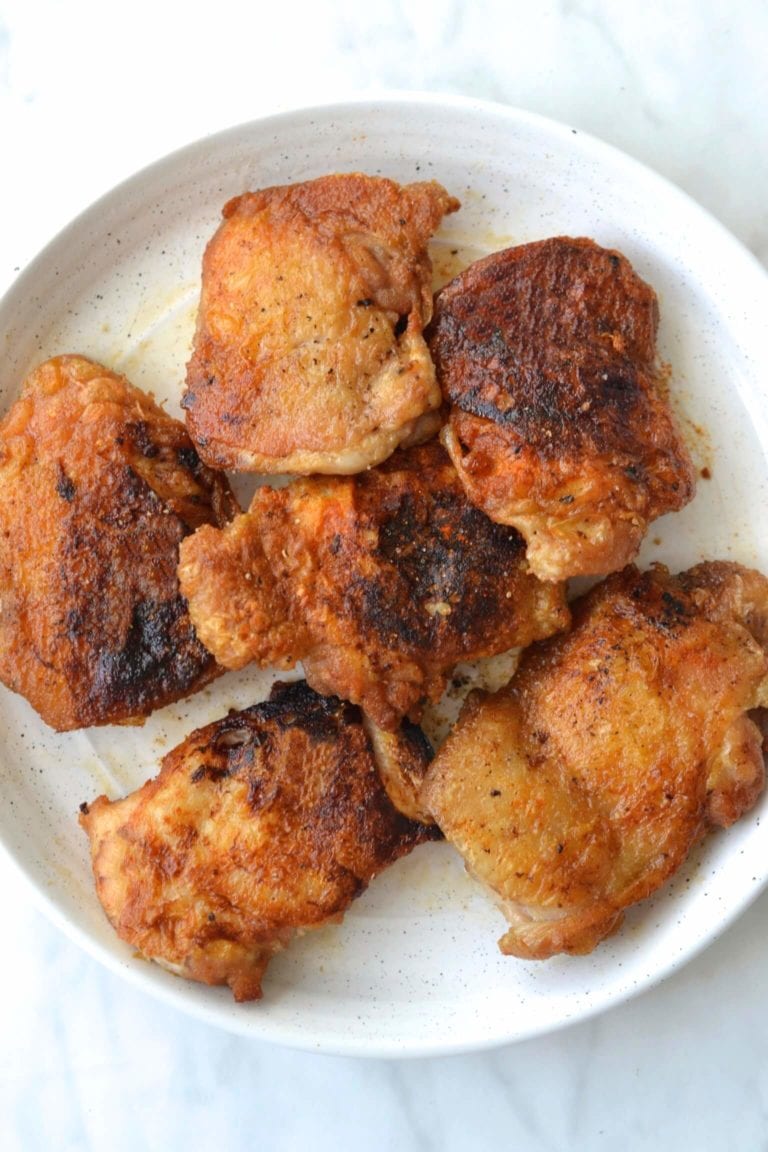 Ok next up, this chicken! I really wanted to make chicken with crispy skin for this recipe, but skin on chicken always seems to come with the bone in (at least here in the UK) which means a long cooking time. To speed things up, remove the bone (which literally takes 2 minutes for 4 thighs). I find that using kitchen scissors makes it easiest, but you could also remove it by running a knife down either side of the bone and then cutting under it.
For the crispiest skin I recommend placing the chicken skin side down and then placing something heavy such as a skillet overtop to place pressure on the chicken and help the fat render quickly. It's amazing that removing the bone and putting pressure on the chicken while cooking reduces the cooking time from 40 minutes to just 12. So quick!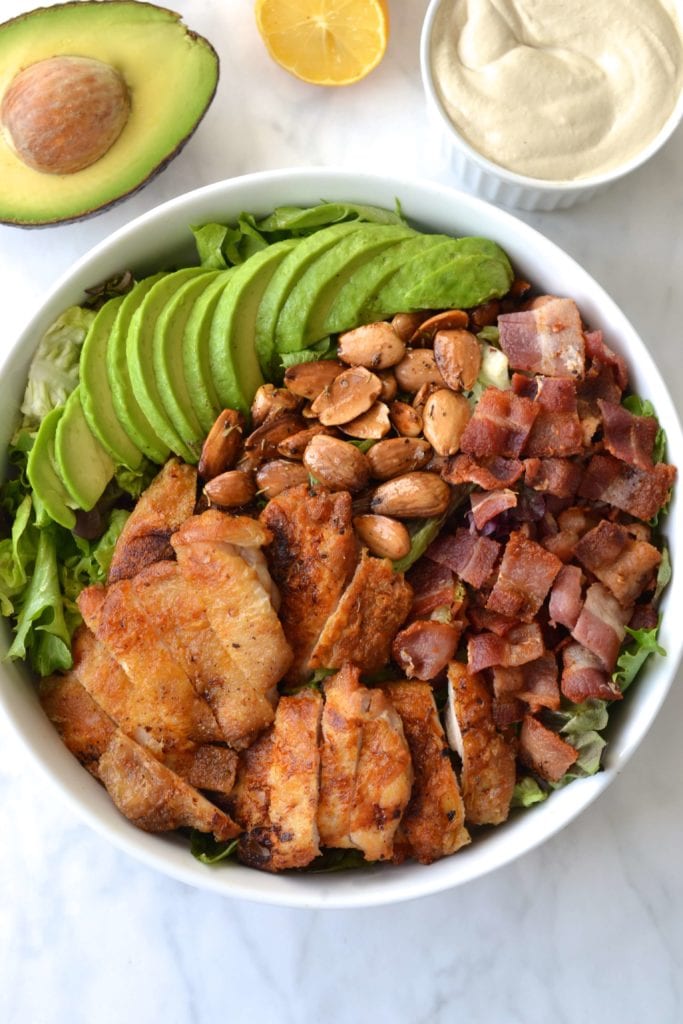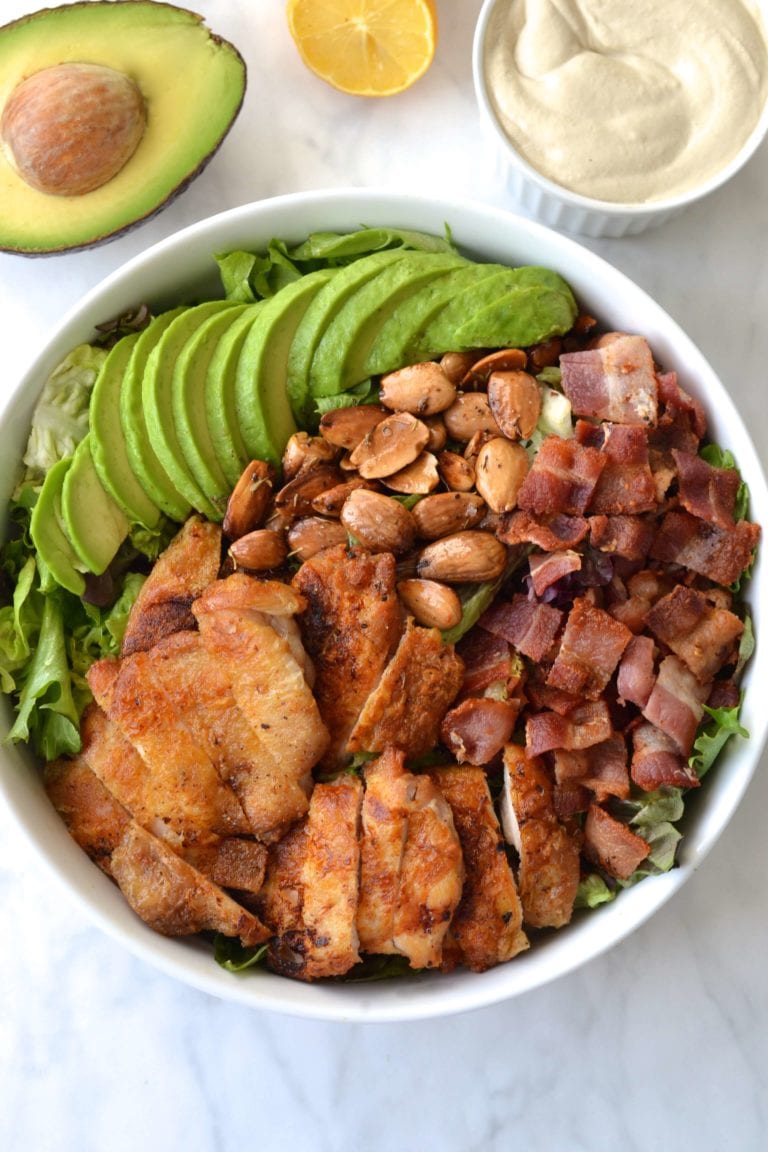 For a bit of crunch I added in some roasted almonds. For the record the almonds aren't as crunchy as croutons but they do add a nice bit of texture and salty herby flavour.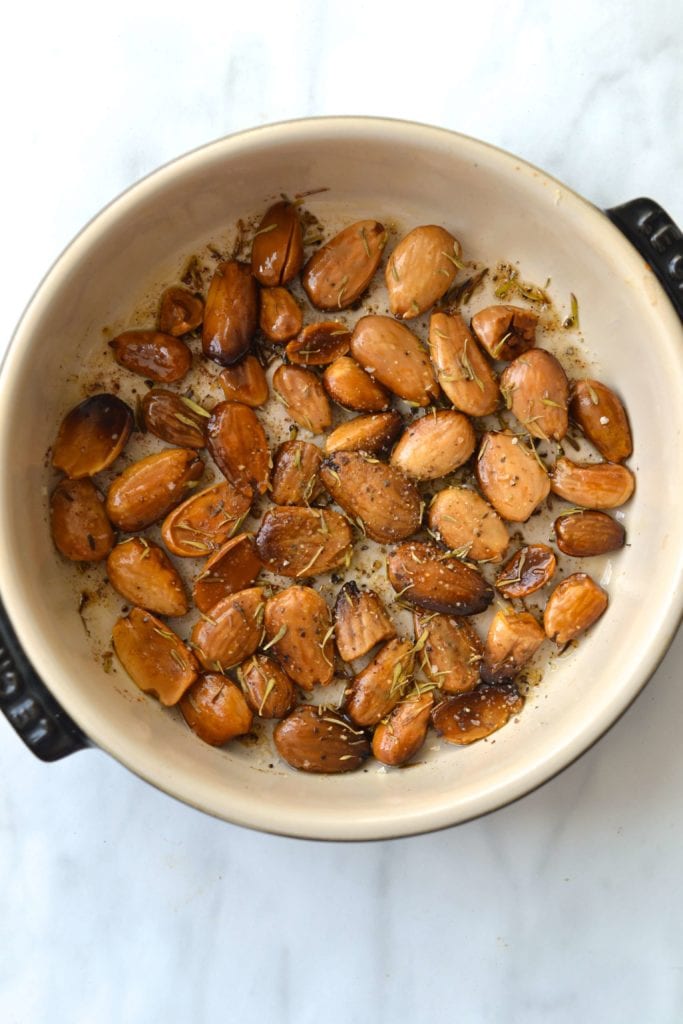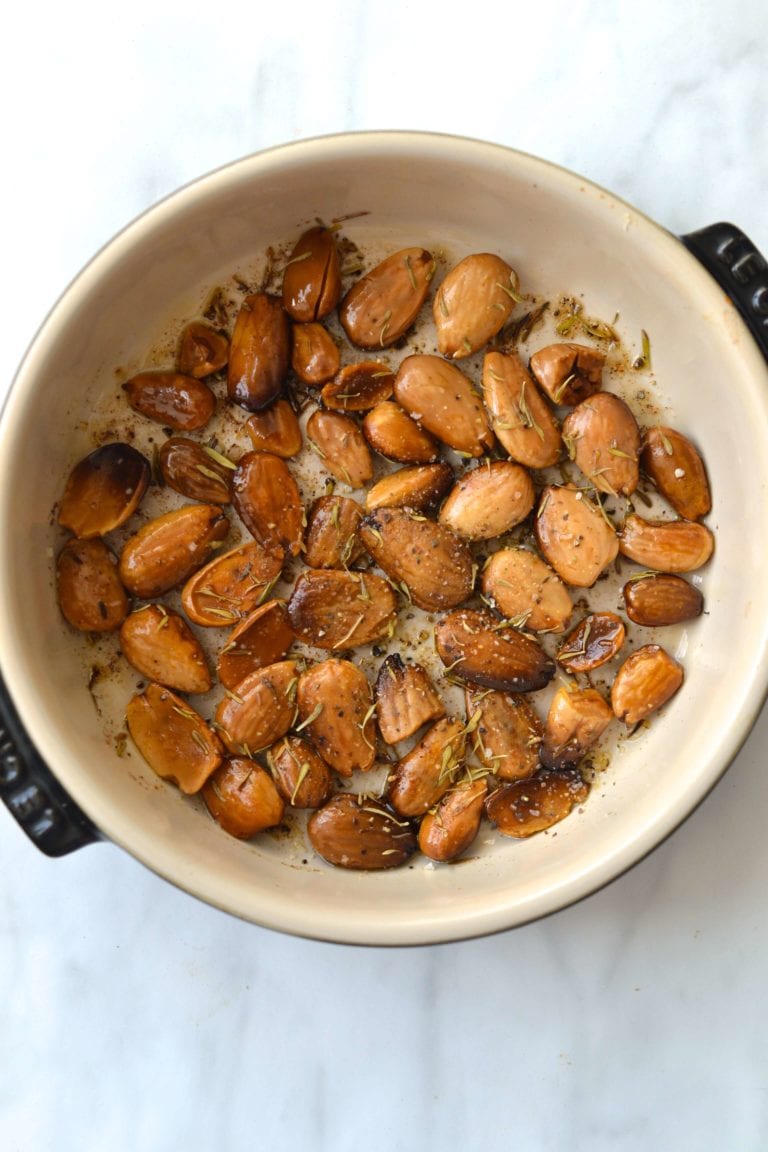 This is a great Caesar salad recipe that you can adapt to your taste. I included bacon and avocado but artichoke hearts, roasted butternut squash or hard boiled eggs would also work well. Alternatively you could also sub half of the lettuce for kale or shredded brussel sprouts.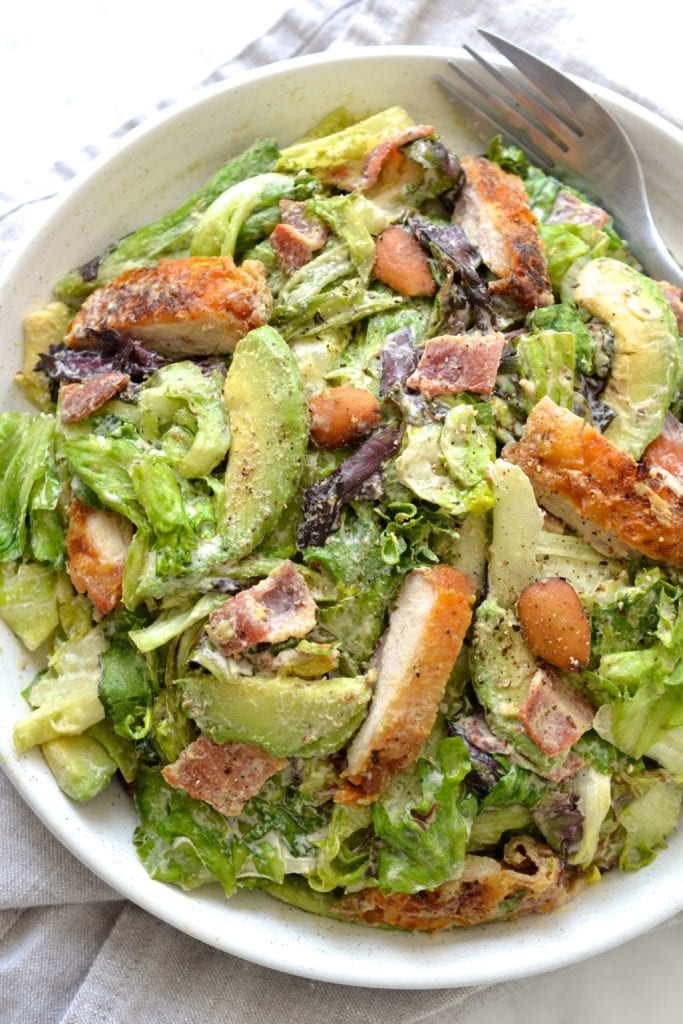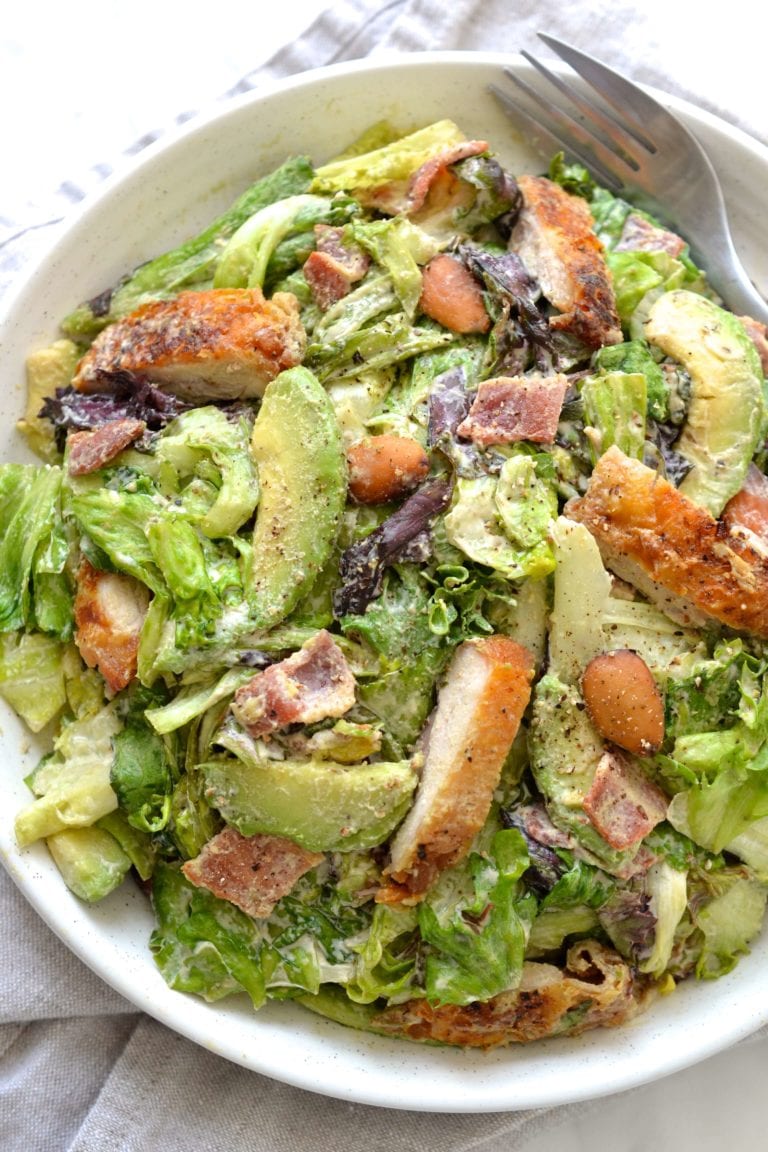 If you make this recipe let me know in the comment section below, I would love to hear what you think or take a photo and tag me (@everylastbite_) on Instagram, I love seeing your photos!
[embedyt] https://www.youtube.com/watch?v=4Js2CBFVHoM[/embedyt]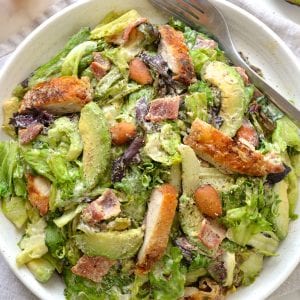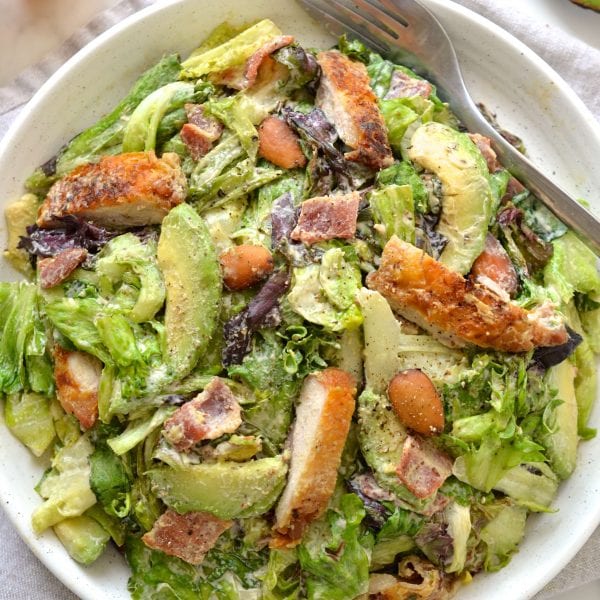 BLT Caesar Salad with Crispy Chicken
Ingredients
Baked Almond "Croutons"
1/2 cup blanched almonds
1 tbsp extra virgin olive oil
1/2 tsp salt
1/2 tsp thyme
pinch chilli powder
Salad
4 strips bacon
4 skin on bone in chicken thighs (ideally they are already deboned)
1/2 tsp salt
1/4 tsp chilli powder
6 cup romaine lettuce
1/2 avocado
Caesar Dressing
1/3 cup tahini
1 tbsp dijon mustard
2 cloves garlic
2 tbsp lemon juice
1 1/2 tbsp balsamic vinegar (or red wine vinegar)
2 tsp capers
1/2 tsp black pepper
1/4 - 1/3 cup water
Instructions
Baked Almond "Croutons"
Preheat the oven to 175C (350F). Place the almonds in an oven proof dish and toss with the oil, salt, thyme and chilli powder. Bake in the oven for 20 minutes, stirring every 5 minutes or so to ensure they don't burn.
Crispy Chicken & Bacon
Cook the bacon in a frying pan. Once the bacon is crisp, remove from the pan and set aside leaving the grease in the pan.

To prep the chicken, lay the thighs on a cutting board, skin side down. Run a knife down both sides of the bone in the middle and then using kitchen scissors pull the bone up with your fingers and cut the meat away from the bone until it is completely detached. Repeat with the remaining thighs.

Season the skin of the chicken with salt and chilli powder and place the thighs skin side down in the frying pan. Lay a piece of tin foil over top of the chicken and then place something heavy such as a cast iron skillet or heavy bowl on top of the tin foil. This will put pressure on the chicken which will help the fat render and make the skin much crispier. Cook the chicken on medium high heat for 8 minutes until the skin is crispy and golden in colour. Flip the chicken over and cook on the other side for 3-4 minutes. Set aside
Caesar Dressing
In a high speed blender or nutribullet combine all of the dressing ingredients and blend. Start with adding 1/4 cup water and then depending on the consistency, add more.
Salad
Slice the chicken and chop the bacon into small pieces. In a bowl combine the lettuce, bacon, almonds, avocado and chicken. Toss in the dressing and sprinkle with fresh black pepper and serve.